Step into a Journey of Security and Excellence: Welcome to King Locksmith and Doors Of Maryland. Your Best Choice For All Locks and Doors. 
Get Your Free Estimate Today!
Welcome to King Locksmith and Doors Maryland, your steadfast and reliable partner dedicated to providing comprehensive locksmith and security solutions. Our unwavering commitment extends towards safeguarding not only the sanctity of homes but also the operational integrity of businesses and the security of vehicles. With a proud legacy of service, we ensure the peace of mind and protection of residents across Maryland which include cities such as Silver Spring, Rockville, Wheaton, Bethesda, Potomac, Kensington, Chevy Chase, Baltimore, Frederick, Germantown, Columbia, Waldorf, Ellicott City, Glen Burnie, Gaithersburg, Towson, Bowie, Annapolis, and well beyond.
In our fast-paced and ever-changing world, there's no doubt that we all might need locksmith services at some point. That's where King Locksmith and Doors Maryland comes in! We understand just how important security and access are in your daily life, and we're excited to bring a bunch of awesome new services to your doorstep. We're all about making your life easier when it comes to locksmiths and security stuff!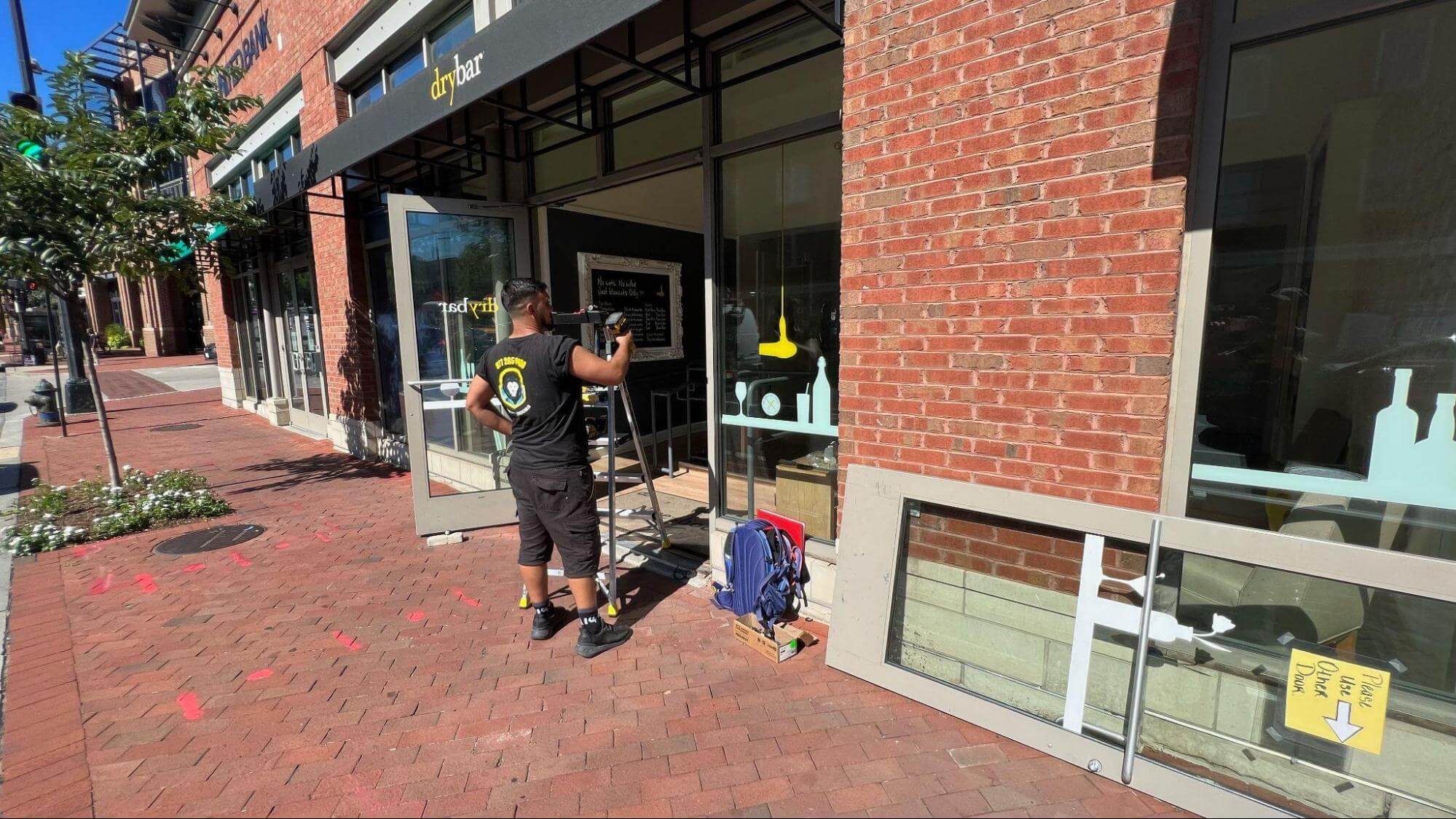 King Of Locks and Doors MD is Your Trusted Company for Locksmith and Doors services. 
Step into the world of King Locksmith and Doors, where we're not just any locksmith service – we're your friendly neighborhood experts, here to make your life safer and easier in Maryland!
Picture this: a team of seasoned professionals, each with a wealth of experience, all united by one common goal – ensuring your peace of mind and convenience. That's us! We're not just skilled; we're passionate about safeguarding what's truly valuable to you.
When it comes to locksmith services, we don't cut corners. We're dedicated to delivering nothing but the best, and we've honed our craft over the years to become your go-to locksmith in Maryland. Your safety and convenience are our top priorities, and we're committed to going above and beyond to protect what matters most in your life. Whether it's your home, your business, or your peace of mind. You can count on us to be there whenever you need us, with a smile and a solution to all your locksmith and Doors needs.
Join us on this journey towards a safer and more convenient life in Maryland – we can't wait to serve you.
Enhancing Home Security with the Best Pricing and Solutions For All Residential Locksmith Services In Maryland By King Locksmith and Doors team. 
Unlocking a World of Residential Locksmith Solutions: Your Home's Safety is Our Priority Your home is more than just a place; it's where your cherished memories are made and your valued belongings are stored. At King Locksmith and Doors, we offer a range of residential locksmith services that go beyond the basics. We take a comprehensive approach to enhancing your home's security because we understand the importance of protecting what matters most to you.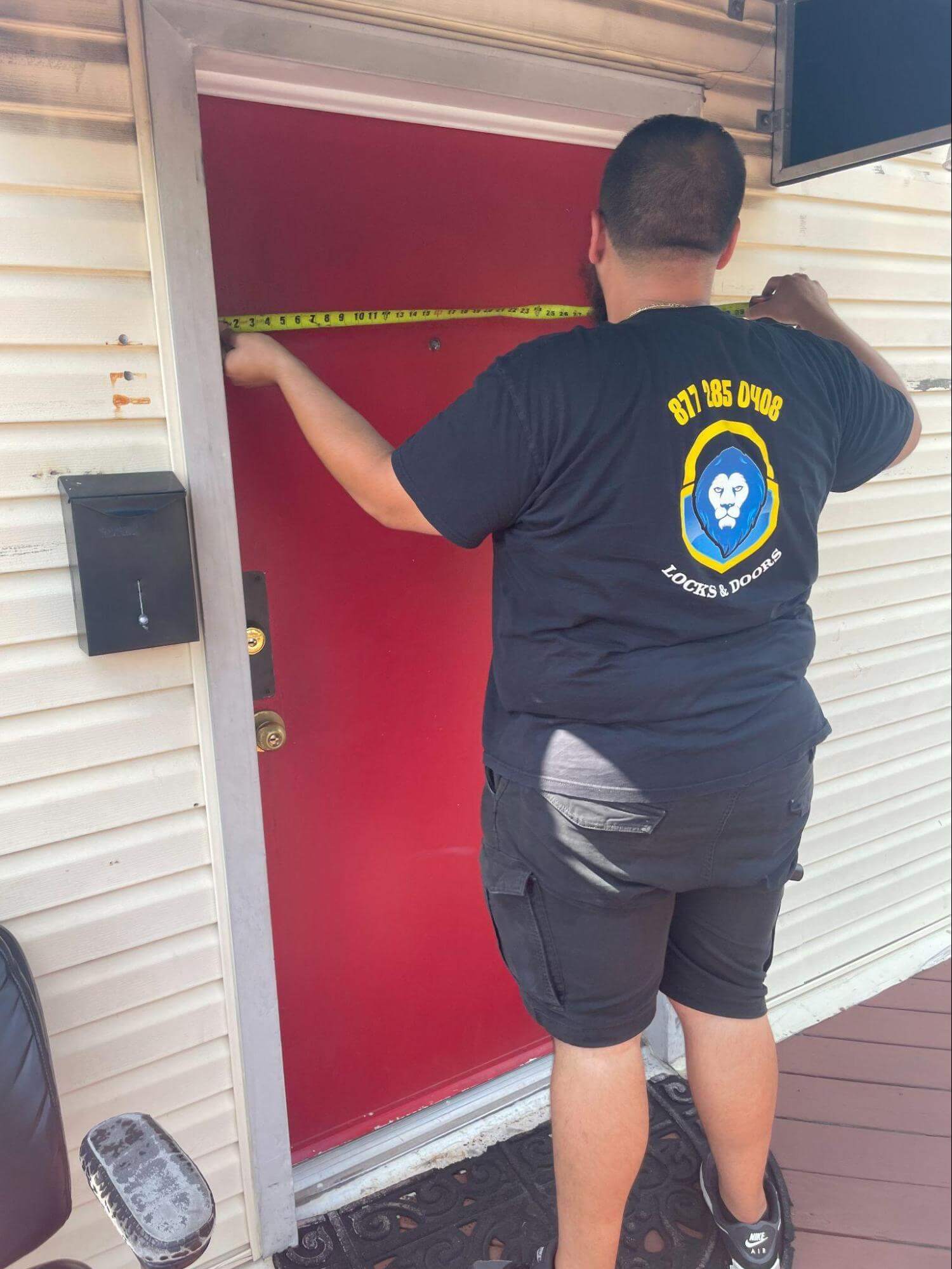 Our services cover a wide spectrum, from replacing, and repairing, to installing locks. But we're not stopping there. We embrace the digital age with cutting-edge smart lock installations that seamlessly blend with modern living. We also provide in-depth security assessments tailored to your unique home. Our skilled experts work closely with you to create customized solutions that perfectly match your lifestyle and security preferences.
At King Locksmith and Doors, your home's safety is our top priority. We're here to ensure that your abode remains a secure and welcoming place for you and your loved ones. Let's work together to safeguard what's most important to you.
When the unexpected happens, like a break-in that rocks your world, it can leave you feeling shaken, with cherished items gone and precious memories tainted. But here's where we come in, and we're not your average security folks. We're all about making your home safer and more inviting, and we do it with a smile.
 We'll swing by your place, take a look at your current security setup, and then we'll share some extra layers of protection that we think you'll love. Need a new lock, some repairs, or a rekeying? We've got you covered. But wait, there's more! Ever heard of keyless entry? No more digging for keys; just a simple code or a swipe, and you're in. We even have keyless deadbolts that outsmart those crafty burglars who think they can outwit regular locks.
Now, let's dive into what we do best: King Residential Locksmith services. Need cabinet locks for your valuables? We've got those. Garage door acting up? We can handle that too. Is your mailbox feeling vulnerable? We'll shore it up. And if you're thinking about installing or cracking a safe, we're your go-to experts.
But hold on, there's more! We're here for you around the clock, ready to tackle any lock or key challenge. Our team boasts over 5 years of experience, and we're not just any locksmiths – we're licensed, bonded, and insured, so you can rest easy knowing you're in safe hands. Plus, we're not just about fixing locks; we're all about upgrading your peace of mind. Worried about your home's safety? We're here for a friendly chat, no strings attached.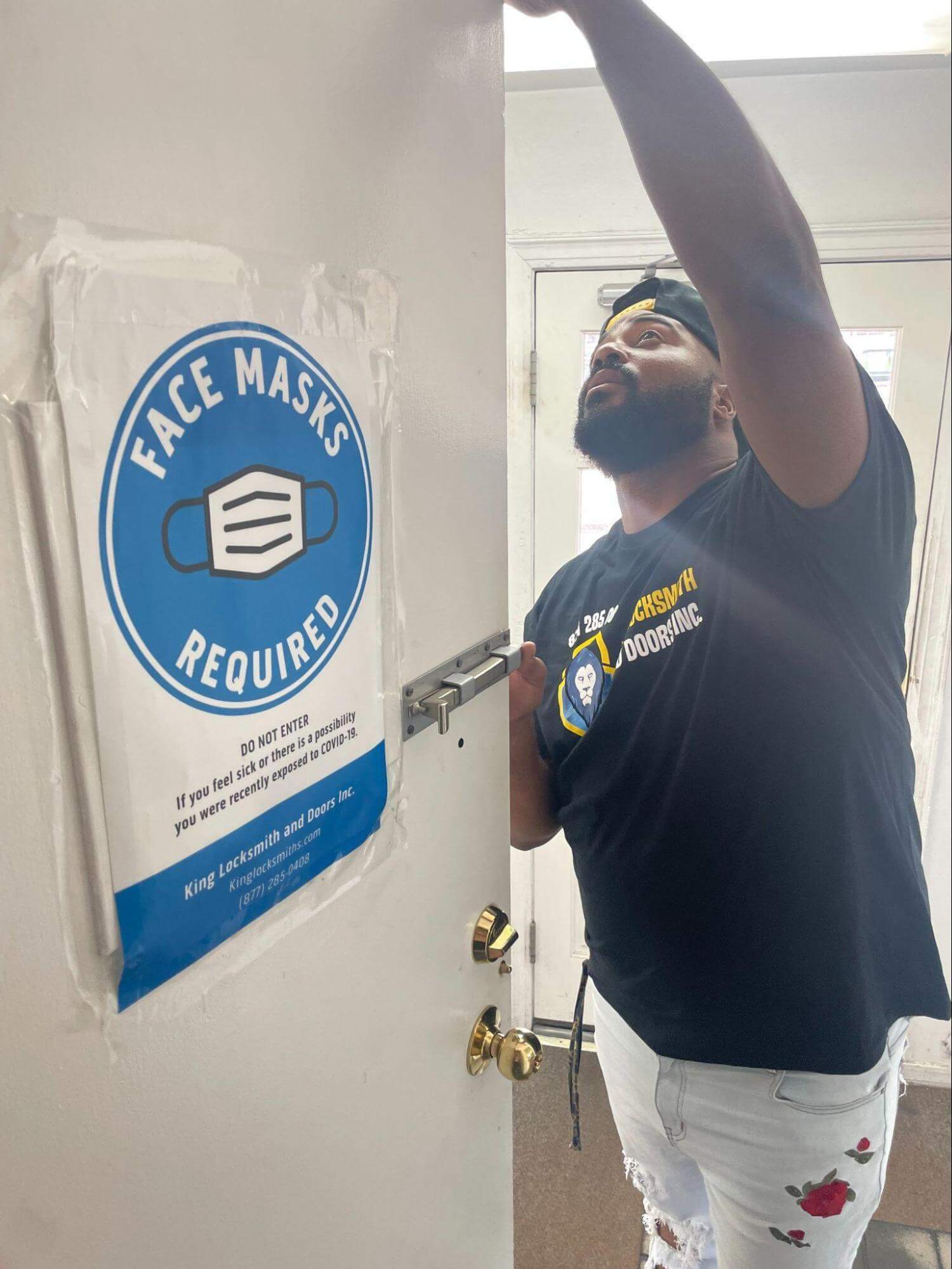 Reasons to Hire King Locksmith and Doors for all your Residential needs:
Older or worn-out locks can jeopardize your security.

Hiring an experienced residential locksmith like King Locksmith and Door ensures better security.
Broken Key Services:

Keys stuck in locks can be challenging to remove on your own.
A professional locksmith can extract broken keys and create new ones
Emergency Lockout Assistance:

When locked out of your home, an emergency locksmith provides quick solutions.

Avoid the stress of being locked out in a hurry.
Safe Cracking services:

Safe installation or safe cracking when required.
Our commitment to you:
Rapid customer service and round-the-clock services.

Highly experienced employees with 5+ years of expertise.

All work is licensed, bonded, and insured.

Expertise in all forms of lock or key problems.

Free consultation regarding upgrading residential safety features.

Guaranteed customer satisfaction.

Fast home lockout response.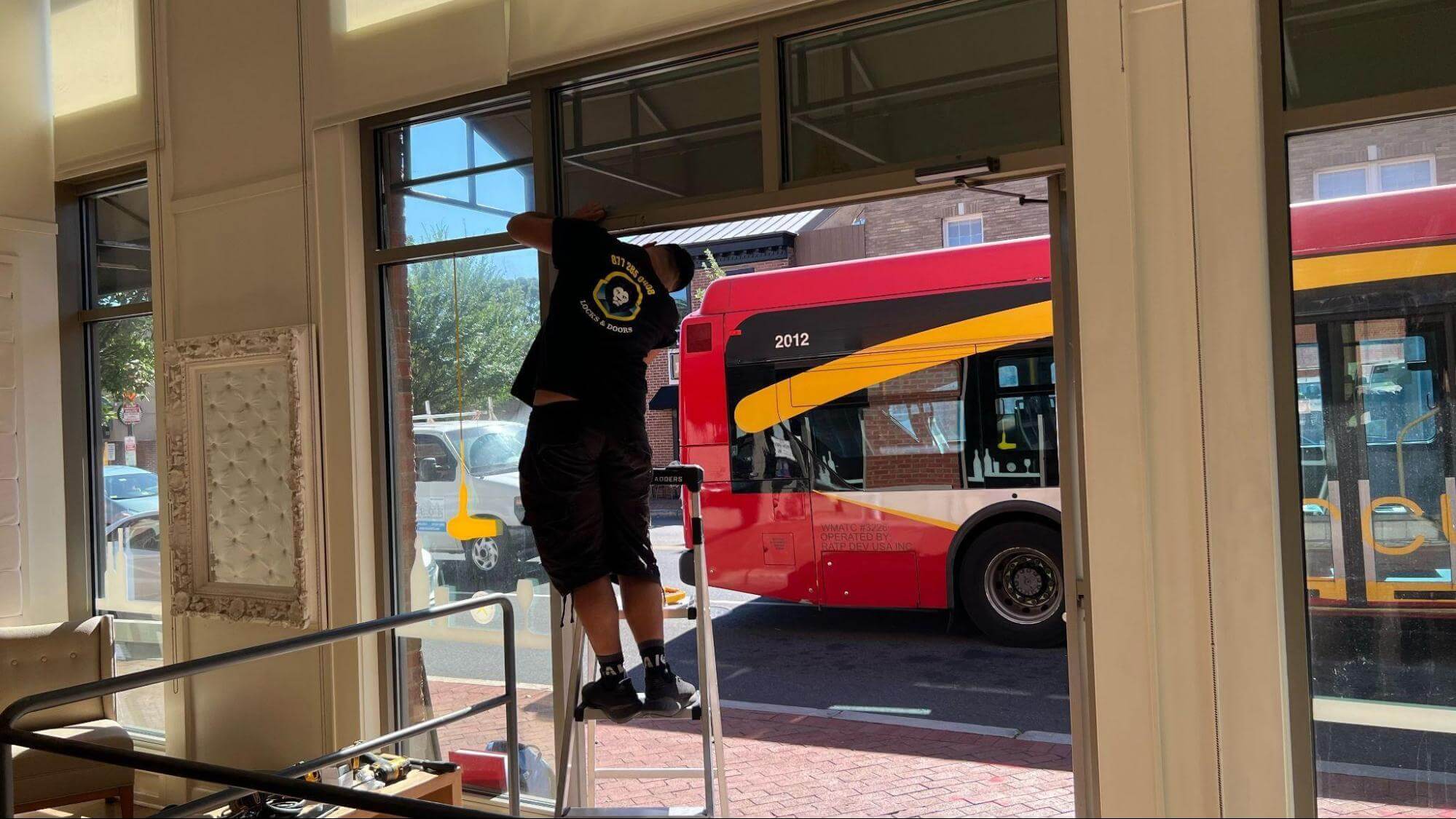 Commercial Locksmith Solutions: Empowering Business Security with Top Brands and Security Options By King Locksmith And Doors MD. 
King Locksmith and Door, your premier choice for commercial locksmith services in Maryland, is your one-stop solution for all your security needs. We partner with leading manufacturers and brands to provide top-notch security solutions for your property in Maryland. Our extensive inventory includes high-security locks, panic hardware, access control systems, and much more. From lock supply to door hardware installation, we've got you covered. Count on us to safeguard your commercial space with the best in the business.
There are several reputable manufacturers and brands that specialize in producing locks and doors for commercial needs. Here are some well-known manufacturers in the commercial locksmith and door industry:
Schlage:

Known for its high-quality locks and electronic access control systems.

ASSA ABLOY:

A global leader offering a wide range of security solutions, including locks, door closers, and access control systems.

Yale:

Offers commercial-grade locks, exit devices, and access control solutions.

Sargent:

Known for its commercial door hardware, including locks, exit devices, and door closers.

Allegion:

Provides a variety of commercial security products under brands like LCN, Von Duprin, and Schlage.

Kwikset: Offers a range of commercial-grade locks and keyless entry systems.
Corbin Russwin:

Known for its commercial locks and access control systems.

Medeco:

Specializes in high-security locks and key control systems for commercial applications.

Falcon:

Offers commercial door hardware, including locks, exit devices, and closers.

Baldwin Hardware: Known for its premium commercial and residential door hardware.
LCN: Focuses on commercial door closers and operators.
Adams Rite:

Specializes in commercial door hardware, including electric strikes and exit devices.
These manufacturers provide a wide range of products tailored to meet the security and access control needs of commercial properties, ensuring you have options to choose from based on your specific requirements.
Our commercial locksmith services cover a wide array of essential functions within the locksmith and door hardware solutions, ensuring your business's security is paramount. Here's a more detailed look at what we offer:
Advanced Access Control Systems:
We excel in implementing cutting-edge access control systems, which regulate who can access your premises and when.

These systems can include keyless entry, biometric authentication, and electronic card readers for heightened security.
Our locksmiths are skilled in designing intricate master key hierarchies.

This enables efficient access management within your organization, granting varying levels of access to different personnel.
Security Hardware Enhancement:
We fortify entrances and interior spaces with robust security hardware.

This includes high-security locks, reinforced doors, and surveillance systems to protect your assets, data, and personnel.
Diverse Business Settings:
Our expert commercial locksmith services cater to various business settings, such as offices, industrial facilities, storage spaces, and local enterprises.

We tailor our solutions to meet the unique security needs of each setting.
Mailbox Unlock and Repair:
Our team handles both repairs and enhancements, guaranteeing the functionality and security of your mailboxes.

We specialize in mailbox unlock and repair services to ensure uninterrupted mail delivery and security for your business.

At King Locksmiths, we go the extra mile to combine the repair and enhancement aspects of every commercial locksmith project. Our commitment is to provide exceptional workmanship and top-tier security solutions tailored to your specific business requirements.
Thinking about improving your locks and security systems? It's a smart move, especially with all the cool tech out there. At King Commercial Locksmith, we've got a bunch of high-tech locks and systems that scream "modern security."
When you're ready to level up, chat with our King locksmiths. We're not your average locksmiths; we're like the tech gurus of locks. We'll chat with you about the latest lock gadgets that can supercharge your security.
And guess what? We don't just stop at locks. We're your go-to folks for stuff like opening safes, setting up panic buttons, and getting you hooked up with access control systems.
If you're in the Washington DC area or Maryland, we're your trusted team for commercial locksmith solutions. We don't break the bank, but we sure do provide quality service. Our reputation? It's rock-solid. We've got big businesses on our client list who trust us big time because we're legit.
Our King Locksmith pros? They're like locksmith wizards with tons of experience. We're all about making your life easier. So, we're here to help you plan things out, so your security upgrades happen smoothly and without draining your wallet.
Quality is our jam. Whether you need a master key system or a major lock overhaul, we're all in, giving it our best shot every time.
Commercial services provided by King Locksmith and Door Maryland:
Panic Hardware and Access Control:
Upgrade your security with high-tech, high-security locks.

King Locksmith and Door Maryland offer the latest in lock technology for your peace of mind.
Need access to a locked safe? Our experts can safely crack it open.

We provide reliable safe-cracking services to help you access your valuables.
Commercial Lock Repair and Replacement:
Is your lock acting up? We've got you covered.

Trust our team to repair or replace your commercial locks promptly and effectively.
Simplify access management with a master key system.

King Locksmith and Door Maryland can customize a solution to fit your needs.
Ensure compliance with safety regulations.

Our professionals can install and maintain emergency exit doors for your commercial property.
Maintain smooth and controlled door closures.

Our team can install and maintain door closers for your commercial doors
King Locksmith and Door Maryland offers a wide range of additional commercial locksmith and door services. Contact us for all your commercial security needs, and we'll provide expert solutions tailored to your requirements.
Emergency Lockouts Services with King Locksmith And Doors of Maryland, A Company You Can Trust For Rapid Lockouts Solutions. 
Emergencies can happen anytime, and our emergency locksmith services are here to help. We're available round the clock, so no matter when you're locked out of your car, home, or office, we've got you covered.
Getting locked out of your home can be super frustrating, especially when you can't find your spare key. Plus, it can get expensive depending on the time of day. But don't worry, King Locksmiths and Doors Inc. of Maryland is your go-to solution for emergency lockouts. 
Our locksmiths have at least five years of experience and work in your neighborhood. We provided services to all small businesses to big companies within Maryland. From Baltimore to Silver Spring and even more. Our Technicians are professional and honest, handling everything from rekeying doors to getting you back into your apartment or house when you're locked out. We can also handle safe cracking, lock changes, installations, upgrades, and repairs.
We use the latest technology to make sure you don't get locked out due to traditional key problems. Keyless locks, like ones activated by a code or magnetic card, make entry a breeze and also boost security.
Our team can unlock any door, whether it's your home, business, or car, as long as it involves a key. We're quick to respond to auto and business lockouts, providing fast solutions in the Maryland area. 
We're fully insured, bonded, and licensed, and we offer competitive rates. Plus, we can help with cabinet locks of all types. During a home lockout or any emergency, you can count on us for top-notch service. Our crowned lion logo represents our commitment to exceptional customer service and reliability.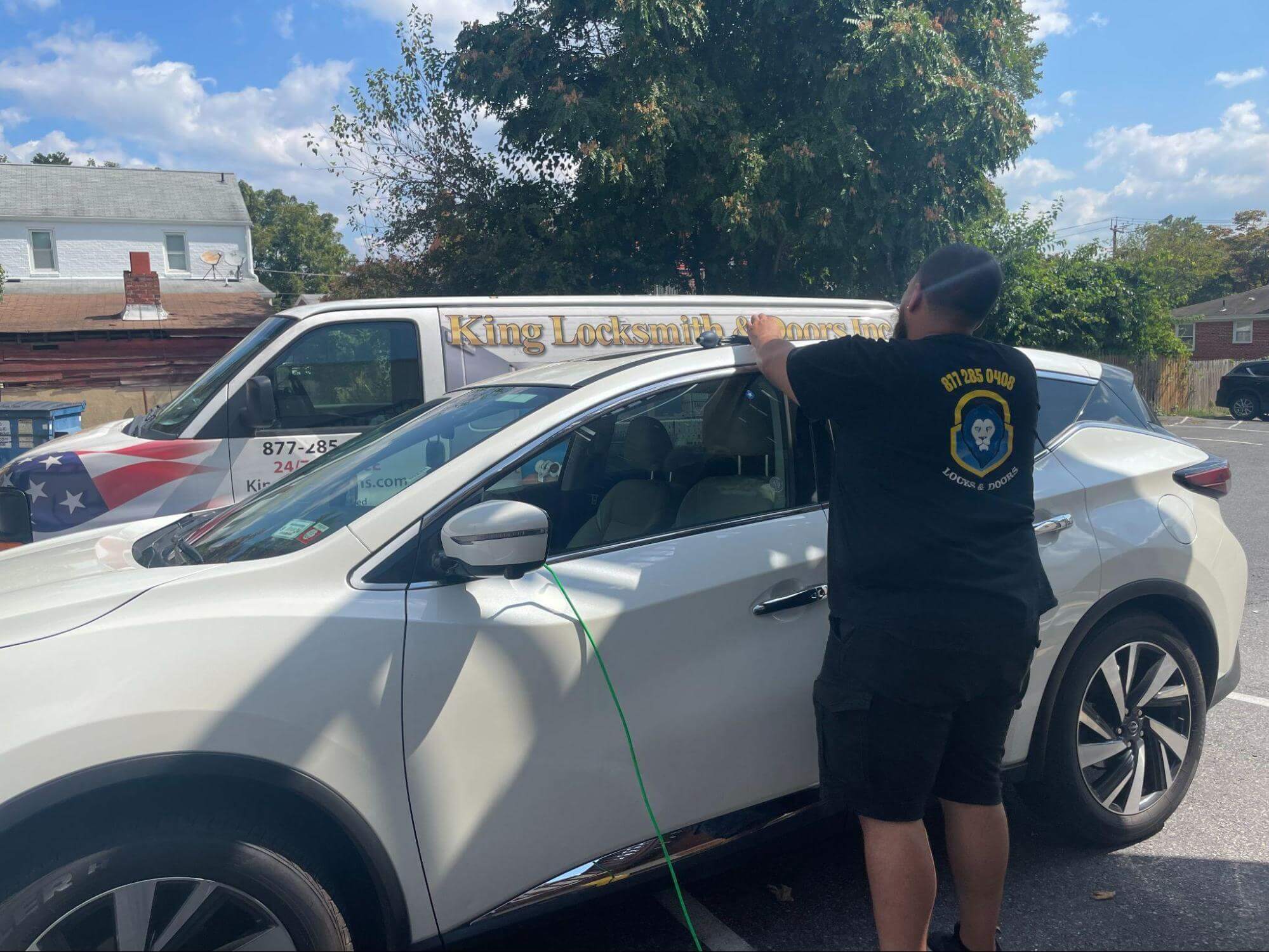 Automotive Locksmith Expertise: Navigating Vehicle Security
Modern vehicles are a fusion of cutting-edge technology and engineering excellence. Our automotive locksmith services are designed to match this complexity. 
From transponder key programming and remote fob replacements to intricate lock repairs, we're equipped to handle a diverse array of automotive locksmith challenges. Our commitment to staying updated with the latest industry advancements ensures that your vehicle's security remains uncompromised.
Need help in a hurry? The King team of experts is just a phone call away, ready to swiftly respond and provide you with professional assistance that gets you back on track and back on the road. Our auto lockout service takes the stress out of the equation, while our standout feature is our commitment to fair pricing, regardless of the size of the task at hand.
Respecting and valuing our customers, we encourage them to inquire about our services, whether it's replacing or repairing a transponder key or rekeying car locks. At King Locksmiths, we're not just a service provider; we're your partners in security. Our seasoned experts are well-versed in the latest automotive locksmith technology and services, bringing a wealth of knowledge to every situation. What's more reassuring is that each of our technicians boasts a minimum of five years experience in the field.
When you choose us, there's no mystery about pricing – it's upfront and transparent. And you'll be pleasantly surprised by how reasonable our rates are. It's this commitment to affordability and quality that has made King a standout leader in Maryland.
Think of us as your reliable Automotive Locksmith consultants, always ready to provide state-of-the-art assistance. Yes, fast response is crucial, but so is integrity. That's what we offer at King Locksmiths, and it's what our customers depend on. Remember, we're just a phone call away – your partners in ensuring your automotive security.
Safe Cracking and Solutions: Preserving Valuables Safely
Safes serve as bastions of protection for your most treasured belongings. Our expertise in safe cracking and solutions combines deftness with precision, ensuring access to your valuables without compromising the safe's integrity. Whether you're dealing with a forgotten combination, or malfunctioning locking mechanism, or require a more secure alternative, our seasoned locksmiths have you covered.
Safe cracking, the art of unlocking a safe without its combination, requires the finesse of professionals. If you're faced with an inaccessible safe or a lost combination, seek the expertise of skilled safe cracking services. When the need arises to unlock a secure vault, turn to King Locksmiths for the ultimate solution.
Operating as a premier Maryland locksmith, King Locksmiths proudly serves both the MD and DC regions. Our team is fully bonded and insured, and we exclusively recruit locksmiths boasting over 5 years of hands-on experience. Our commitment to transparency means you'll always receive upfront pricing on our comprehensive range of services, accompanied by complimentary quotes before any work commences. Count on our rapid and amiable mobile locksmiths to be at your service 24/7, day or night, right at your location.
Diving into the intricacies of safe cracking involves an array of methods tailored to the specifics of each situation. The unlocking technique we employ hinges on variables like the safe's type and the mechanics of its locking system. A skilled service technician will meticulously assess your safety, deducing the optimal approach to unlock it.
Manipulation stands as one safe cracking method, entailing a blend of auditory cues and tactile finesse to decipher the combination. Many safes emit subtle sounds as their dials are turned—a sonic code of sorts. In cases where this method is apt, a stethoscope becomes the instrument to amplify these delicate sounds, particularly for mechanical locks. The manipulation technique typically takes an hour or more to successfully unlock a safe.
Drilling constitutes another safe cracking avenue. This approach involves the use of a drill to puncture a hole that grants access to a mechanical safe. This opening is pivotal for a precision instrument, which subsequently engages with the lock for manipulation. However, drilling is solely viable for safes that lack hard plates or additional barrier materials that heighten security.
Comprehensive Door Services: Where Security Meets Aesthetics
Doors are the first line of defense, and we leave no stone unturned in enhancing their resilience and appeal. Our comprehensive door services span the gamut from repairs and replacements to installations for both residential and commercial premises. Our meticulous attention to detail is evident in the selection of premium door hardware we offer, guaranteeing a harmonious blend of security and aesthetics.
In our company, a team of professional door repair specialists and seasoned technicians stands ready to deliver comprehensive repair services for diverse door systems, spanning homes, offices, buildings, and storage spaces. At King Locksmiths, the caliber of our door repair service consistently exceeds the expectations of those availing our service for the first time.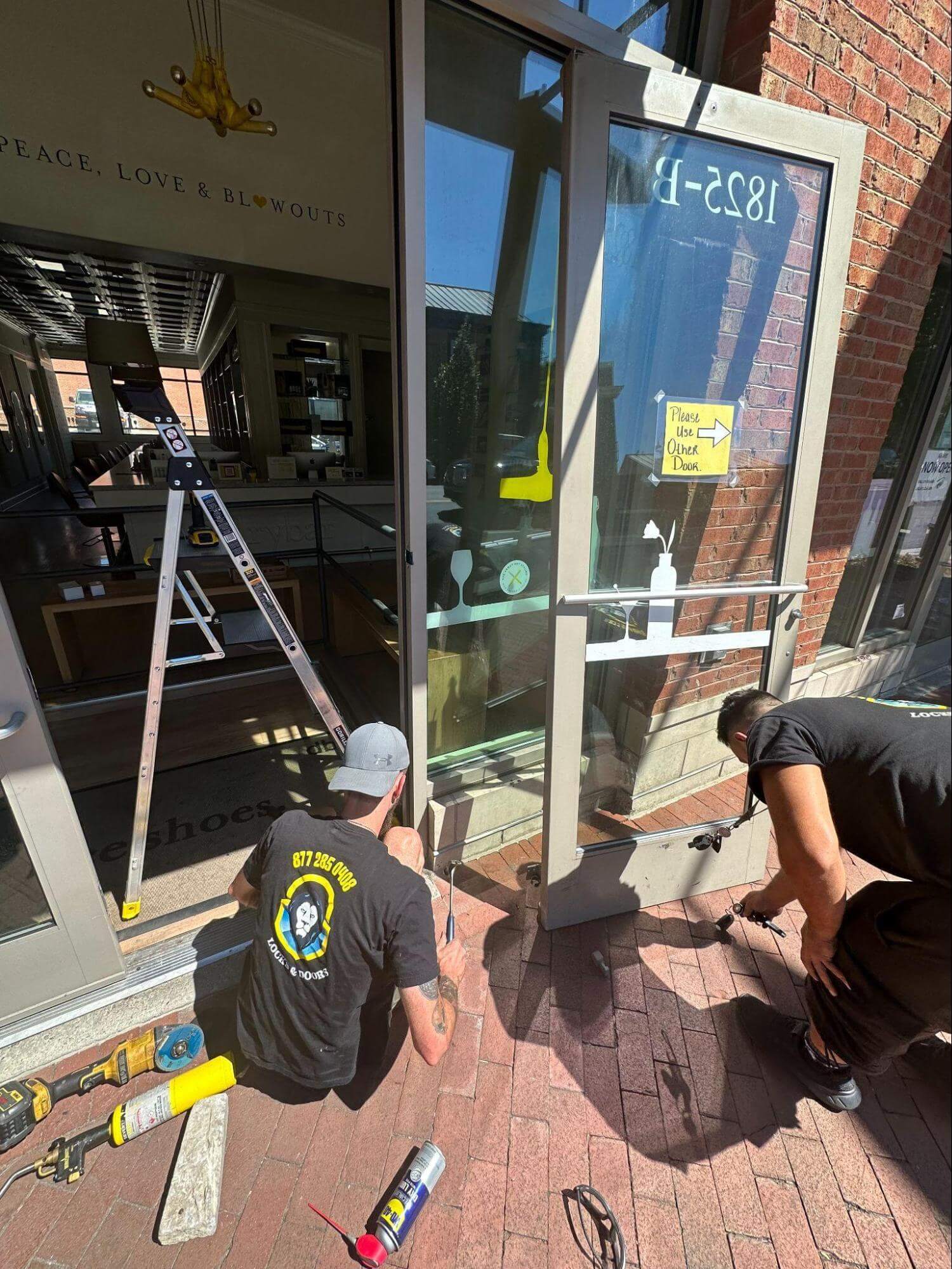 Our Range of Door Repair Services Encompasses:
Commercial Doors

Steel Door Repair

Aluminum Door Repair

Glass Door Repair

Security Doors

Emergency Exit Doors

Residential Entry Doors

Residential Interior Doors

Self Bolting Doors
Our door repair services have earned the trust of numerous individuals throughout Maryland and its surrounding regions. Equipped with more than five years of experience in the realm of lock and door repair services for both commercial and residential settings, our adept technicians have demonstrated their prowess. Their affable demeanor resonates with our clients, who can rely on their skills and expertise without reservation.
Door Hardware Supply: Elevating Functionality and Style
Elevate the functionality and style of your doors with our curated selection of premium hardware. We understand that security doesn't have to compromise aesthetics. Our diverse range of hardware options ensures that your doors are not only robust but also reflect your personal taste and architectural style.
Opting for door replacement can usher in a fresh and splendid ambiance within your home. Doors, beyond their utilitarian role in providing security and privacy for your family, wield the potential to infuse an additional layer of style into your living spaces. However, the prospect of replacing doors, though promising, can often be fraught with stress and challenges, demanding substantial time and effort. To alleviate the tribulations associated with door replacement, King Locksmiths of Maryland and DC stands ready to offer tailored solutions.
Are the doors within your home or office becoming sources of vexation due to their age, wear, and diminished functionality? If the doors in your abode or workplace are no longer performing optimally, the moment is ripe for door replacement. Beyond the realm of convenience, door replacement resonates as a fundamental security measure for both residential havens and commercial establishments. Ensuring that your doors can effectively thwart unauthorized entry remains a paramount consideration.
Why Elect to Replace Doors with Us?
A commitment to 100% customer satisfaction

Delivery of high-quality services

Swift and responsive action

A dedicated team of seasoned professionals

Among the select few companies in Maryland boasting in-house Door Specialists

Cost-effectiveness benefiting the consumer

Offering doors of the highest caliber

Employing industry-leading door installation standards that consistently earn accolades

Overseeing your project from inception to completion, ensuring comprehensive management
Complete 24 Hour Service
We provide total 24 Hour service for the entire Maryland and Washington D.C. areas.
Licensed & Bonded
Rest assured because King Locksmith and Doors is fully licensed and bonded for safety and peace of mind.
In-House Experts
We do not outsource for our work. You save money because our experts are in-house!
At King Locksmith and Doors, we specialized in high-end and professional locksmith and door services. We have an in-house door installation expert and do not hire out for any door or lock services.  Our technicians are all highly trained and well equipped to help you with any and all door and lock service needs.
King Locksmith & Doors, Inc.
Professional Locksmith & Door Experts
111 University Blvd West Silver Spring, MD 20901
3283 M St. NW, Washington, DC 20007
manager@kinglocksmiths.com