Get Your Free Estimate Today!
King Locksmith and Doors Offers Commercial Door Closers Services
There is no denying that commercial door closers are used widely. Whether it is a small business, hospital, school or large established business, most of the enterprises benefit from the commercial door closers installation. The door closers let the individuals pass through the doors without having to close them physically. Moreover, great customer service also begins as an individual walks through your door.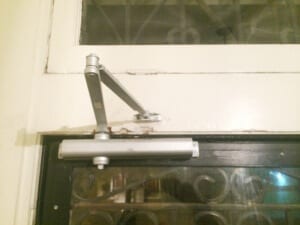 The doors of your business affect the customer impression of your business. It should have a certain level of look and must facilitate the safe passage for in and out of your business building. However, there are times, when the commercial door closers don't work to its optimum functionality.
King Locksmith and Doors offer commercial door closer services including repair and maintenance that ensures the safety of doors and people who walk through them. We are a certified company in Washington, DC or Maryland and make sure that your door closers work at their best.
Whether you want a door closer issue resolved or prefer to replace the entire commercial door closer, we have the door experts who will do it for you. Our professionals take full responsibility for the issue and solve it to 100% satisfaction.
You can trust us for all the commercial door closers services including repairs, maintenance, and adjustment. Call us today!
King Locksmith and Doors Commercial Door Closer Services
Well, if you have a commercial door closer that does not work or you need to install a new one, King Locksmith and Doors install and fix the closers for every type of door. We service every type of door including metal, wood, and glass that works for businesses.
Our commercial door closer services include-
Fixing and repair lock mechanisms.

Push and pull side mounts

Concealed door closers

Hydraulic closer parts

Access control and panic hardware

Installations

Surface mounted closers

Maintenance and repair of the door closer
Why Should You Install A Commercial Door Closer?
Door closers are the rage when it comes to the security of commercial buildings. They provide exceptional comfort for passing by and offer the convenience for smooth access. Along with this, these door closers ensure that your door closes automatically after someone passes by.
Moreover, there are many other benefits of getting a commercial door closer installed-
Complete Safety and Security: With a number of employees going in and out, your commercial building is overcrowded and hence, your business operations are hampered. However, if you have a commercial door closer installed, your office operations will work smoothly. Moreover, it keeps your property safe from intruders and also safeguards your possessions.
Added Convenience:

Commercial door closer offer you added convenience as they don't require any human efforts to operate. Irrespective of how you work, these doors are sure to come to your rescue.
Maintenance:

Although Commercial door closers are harder to maintain, but we offer you complete repair and maintenance services that fit in your budget. We have a team of professionals that are trained to offer smooth working of the door closers. We also regularly check and maintain the proper functioning of the doors.  
At King Locksmith and Doors, we have extensive experience in providing the commercial door closer services. Regardless of the type of door closer you have, we have the ability to diagnose the door issues and recommend the best solution for it. Moreover, we give you the quote beforehand so that there are no pricing issues.
Our team uses the high-grade material for all the services and ensure on all the products that are installed in your office. To request a service, click here.
Why Choose King Locksmith and Doors For Commercial Door Closer Services?
If you are looking to give your buildings an extra layer of security, look no further than getting a King Locksmith and Door's commercial door closer service. We are a licensed, bonded and insured company that specializes in the repair and installation of doors.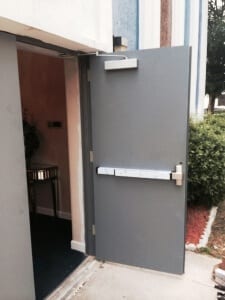 Our team offers 24 hour service for the entire Washington D.C. areas and Maryland areas. Moreover, we do not outsource our work and deliver you the best service along with the peace of mind.
We also work on maintaining the highest standards of the services, regardless of the type and size of product. King Locksmith and Door also has a fleet of mobile vehicles that reach to the destination and solve your commercial door closer problem.
Our main goal is to install the door closers in a manner such that they work well and also keep the visitors of building safe and sound.
The other reasons for why you should choose our commercial door closer services-
Up front pricing

Friendly services

Mobile unit with all the latest tools and equipment.

Expert advice on commercial door closer services.
So, are you facing a door closer problem? We've got the solution to every issue. Call us today and get a free quote for the required services.
You Can Call Us for Emergency Commercial Door Closer Services
We offer 24/7 services and are available at the time of emergencies as well. We believe that emergencies can occur at any instance and we are there to help you with such instances. All you need is to call us, and we will be there to assist you with our services.
You can send a request for our services here.
We Are Your One Call Locksmith Service Provider For Commercial Door Closer Services
King Locksmith and Doors provide both residential and commercial locksmith services. Whether you want a lock installation service, door closer or lock repair and replacement, our team will assist you with the best in no time.
We strive to make sure that every service fits your budget and you are happy with all the services you receive.
Drop us a call, and we will serve you with our locksmith and door services.
Complete 24 Hour Service
We provide total 24 Hour service for the entire Maryland and Washington D.C. areas.
Licensed & Bonded
Rest assured because King Locksmith and Doors is fully licensed and bonded for safety and peace of mind.
In-House Experts
We do not outsource for our work. You save money because our experts are in-house!
At King Locksmith and Doors, we specialized in high-end and professional locksmith and door services. We have an in-house door installation expert and do not hire out for any door or lock services.  Our technicians are all highly trained and well equipped to help you with any and all door and lock service needs.
King Locksmith & Doors, Inc.
Professional Locksmith & Door Experts
111 University Blvd West Silver Spring, MD 20901
3283 M St. NW, Washington, DC 20007
manager@kinglocksmiths.com