Master of Door Closer Repair and Services in DC and MD 
Get Your Free Estimate Today!
Commercial Door Closer Repair By King Locksmith
When it comes to ensuring the safety and functionality of your doors, a reliable door closer service company is your go-to partner. Whether you have an automatic door, a glass door, or a fire door in Bladensburg, MD you need a team of experts who specialize in door closer replacement, glass repair, and hinge repair services.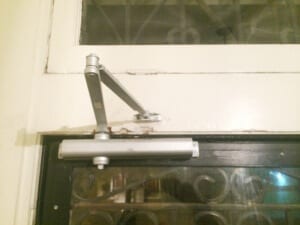 Door Closers, and Fire Doors: Essentials for Safety
In the Washington, DC area, where the demand for top-notch repair services is high, it's essential to find a trusted provider. A reputable door closer service co will offer installation and repair solutions that cover a wide range of door-related needs.
Door closers are the rage when it comes to the security of commercial buildings. They provide exceptional comfort for passing by and offer the convenience of smooth access. Along with this, these door closers ensure that your door closes automatically after someone passes by.
Moreover, there are many other benefits of getting a commercial door closer installed-
Complete Safety and Security: With a number of employees going in and out, your commercial building is overcrowded and hence, your business operations are hampered. However, if you have a commercial door closer installed, your office operations will work smoothly. Moreover, it keeps your property safe from intruders and also safeguards your possessions.
Added Convenience: Commercial door closers offer you added convenience as they don't require any human effort to operate. Irrespective of how you work, these doors are sure to come to your rescue.
Maintenance: Although Commercial door closers are harder to maintain, we offer you complete repair and maintenance services that fit your budget. We have a team of professionals that are trained to offer smooth working of the door closers. We also regularly check and maintain the proper functioning of the doors.
The Importance Of Fire Doors Important For Commercial Buildings
Fire doors are designed to prevent the spread of fire, protect occupants, and comply with safety regulations.
There is no denying that commercial door closers are used widely. Whether it is a small business, hospital, school, or large established business, most of the enterprises benefit from the commercial door closers installation. The door closers let the individuals pass through the doors without having to close them physically. Moreover, great customer service also begins as an individual walks through your door.
King Locksmith and Doors offer commercial door closer services including repair and maintenance that ensures the safety of doors and people who walk through them. We are a certified company in Washington, DC or Maryland and make sure that your door closers work at their best.
Whether you want a door closer issue resolved or prefer to replace the entire commercial door closer, we have door experts who will do it for you. Our professionals take full responsibility for the issue and solve it to 100% satisfaction.
The Role of Glass Doors in Door Closers and Fire Doors
Glass doors can be significant in the context of door closers and fire doors, depending on the specific application and building requirements.
Here's how:
Door Closers:
Glass Door Compatibility: Glass doors come in various styles, including frameless and framed designs. When it comes to door closers, it's crucial to select one that is compatible with the type of glass door you have. Not all door closers are suitable for glass doors, so choosing the right one ensures proper functionality and aesthetics.
Smooth Closing: The presence of a door closer to a glass door can contribute to the door's smooth and controlled closing. This is especially important in commercial settings to prevent the door from slamming shut, potentially causing damage or injury.
Fire Doors:
Fire-Rated Glass Doors: Fire-rated glass doors are designed to provide visibility and safety in case of a fire while maintaining fire-resistant properties. These doors are significant in buildings where safety and aesthetics are both essential. The choice of door closer for fire-rated glass doors should ensure that the door closes securely in the event of a fire, helping contain the spread of flames and smoke.
Door Closer Selection: When it comes to fire doors, including fire-rated glass doors, door closers play a crucial role in maintaining the integrity of the fire barrier. The door closer should be selected and installed to meet fire code requirements, ensuring that the door closes and latches automatically during a fire event.
Our 
Services in Washington, DC & MD

Fixing and repairing lock mechanisms 
Push and pull side mounts
Concealed door closers
Hydraulic door hinge repair
Access control and panic hardware
Master key system
Install commercial emergency door closer
Surface mounted closers
Door closer repair services and maintenance 
Commercial door closer adjustment
Emergency commercial door repair
Fix door closer
When you're in Washington, DC, you can't afford to overlook the importance of fire doors, builder's hardware, and threshold maintenance. These components are crucial for the safety and functionality of your doors.
To ensure your doors meet state and local county regulations, it's advisable to work with a door closer service company that stocks a full line of panic exit devices. Brands like Adams Rite, Jackson, Yale, HES, and Rutherford provide reliable and robust panic exit devices that meet industry standards.
Customer Satisfaction 
When choosing a door closer service or a glass repair service in Washington, DC, it's wise to check their Better Business Bureau ratings and customer reviews. Reliable providers take pride in their work, and customer satisfaction is their top priority.
At King Locksmith and Doors, we bring extensive expertise to both residential and commercial door closer services. Our skilled technicians are equipped to diagnose and resolve issues with a variety of door closers. We prioritize transparency, providing upfront quotes to ensure a seamless experience.
We pride ourselves on using high-grade materials and industry-leading wholesale brands of architectural hardware, including trusted names like Kawneer. As members of the Glass Association, our team specializes in partnering with glass companies to enhance the security and functionality of your doors.
Whether you're in Washington D.C. or Maryland, we offer service and never outsource our work, ensuring top-quality service. We maintain rigorous standards, regardless of the product's type or size, because we understand that door closers often go unnoticed until they malfunction.
Our primary objective is to install door closers effectively, ensuring not only their smooth operation but also the safety of your building's occupants. Trust King Locksmith and Doors for your residential and commercial door closer needs, and experience the peace of mind that comes with our bonded and insured services.
The other reasons why you should choose our commercial door closer services-
Upfront pricing
Friendly services
Mobile unit with all the latest tools and equipment.
Expert advice on commercial door closer services
If you have anything to ask you can call us or read some of the frequently asked questions by our customer.
Frequently Asked Questions (FAQ) About Our Door Closer Repair and Services
What should I do if my commercial door closer malfunctions in Silver Spring, Maryland?
When facing a malfunctioning commercial door closer in Silver Spring, Maryland, it's essential to contact a skilled technician. A reputable door closer service company, such as King Locksmith, can provide expert repair services in Washington DC and nearby areas like Bethesda, Potomac, and Washington, DC.
How do I make an appointment for door closer repair in Washington, DC?
Making an appointment for door closer repair in Washington, DC, is simple. Reach out to a trusted door closer service company that offers industry-leading wholesale hardware solutions. You can schedule an appointment with technicians who specialize in panic exit devices from Adams Rite, Jackson, Yale, Ives, Wikk, and pivots from Kis.
What are some frequently asked questions about automatic door closers in Maryland?
Frequently asked questions about automatic door closers in Maryland often revolve around their installation, maintenance, and troubleshooting. Consulting with a door closer service company that is a member of the industry-leading wholesale hardware stores can provide valuable insights and solutions.
Can I get a door closer replacement for my glass door in Potomac, Maryland?
Absolutely. If you need a door closer replacement for your glass door in Potomac, Maryland, look for a reputable door service provider that offers a wide range of door hardware solutions. Their skilled technicians can handle the installation, repair, or replacement of your glass door closers efficiently.
What should I expect during a door closer repair service in Bethesda, Maryland?
During a door closer repair service in Bethesda, Maryland, a qualified technician will diagnose and address the issue with your door closer. These professionals are well-versed in industry-leading wholesale hardware and panic exit devices from Adams Rite, ensuring a thorough and effective repair process.
Complete 24 Hour Service
We provide total 24 Hour service for the entire Maryland and Washington D.C. areas.
Licensed & Bonded
Rest assured because King Locksmith and Doors is fully licensed and bonded for safety and peace of mind.
In-House Experts
We do not outsource for our work. You save money because our experts are in-house!
At King Locksmith and Doors, we specialized in high-end and professional locksmith and door services. We have an in-house door installation expert and do not hire out for any door or lock services.  Our technicians are all highly trained and well equipped to help you with any and all door and lock service needs.
King Locksmith & Doors, Inc.
Professional Locksmith & Door Experts
111 University Blvd West Silver Spring, MD 20901
3283 M St. NW, Washington, DC 20007
manager@kinglocksmiths.com