We are your go-to choice for professional and expert door and lock services in Maryland and Washington DC.  With our in-house door experts, you will not pay extra for us to outsource our services.  All of our technicians are highly trained and local and we provide complete 24-hour locksmith and door services for all residents and businesses in Maryland and DC.
Get Your Free Estimate Today!
CHOOSE KING LOCKSMITH AND DOORS
AS YOUR #1 EXPERT LOCKSMITH
You want to find the best professional locksmith Washington DC and Maryland to provide solutions for your home, business or automobile. King Locksmith and Doors, Inc., which operates in Maryland and the Washington DC area, understands your desire to ensure the security and safety of your family or employees.
We offer professional residential, commercial and automotive locksmith services. King Locksmith and Doors, Inc. also has the most dependable lockout services for homes, businesses and automobiles 24/7.
Contact us for reliable and affordable services Monday through Sunday, all day. We have built a reputation for honest service and customer satisfaction. Each of our qualified technicians has at least five years' experience. We Provide Fast Washington DC Locksmith, Locksmith Silver Spring MD, Locksmith Annapolis MD, Locksmith Baltimore MD and Locksmith Washington DC Service 24/7!
WE HAVE MORE THAN 25 YEARS EXPERIENCE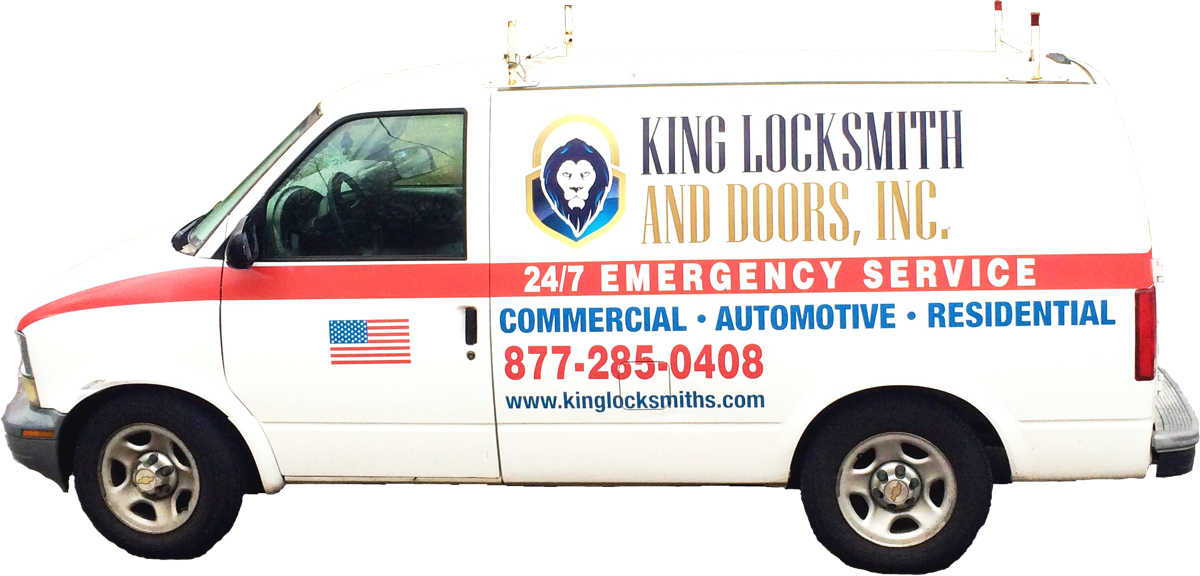 Door Installation & Repair
Request a free estimate today
Our Expertise Saves You Money!
We at King Locksmith and Doors, Inc. provide a full range of services to help improve your security and safety of loved ones, employees, assets, and property. We have in-house security, door, and locksmith experts which not only saves time but also saves you money as we don't need to hire a third-party.
Another way we save you money is that we equip our technicians with the most-advanced machinery for solving emergency business, home and vehicle problems. Our technicians arrive at your location, 24 hours a day, fully prepared for the task at hand. Our experts handle all locksmith issues such as lock changes or rekeys as well as any door installation or repair needs both for residents and businesses in the Maryland and Washington DC areas.
If you own a business, your doors and windows necessitate products and solutions designed especially for business or office spaces. Allow our professional operations to handle your business needs.
King Locksmith and Doors specializes in offering residential and commercial doors, no matter what type you need. We excel in giving fast and friendly services, including door installation, door repair, and door replacement services. When you call us, we will set you up with a reputable sales agent who will talk you through the process of purchasing the specific door for your needs with upfront pricing, so you don't suffer from sticker shock after the work is complete! We will strive to make sure that the door you want fits in your budget, and that you are happy with all work done to your home or business, both inside and out.
King Locksmith and Doors Inc, what can I say, but a great company that is reliable, courteous, and cares about their customer needs. They are constant professionals, they have installed several commercial grade locks in our pediatric dental office and have assisted us with lockouts when they occur. They are quick and knowledgeable, and they are the only locksmith we use. If your looking for great locksmith, look no further than King Locksmith and Doors.

We've used King Locksmith and Doors for rekeying, hardware replacement, and more. They've always been very helpful and have done great work. They can make it out very quickly when you are in need, usually same day service, and they've been out on holidays and evenings before. I would highly recommend them and will continue to use them for any future needs we have!

Called their service line at 12:10pm and Edgar called to confirm and showed up at my store by 1:05pm and did a great job and was finished in 20 minutes. Fastest service I ever had with a locksmith. Edgar has a great personality and pleasant to work with. Thank you very much, will use again in the future for sure.

I locked myself out of my car and I called them. Conveniently they are across the street from my job so they had a guy out to me within 2 minutes!!! He was so sweet and fast. In 10 mins he had gotten my car open and I had filled out the paperwork and paid him. I paid $124 which was a little high but totally worth it.

Not only did he fix my door hinge late at night, but he showed me how to properly maintain and keep it in good condition. He worked very quickly and I cannot say enough good things about this company. Can't believe how lucky I was to find someone honest/won't rip you off w/ sales talk.

Mike has come by to fix our problematic office door two times.  Once was an after-hours and the 2nd time was regular office hours.  He was upfront about the problems and the cost to repair. He was friendly and efficient.  And, he had the parts needed with him.  I highly recommend.

I was locked out my house on Christmas Eve. Ed came to my rescue and got me in fairly quickly and changed the knob in person plus gave me a set of keys and not just one.Thanks to Ed, I didn't have to spend Christmas in the cold. Thank you so much! 5/5 will be recommending again.

Called their service line at 12:10pm and Edgar called to confirm and showed up at my store by 1:05pm and did a great job and was finished in 20 minutes. Fastest service I ever had with a locksmith. Edgar has a great personality and pleasant to work with. Thank you very much, will use again in the future for sure.

I have had a fantastic experience with King Locksmiths. You can look at the hidden reviews below for more positive reviews, that haven't been posted. King Locksmiths is prompt, communicative, and friendly. They are easy to work with and will get you into your car, quickly and with no hassle. The pricing is upfront with no bait and switch. King Locksmiths will be my locksmith for life!! : D

Excellent service! Went the extra mile to make sure the doors were secure! Thank you Edgar for your professional service.

Shane at King Locksmith is wonderful. Long story short, our home was broken into while we were on our honeymoon and a friend had to coordinate repairs for us while we were 14,000 miles away. Luckily, she found King Locksmith. We had a complicated situation where our door that needed replacing wasn't a standard size, and there was some back-and-forth about what our options were. Once we got home, Shane personally came with the technician on a Saturday so that he could understand exactly what needed to be done and ensure that it was taken care of. Instead of a 4-6 week custom order, King Locksmith found a solution that only took one day to complete. We're planning on having them come back in the next couple of months to replace all of our locks, extended kick plates, and a security gate on our back door. I would definitely recommend them to anyone in the DC area.
Complete 24 Hour Service
We provide total 24 Hour service for the entire Maryland and Washington D.C. areas.
Licensed & Bonded
Rest assured because King Locksmith and Doors is fully licensed and bonded for safety and peace of mind.
In-House Experts
We do not outsource for our work. You save money because our experts are in-house!
At King Locksmith and Doors, we specialized in high-end and professional locksmith and door services. We have an in-house door installation expert and do not hire out for any door or lock services.  Our technicians are all highly trained and well equipped to help you with any and all door and lock service needs.