We are your go-to choice for professional and expert door and lock services in Maryland and Washington DC.  With our in-house door experts, you will not pay extra for us to outsource our services.  All of our technicians are highly trained and local and we provide complete 24-hour locksmith and door services for all residents and businesses in Maryland and DC.
Get Your Free Estimate Today!
CHOOSE KING LOCKSMITH AND DOORS
AS YOUR #1 EXPERT LOCKSMITH
You want to find the best professional locksmith Washington DC and Maryland to provide solutions for your home, business or automobile. King Locksmith and Doors, Inc., which operates in Maryland and the Washington DC area, understands your desire to ensure the security and safety of your family or employees.
We offer professional residential, commercial and automotive locksmith services. King Locksmith and Doors, Inc. also has the most dependable lockout services for homes, businesses and automobiles 24/7.
Contact us for reliable and affordable services Monday through Sunday, all day. We have built a reputation for honest service and customer satisfaction. Each of our qualified technicians has at least five years' experience. We Provide Fast Washington DC Locksmith, Locksmith Silver Spring MD, Locksmith Annapolis MD, Locksmith Baltimore MD and Locksmith Washington DC Service 24/7!
WE HAVE MORE THAN 25 YEARS EXPERIENCE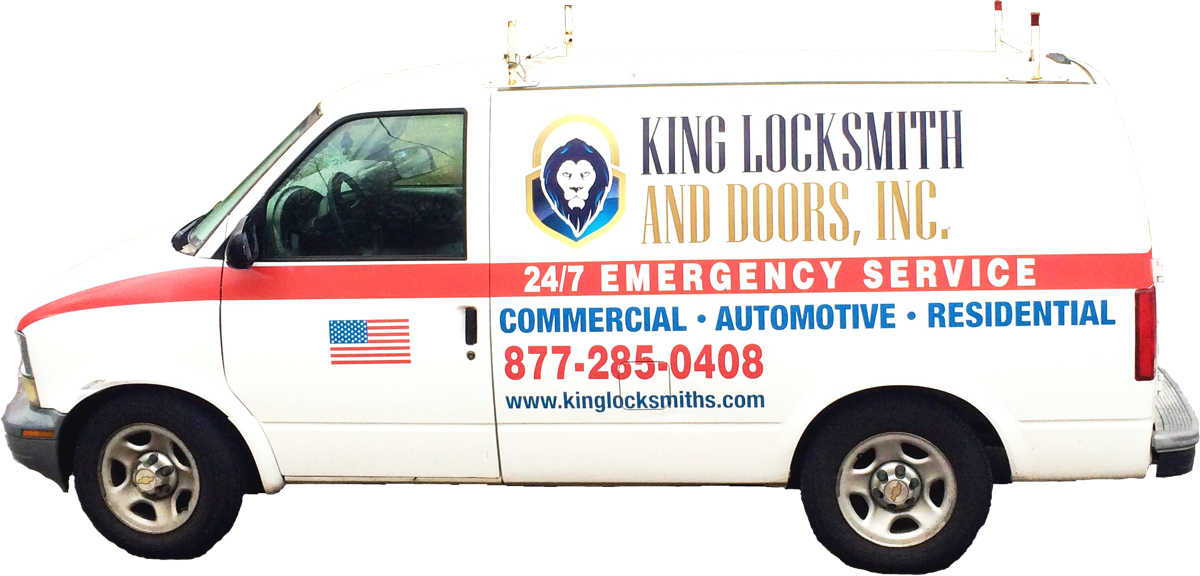 Door Installation & Repair
Request a free estimate today
Our Expertise Saves You Money!
We at King Locksmith and Doors, Inc. provide a full range of services to help improve your security and safety of loved ones, employees, assets, and property. We have in-house security, door, and locksmith experts which not only saves time but also saves you money as we don't need to hire a third-party.
Another way we save you money is that we equip our technicians with the most-advanced machinery for solving emergency business, home and vehicle problems. Our technicians arrive at your location, 24 hours a day, fully prepared for the task at hand. Our experts handle all locksmith issues such as lock changes or rekeys as well as any door installation or repair needs both for residents and businesses in the Maryland and Washington DC areas.
If you own a business, your doors and windows necessitate products and solutions designed especially for business or office spaces. Allow our professional operations to handle your business needs.
King Locksmith and Doors specializes in offering residential and commercial doors, no matter what type you need. We excel in giving fast and friendly services, including door installation, door repair, and door replacement services. When you call us, we will set you up with a reputable sales agent who will talk you through the process of purchasing the specific door for your needs with upfront pricing, so you don't suffer from sticker shock after the work is complete! We will strive to make sure that the door you want fits in your budget, and that you are happy with all work done to your home or business, both inside and out.
Sincerely pleased with the responsiveness,  timeliness, tenacity and overarching professionalism of Edgard's service call. Not to reiterate the text of the other high, consistent reviews previously given for this locksmith service, yet I can affirm my experience and outcome proved successful. Edgard encountered a bit of a challenge during the keying effort due to the inherent characteristics of the doors previously installed and he persevered until the original task objective was completed. We are very very satisfied and would call King Locksmith again for future requirements. Thank you so much.

I have to say it takes a great team to make a GREAT company.... that's why we can open doors, for you and your family.... look I know it sounds cheesy but it's like an old, grimy, rusty bicycle crank that you put oil on and you are pushing down as hard as you can but you just need to put on 20lbs. Lol.. we are good people.And yes I'm one of the locksmiths at King locksmith and Doors inc. I can make a difference...

AMAZING. My keys were taken from my front door. Called they sent someone right away. Technician gave me am ETA and arrived as stated. He was well spoken, well dressed, and well trained to rekey both the top and bottom lock. I highly recommend them.

Bottom line:  I would utilize their services again.  Prompt, friendly and professional. Louis helped us get the keys out of our car for a upfront fair quoted price. Other comments on this post don't understand how companies low ball the price just to 'study the challenge' and then ask for way more than you want to pay.

Called their service line at 12:10pm and Edgar called to confirm and showed up at my store by 1:05pm and did a great job and was finished in 20 minutes. Fastest service I ever had with a locksmith. Edgar has a great personality and pleasant to work with. Thank you very much, will use again in the future for sure.

Not only did he fix my door hinge late at night, but he showed me how to properly maintain and keep it in good condition. He worked very quickly and I cannot say enough good things about this company. Can't believe how lucky I was to find someone honest/won't rip you off w/ sales talk.

As their name indicates, they are the KING of locksmiths. Super quick, affordable, competent, and friendly. I highly recommend them, especially Avi. He was awesome.

Had a very good experience with this locksmith. We called with a bit of an emergency, and they sent a very amiable and capable young technician, Lewis, who promptly replaced our broken lock and made us several keys. I would definitely recommend this company if you find yourself in dire straits. Thank you!

Called their service line at 12:10pm and Edgar called to confirm and showed up at my store by 1:05pm and did a great job and was finished in 20 minutes. Fastest service I ever had with a locksmith. Edgar has a great personality and pleasant to work with. Thank you very much, will use again in the future for sure.

Believe the hype! Edgar is great seriously. I needed a key extraction on very short notice, I called in and Ed called me back in literally 7 minutes and said he would be out in about 30 mins. He actually showed up 30 mins later and was very pleasant to work with.The key that needed extraction was jammed in the key hole and Edgar got it out after a few moments of maneuvering and manipulating the broken key tip.I actually called a few other locksmiths who were going to charge me more and a few who didn't even answer, Ed was very reasonably priced, was quick, efficient, a pleasure to work with and provided excellent service!

This company was awesome, I completely tried to install a keyless front door by myself & messed up, and I called this company the day before Christmas and they answered all of my questions precisely & quickly during the holiday weekend. Within an hour I had a locksmith technician at my house & my door was installed within less than a half and hour. I would definitely recommend them they did a fantastic good. I also, worked with the boss on a fair price for the service work. Five stars to these guys.

We've used King Locksmith and Doors for rekeying, hardware replacement, and more. They've always been very helpful and have done great work. They can make it out very quickly when you are in need, usually same day service, and they've been out on holidays and evenings before. I would highly recommend them and will continue to use them for any future needs we have!
Complete 24 Hour Service
We provide total 24 Hour service for the entire Maryland and Washington D.C. areas.
Licensed & Bonded
Rest assured because King Locksmith and Doors is fully licensed and bonded for safety and peace of mind.
In-House Experts
We do not outsource for our work. You save money because our experts are in-house!
At King Locksmith and Doors, we specialized in high-end and professional locksmith and door services. We have an in-house door installation expert and do not hire out for any door or lock services.  Our technicians are all highly trained and well equipped to help you with any and all door and lock service needs.