Von Duprin Commercial Services With King Locksmith and Doors Inc.
Get Your Free Estimate Today!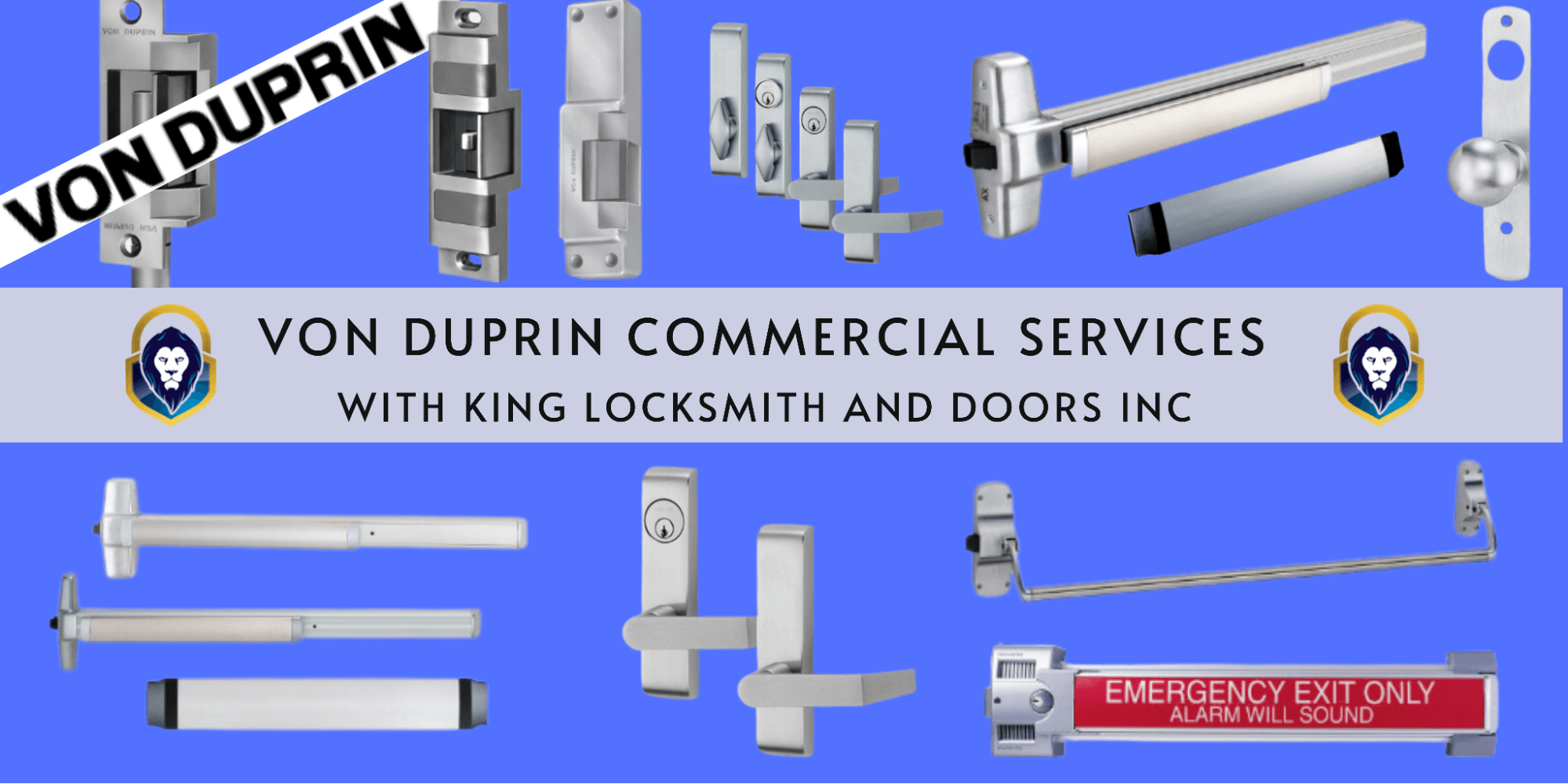 Von Duprin by Allegion – Elevating Security Standards with Premium Access Control Solutions at King Locksmith and Doors Inc. Welcome to King Locksmith and Doors Inc., your trusted security partner serving the Maryland and Washington DC area. We take great pride in offering top-of-the-line security solutions and working with top brands and manufacturers to provide the best services for our customers. 
We are excited to present the prestigious Von Duprin line as part of our great services within the DMV area. Von Duprin, a division of Allegion, has been an industry leader for decades, providing innovative and reliable access control solutions for commercial properties with the best security options. 
Unlock the Power of Von Duprin Electric Strikes with our comprehensive guide, where we combine cutting-edge security solutions and seamless access control to deliver top-notch installation, repair, and replacement services for all Von Duprin products, ensuring utmost safety and security for your property.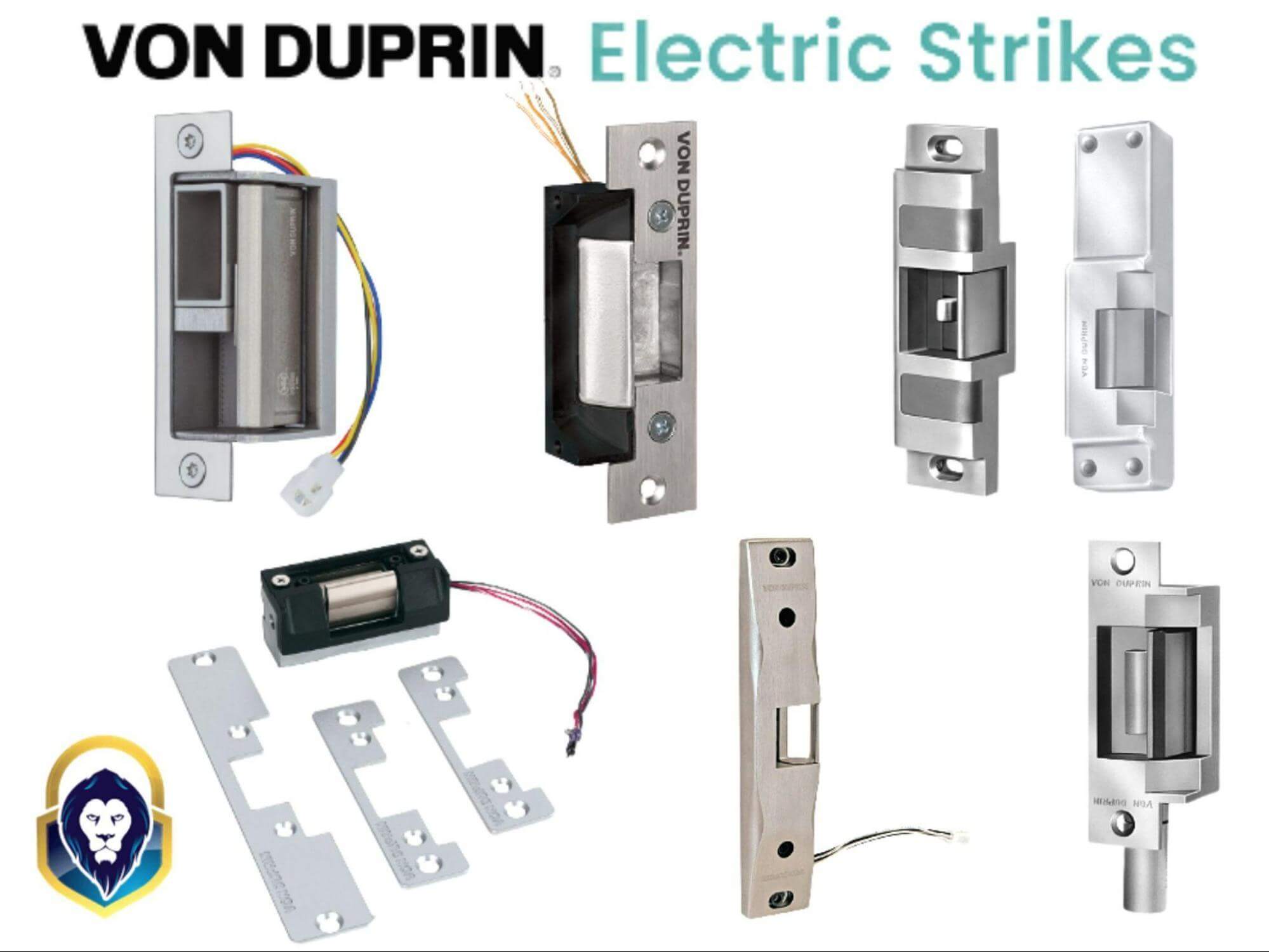 Von Duprin Electric Strikes
showcase unparalleled reliability and sophistication, available in various styles like standard, mortise, rim exit, and surface-mounted electric strikes, each providing specific needs, offering convenience, elegance, and enhanced security. While exploring different types such as fail-secure, fail-safe, and dual-mode electric strikes, designed to prioritize security or comply with safety regulations, allowing you the flexibility to switch between modes as per your unique requirements, and with our dedicated team of experts at King Locksmith and Doors guiding you through the options, you can make informed decisions to elevate your property's security to new heights. As your satisfaction and safety remain our topmost priorities, contact us today to unlock the true potential of Von Duprin Electric Strikes for your property. We are serving Maryland and the Washington DC area and welcoming everyone to join our happy customers and enjoy the best Locksmith and door services with us, with the best pricing in town.
Von Duprin Exit Devices
offer a diverse range of styles and products designed to secure specific needs in both commercial and some residential properties. whether you seek the ultimate protection, compliance with safety regulations, or a perfect blend of aesthetics and functionality, Von Duprin has the ideal exit device to meet your requirements, explore a wide array of exit device styles, including rim exit devices, mortise exit devices, concealed vertical rod exit devices, and fire-rated exit devices. 
Dive into the power of Von Duprin's products, each crafted to cater to specific requirements such as schools, hospitals, offices, and retail spaces, providing exceptional value and performance, and offering a cost-effective solution without compromising on security and quality.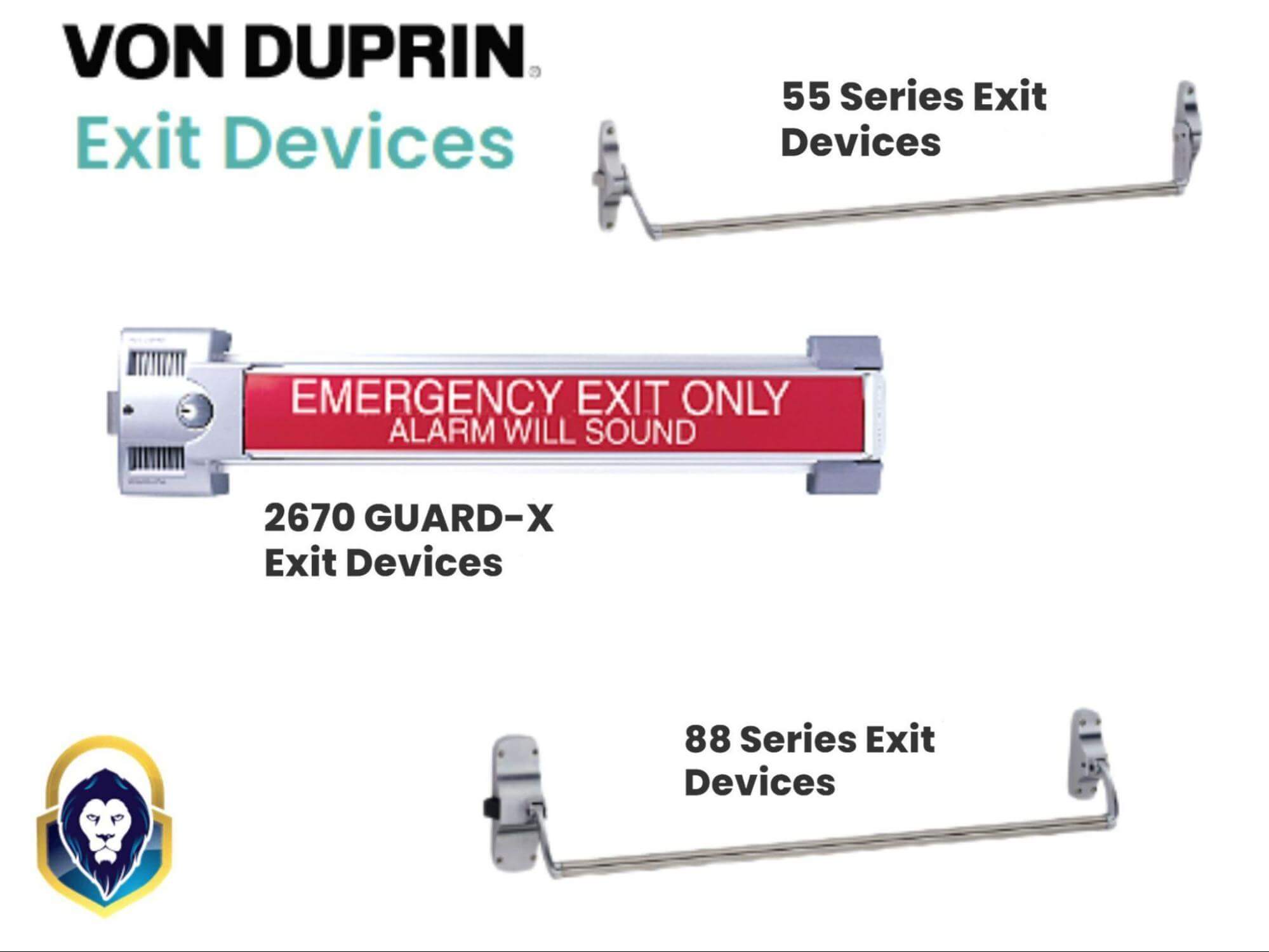 Some Von Duprin items designed for heavy-duty and high-traffic environments, delivering unmatched strength and reliability to ensure long-lasting performance, in the DMV era, King Locksmith and Doors stands as the premier company to fulfill all your Von Duprin exit device needs. With a team of skilled professionals providing comprehensive services, including installation, maintenance, and repair, to ensure optimal functionality and maximum security for your property. King Locksmith and Doors be your trusted partner in safeguarding your property and enhancing your access control system, contact us now to unlock the full potential of Von Duprin exit devices for your space.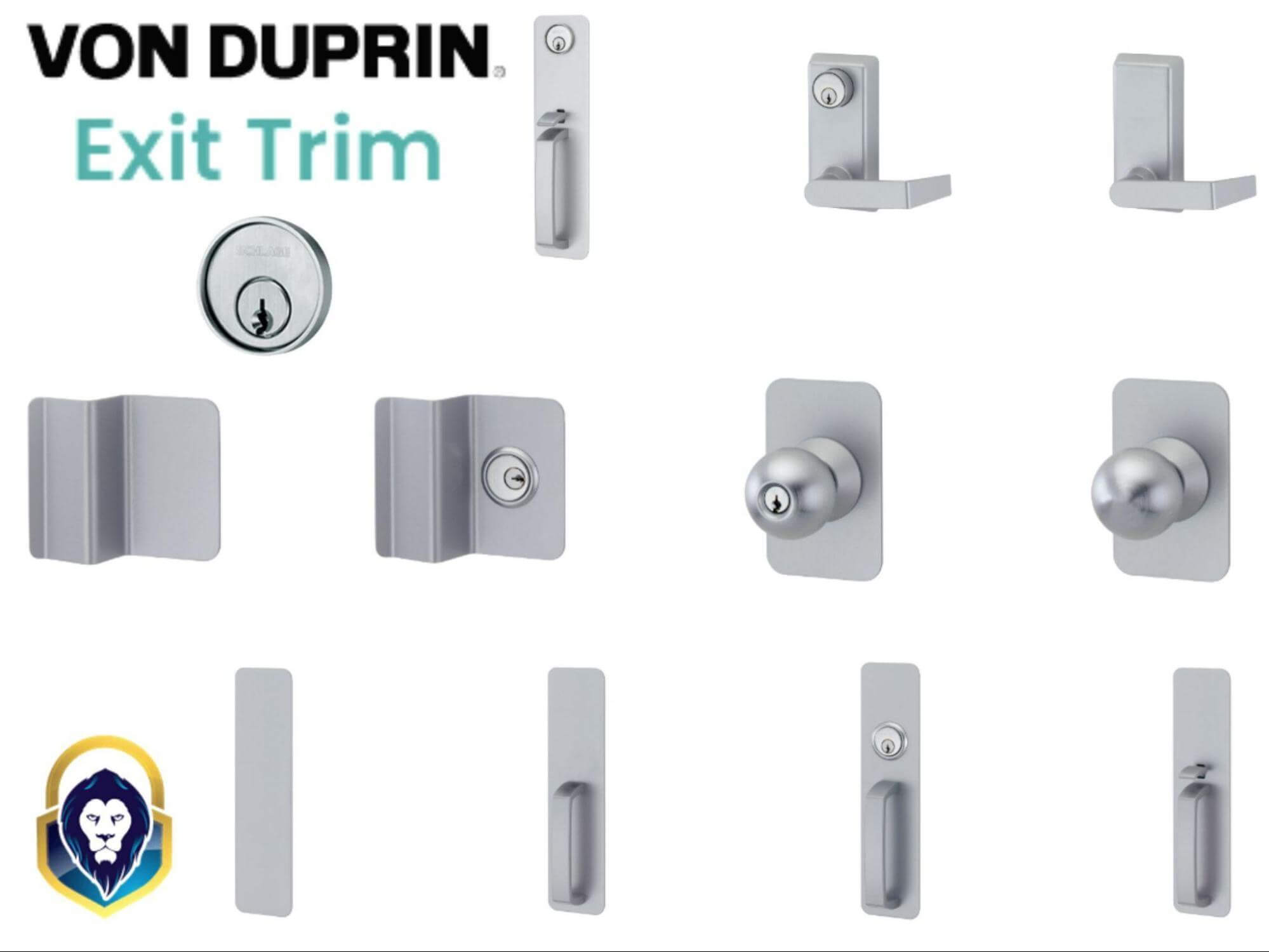 Von Duprin Exit Trim Devices
represent cutting-edge security solutions that complement panic exit devices and elevate the overall access control systems in commercial and institutional buildings, catering to the evolving security needs of modern establishments; as a leading and trusted provider of comprehensive locksmith services, King Locks and Doors takes pride in offering an extensive range of assistance for Von Duprin Exit Trim Devices, empowering customers with top-tier security solutions.
At King Locks and Doors, our commitment to excellence begins with expert consultations, where our knowledgeable team takes the time to understand each customer's unique security requirements and goals; with this understanding, we recommend the most suitable Von Duprin Exit Trim Device, be it a keypad, lever, or push-button option, ensuring that it seamlessly aligns with their specific needs and budget.
With professional installation services, King Locks and Doors ensures that the Von Duprin Exit Trim Devices are flawlessly integrated into the access control systems, guaranteeing optimal functionality and performance. Moreover, as technology advances, upgrading exit trim devices becomes crucial to stay ahead of potential security threats; King Locksmith and Doors is well-equipped to handle any necessary upgrades or replacements, ensuring that the access control system remains up-to-date and effective, providing maximum protection to the premises.
In conclusion, King Locks and Doors takes pride in its role as a reliable partner for all Von Duprin Exit Trim Device needs; we are committed to delivering top-quality services and maintaining the safety and security of our customers' properties; with our expertise and dedication to excellence, customers can trust King Locks and Doors to be their go-to locksmith service provider for all their security requirements related to Von Duprin Exit Trim Devices.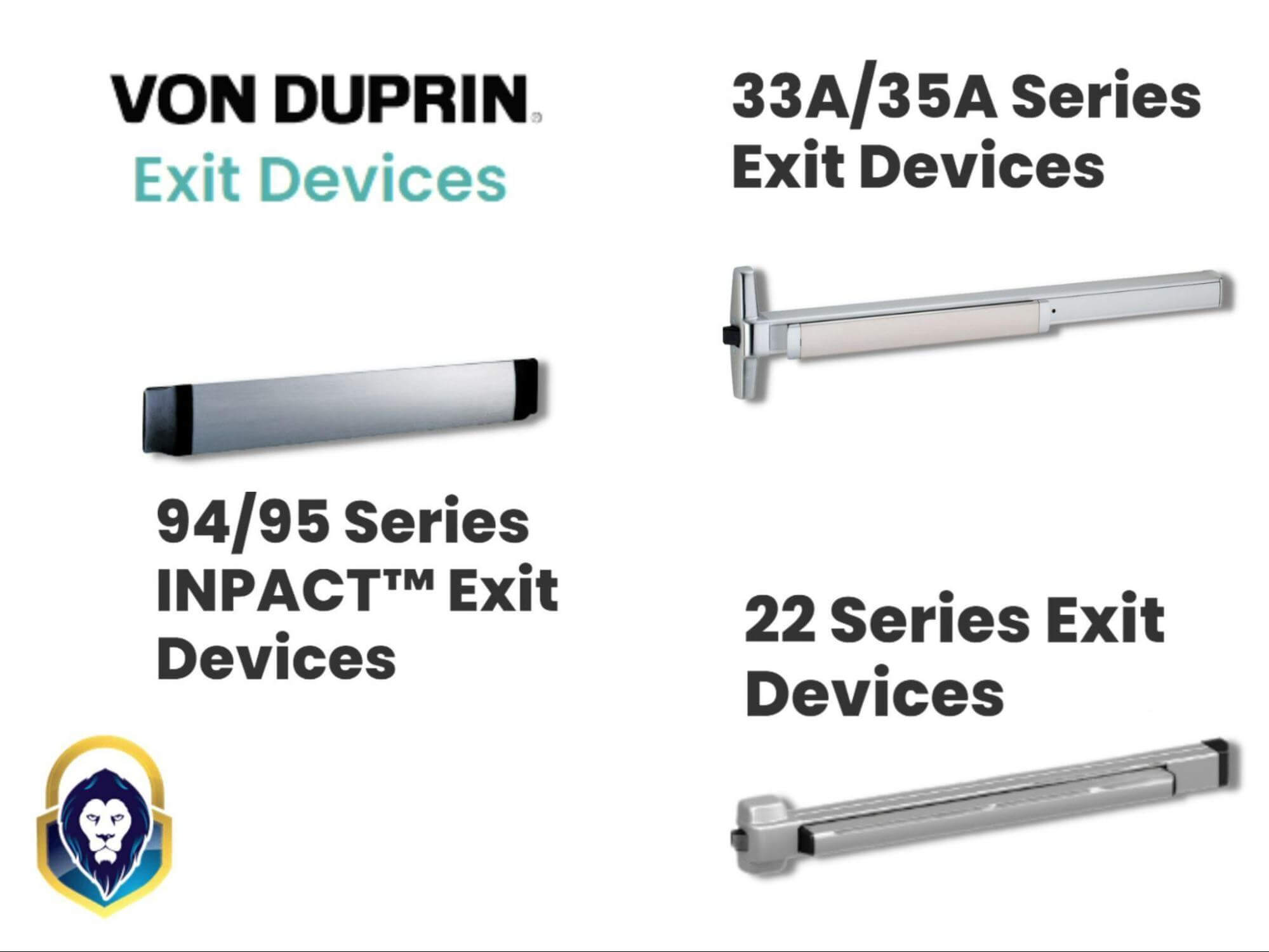 Why Choose King Locksmith and Doors for your Von Duprin services and experience:
Expertise: Our skilled team has in-depth knowledge of Von Duprin products.

Comprehensive Services: We offer installation, maintenance, repairs, and upgrades.

Customer-Centric: Tailored solutions to meet your specific security needs.

Quality: Top-quality services for optimal security and reliability.

Timely Response: Prompt assistance for emergency repairs or routine maintenance.

Up-to-Date Solutions: Keeping pace with the latest security advancements.

Transparent Pricing: Competitive pricing with no hidden fees.

Licensed and Insured: Working with a reputable and trustworthy company.
Trust King Locksmith and Doors for unparalleled Von Duprin services and peace of mind for your property's security.
Complete 24 Hour Service
We provide total 24 Hour service for the entire Maryland and Washington D.C. areas.
Licensed & Bonded
Rest assured because King Locksmith and Doors is fully licensed and bonded for safety and peace of mind.
In-House Experts
We do not outsource for our work. You save money because our experts are in-house!
At King Locksmith and Doors, we specialized in high-end and professional locksmith and door services. We have an in-house door installation expert and do not hire out for any door or lock services.  Our technicians are all highly trained and well equipped to help you with any and all door and lock service needs.
King Locksmith & Doors, Inc.
Professional Locksmith & Door Experts
111 University Blvd West Silver Spring, MD 20901
3283 M St. NW, Washington, DC 20007
manager@kinglocksmiths.com