Residential Door Replacement and Repair Services in Washington DC & Maryland
Get Your Free Estimate Today!
 
Residential Door Repair Services By King Locksmith
King Locksmiths is one of the two companies in the Maryland and Washington DC areas that offer residential door repair services with in-house door replacement specialists. We can keep the cost to our clients down because we don't contract for Door Installation, Door Repair, and Door Replacement jobs! Oftentimes other companies will contract their Door Replacement jobs to us. This makes the cost of the work more expensive as there are 3 parties involved.
In the bustling metropolis of Washington, DC, where businesses thrive and buildings stand tall, the importance of well-maintained doors cannot be overstated. Residential doors are not just points of entry; they are a vital aspect of security, accessibility, and aesthetics for any establishment. Whether you need residential replacement services, or any emergency door repair near you, rely on the expertise of door repair & replacement professionals to get the job done right.
Residential Replacement in Washington DC
We provide comprehensive door repair for your residential door, so if you need a residential replacement and repair, King Locksmith Services is the best door service for you!
It's essential to address the issue promptly to ensure the safety and functionality of your establishment. In the vibrant landscape of Washington, DC, you'll find a range of door repair & door replacement companies ready to assist you. Whether it's a malfunctioning automatic door, a damaged storefront glass door, or any other type of residential door, these experts are well-equipped to diagnose and resolve the issue.
Residential Door Repair  Services in Washington DC
For those looking to enhance the curb appeal and security of their businesses, professional door installation services are readily available. Expert door installers in Washington, DC, can assist with both new door installations and replacements. Whether you require a sturdy entrance for your office or a stylish front door for your storefront, these professionals offer tailored solutions to meet your specific needs.
Emergency Door Repair and Replacement
Emergencies can strike at any time, and when your residential door faces unexpected damage or malfunctions, you need a fast response. Local door repair and replacement companies in Washington, DC, understand the urgency of these situations. They provide emergency door repair and replacement services to ensure your business remains secure and accessible, no matter the time of day or night.
Quality Door Replacement Services
Over time, wear and tear can take a toll on residential doors, making replacement necessary. Door replacement companies in Washington, DC, offer a wide selection of high-quality doors to choose from. Whether you're seeking a durable steel door, an elegant wooden door, or a low-maintenance fiberglass option, these professionals can guide you through the selection and installation process.
Local Door Repair Expertise
The advantage of choosing local door repair and installation services in Washington, DC, is the proximity and understanding of the unique needs of the area. These professionals are familiar with the local building codes and weather conditions, ensuring that your doors are not only functional but also built to withstand the region's challenges.
Professional Residential Door Repair and Installation
When it comes to door replacement professionalism is key. Local door companies in Washington, DC, prioritize customer satisfaction, timeliness, and quality workmanship. They employ highly skilled technicians who are well-versed in the latest door technologies and trends, ensuring that your project is completed to the highest standards.
Our Door Replacement and Repair Services in MD & DC:
Residential Doors 
Emergency Exit Doors
Residential Entry Doors
Residential Interior Doors
Residential Door Replacement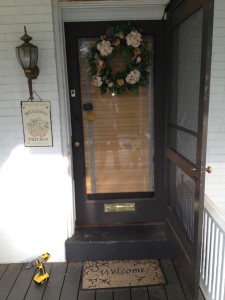 Every door deserves to be repaired and replaced by a professional door installer who can provide a different and fabulous look to your house. The doors in your home are not effective anymore the time is now for door replacement. Door Replacement is not just for ease and convenience, it is a matter of security for your home or business. It is always good to ensure that the doors in your house, office and any establishment are up to the task of preventing culprits from entering your house and offices. But aside from the protection that it can give a new and effective door can add extra style to the surrounding areas in your house.
However, sometimes replacing your old doors can be a very stressful and difficult thing to do. It may also require you to consume too much time and effort. To solve your dilemmas regarding door replacement, our DC door company "King Locksmiths" of Maryland and DC is just within the reach to provide solutions. Give us a call and get in touch with us! We will rest assured that our experienced technicians will give you professional service whatever type of doors you may have.
Door Replacement and Repair in MD & DC: Same-Day Service
When it comes to the security, aesthetics, and functionality of your home, your doors play a crucial role. Whether it's a damaged door frame, a need for reliable residential door repair, or an upgrade to your patio doors, you want a service that you can trust. That's where King Locksmith and Doors in Maryland and Washington DC, comes in to save the day!
Comprehensive Door Repair Services
At King Locksmith and Doors, we understand that as a homeowner, you want the best for your property. Whether it's for remodeling purposes or addressing the need for repair, our dedicated team of technicians is here to assist you. Our service area covers clients in Maryland and Washington, D.C.
Experienced Repair Technicians
Our highly skilled technicians are experts in handling a wide range of door issues, whether they are interior or exterior. From sliding doors to traditional entryways, we've got you covered. If your door frames are suffering from rot or unsightly damage, our technicians can replace them efficiently, ensuring the structural integrity of your doors.
Tempered Glass Replacement
If you're dealing with a cracked or shattered glass panel and want to replace the glass, don't hesitate to call us. We specialize in tempered glass replacement, ensuring that your doors not only look great but also provide the security and insulation your home deserves.
Emergency Board Up Services
We understand that emergencies can happen at any time. That's why we offer emergency board-up services to secure your property until a permanent solution can be implemented. Our  door service ensures that you're never left vulnerable.
You can easily contact us when you search " door repair near me or door repair companies near me " You will eventually see Kings Locksmith and Door Inc., with a Lion Logo. What are you waiting for, Call Now!
Choose King Locksmith and Doors
At King Locksmith and Doors, we take pride in our same-day service, expert technicians, and commitment to customer satisfaction. We understand that your doors are essential to your home's security and appearance. Whether you need door repair, replacement, or upgrades, we are here to serve you promptly and effectively.
Don't hesitate to hire the door repair experts in MD & DC. Call us at 240-345-1455, and let King Locksmith and Doors take care of your door needs, ensuring your home remains secure, beautiful, and functional.
Choose to Replace Doors with Us
100% customer satisfaction in repair or replace
High-quality door and lock services
Quick response in any door issues and door repair in Washington DC and Maryland
Professional and experienced staff in residential installation
One of the very few companies in MD and DC that has in-house Door Specialists with years of experience
DC locksmith company has lower Costs to Consumer
Highest quality in residential door
Industry-leading sliding glass door installation standards that constantly earn high ratings
Tracks your project for absolute beginning-to-end management.
Frequently Asked Questions (FAQ) About Our Door Repair Service
What is your service area for day service?
At King Locksmith and Doors, our service area primarily covers clients in Maryland, and Washington, D.C. We pride ourselves on providing same-day service to ensure your door repair and locksmith needs are addressed promptly.
How can I get in touch to request your services?
Getting in touch with us is easy! You can reach our door installation and repair company by calling us at (240) 345-1455 for MD and (202)800-2622 for DC. Our friendly and knowledgeable team is ready to assist you with any questions, concerns, or service requests you may have.
Do you offer Repair and Replacement in Maryland and Washinton DC
Yes, absolutely! We strive to provide to all clients within our service area. We understand the importance of prompt assistance, especially when it comes to door repairs, replacements, or emergency board-up services. Our team is dedicated to ensuring your needs are met quickly and efficiently.
How Do You Repair Doors?
Our tech experts can repair your door when you need repair. Door replacement starts with measurements and checking the door options available.  Once a door is chosen by our client, we then begin the door installation process by first removing the old door. This should be done professionally so as not to damage the door opening in the process.  We then clean and prepare the opening for the new installation. Then we check the opening and the new frame and door to make sure there is a good fit. Once the new frame is placed into the opening and properly secured, we install the door with professional-grade tools and hardware.  We then make sure the door is secure and sturdy.  Our door replacement experts double-check the installation.
What types of doors can be replaced in emergencies?
Emergency door replacement can apply to various types of doors, including front doors, patio doors, sliding doors, and commercial doors. We are equipped to handle a wide range of door replacements quickly.
Complete 24 Hour Service
We provide total 24 Hour service for the entire Maryland and Washington D.C. areas.
Licensed & Bonded
Rest assured because King Locksmith and Doors is fully licensed and bonded for safety and peace of mind.
In-House Experts
We do not outsource for our work. You save money because our experts are in-house!
At King Locksmith and Doors, we specialized in high-end and professional locksmith and door services. We have an in-house door installation expert and do not hire out for any door or lock services.  Our technicians are all highly trained and well equipped to help you with any and all door and lock service needs.
King Locksmith & Doors, Inc.
Professional Locksmith & Door Experts
111 University Blvd West Silver Spring, MD 20901
3283 M St. NW, Washington, DC 20007
manager@kinglocksmiths.com