Professional Door Replacement
Get Your Free Estimate Today!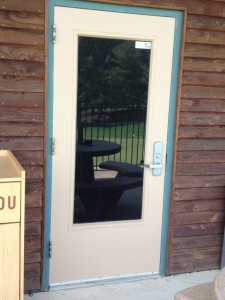 King Locksmiths is one of the two companies in the Maryland and DC areas that offers professional door replacement services with in-house door replacement specialists.  We can keep the cost to our clients down because we don't contract out Door Installation, Door Repair and Door Replacement jobs!  Often times other companies will contract their Door Replacement jobs to us.  This makes the cost of the work more expensive as there are 3 parties involved.
Our Door Replacement Services:
Commercial Doors
Storefront Doors
Residential Entry Doors
Residential Interior Doors
Garage Doors
Residential Door Replacement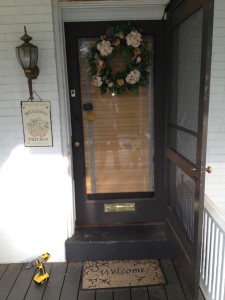 Replacing doors can provide a different and fabulous look in your house. Doors are important tool in your house because it provides security and privacy in your family. But aside from the protection that it can give a new and effective doors can add extra style in your house. However, sometimes replacing your old doors can be a very stressful and difficult thing to do.  It may also require you to consume too much time and effort.  To solve your dilemmas regarding door replacement King Locksmiths of Maryland and DC is just within the reach to provide solutions.
Are your doors in the house or office giving you headaches because they are old, worn out and do not work well?  If the doors in your home or office building are not effective anymore the time is now for door replacement. Door Replacement is not just for ease and convenience, it is a matter of security for your home or business. It is always good to assure that the doors in your house, office and any establishment are up to the task of preventing culprits from entering in your house and offices.
Why Choose to Replace Doors with Us?
100% customer satisfaction
High quality services
Quick response
Professional and experienced staff
One of very few companies in Maryland that has in-house Door Specialists
Lower Cost to Consumer
Highest quality doors
Industry leading door installation standard that constantly earn high ratings
Tracks your project for absolute beginning to end management
See our gallery of recent door installation, repair and replacement jobs here.
How we Replace Doors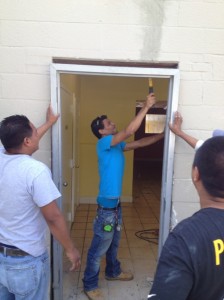 Door replacement starts with measurements and checking the door options available.  Once a door is chosen by our client, we then begin the door installation process by first removing the old door. This should be done professionally so as not to damage the door opening in the process.  We then clean and prepare the opening for the new install. Then we check the opening and the new frame and door to make sure there is a good fit.  Once the new frame is placed into the opening and properly secured, we install the door with professional grade tools and hardware.  We then make sure the door is secure and sturdy.  Our door replacement experts double check the installation. We, in the King Locksmiths Company are always ready to serve you with professional hard work.
King Locksmiths provide excellent and very satisfactory commercial door and residential door replacement to our clients. We assure that we can give you good services especially in door replacement in your houses. Our locksmith door replacement team is composed of well-trained professionals. Workers and technicians of the King Locksmiths Company are all well equipped of experience in the locksmith profession almost 5 years.  To provide good services to our clients and customers all of our locksmith tools and supplies are all to-of-the-line and we make sure that all of our tools and supplies are all working well and effective so that there will be no delay in our service. We are a full service mobile company that can provide Door repair, installation and replacement services in any residential houses and commercial establishments.
If you are having trouble with your doors in the house and offices then you can contact us to provide solutions to your dilemmas regarding your doors. We assure you that we can give you excellent services.

Complete 24 Hour Service
We provide total 24 Hour service for the entire Maryland and Washington D.C. areas.
Licensed & Bonded
Rest assured because King Locksmith and Doors is fully licensed and bonded for safety and peace of mind.
In-House Experts
We do not outsource for our work. You save money because our experts are in-house!
At King Locksmith and Doors, we specialized in high-end and professional locksmith and door services. We have an in-house door installation expert and do not hire out for any door or lock services.  Our technicians are all highly trained and well equipped to help you with any and all door and lock service needs.
King Locksmith & Doors, Inc.
Professional Locksmith & Door Experts
111 University Blvd West Silver Spring, MD 20901
3283 M St. NW, Washington, DC 20007
manager@kinglocksmiths.com