Expert Residential Door Repair Services and Door Installation in Maryland Baltimore
Get Your Free Estimate Today!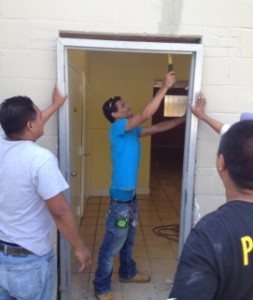 Residential Door Repair Services in MD Baltimore
When it comes to the doors in your home, ensuring their functionality and security is paramount. That's where our expert residential door repair services in Baltimore MD come in. We understand the importance of a well-maintained door frame and the peace of mind that comes with knowing your doors are in top condition.
Whether you need repair work on an existing door or are considering installing a new door, our best door repair services are at your disposal. Our skilled repair technicians, backed by years of experience, provide reliable residential door repair that addresses any door issue you may encounter.
In addition to repair services, we also offer locksmith services to enhance the safety of your home. Our commitment to customer satisfaction is evident in our dedication to being one of the leading door repair companies in Baltimore. Trust us to deliver quality service, ensuring your doors are in their best shape for years to come.
Residential Door Installation Near Baltimore
If you're seeking expert residential door installation near Baltimore, your search ends here. Our door installation and repair services are tailored to meet your needs, ensuring that your home improvement projects are carried out with precision and care.
Our skilled door installers are ready to transform your space with sliding door installations that seamlessly blend functionality and aesthetics. Whether you're replacing an old door or enhancing your property with a new one, our door installation services guarantee a hassle-free experience.
At the heart of our home improvement services is a commitment to customer satisfaction. We take pride in our work and prioritize quality, from the initial consultation to the final installation. When you're ready to upgrade your home with a sliding door, give us a call. Our team is here to guide you through the process and provide top-notch door installation services that will leave you delighted with the results.
Expert Residential Door Replacement in Baltimore, MD
When it comes to expert residential door replacement in Baltimore, MD, we are the trusted choice. Our team specializes in both door repair and replacement, ensuring that every door in your Baltimore home, whether interior or exterior, is of the highest quality.
From front doors that make a statement to every door in your home that deserves attention, our expert craftsmanship shines through in every project we undertake. If you want to replace a door that no longer meets your needs or simply wish to upgrade for a fresh look, we've got you covered.
At Doors in Baltimore, we understand the significance of a well-maintained and visually appealing entryway. Our commitment to customer satisfaction drives us to deliver exceptional door replacement services. If you're ready to enhance the curb appeal and functionality of your home, get in touch with us today, and let's bring your door replacement project to life.
Unlocking the Benefits of Residential Door Repair 
The benefits of residential door repair go beyond just fixing a worn or damaged entryway. In Baltimore MD, where a lot of wear and tear happens due to weather and remodeling projects, having the best door repair services at your disposal is crucial.
When it comes to residential door repair, we understand the importance of a seamless blend of functionality and visual appeal. Here are the benefits you can get from Residential Door Repair:
Enhanced Security: Repairing your doors ensures that they remain sturdy and secure, safeguarding your home against potential intruders.
Improved Energy Efficiency: Well-maintained doors seal tightly, preventing drafts and lowering energy bills by regulating indoor temperatures.
Cost Savings: Repairing doors is often more cost-effective than replacing them entirely, helping you save money.
Aesthetic Appeal: Repairing worn or damaged doors improves the visual appeal of your home, enhancing its overall look.
Increased Home Value: Well-maintained doors contribute to your home's curb appeal, potentially increasing its resale value.
Extended Lifespan: Door repairs address wear and tear, prolonging the life of your doors and delaying the need for costly replacements.
Convenience: Functional doors ensure smooth entry and exit, making daily activities more convenient.
Safety: Repairing damaged doors eliminates hazards such as splinters and loose parts, reducing the risk of accidents.
Environmental Impact: Choosing repair over replacement is eco-friendly as it reduces the demand for new materials and energy-intensive manufacturing processes.
Peace of Mind: Knowing that your doors are in optimal condition provides peace of mind and a sense of security for you and your family.
Our team of skilled technicians in MD Baltimore is dedicated to enhancing the longevity and performance of your doors. Whether it's a minor repair or a complete makeover, we take pride in delivering top-notch door repair services. Don't let worn-out doors hinder your home's charm – unlock the full benefits of residential door repair with our expert assistance today.
Ensure the Safety of the Door in Your Home with Expert Door Locksmiths in MD Baltimore
When it comes to safeguarding your home or business, the expertise of professional door locksmiths is invaluable. In MD Baltimore, where security is paramount, our team stands as the top choice for ensuring the safety of your property.
With a reputation as one of the 10 best door repair companies in the region, we specialize in door repair and replacement, including patio doors and more. Our handyman of Catonsville and West, are well-regarded for getting the job done right, no matter the wear and tear.
In addition to our extensive repair and replacement services, we offer professional door installation to enhance security further. Our company has been providing top-notch locksmith services for years, and our clients in Maryland and DC are consistently happy with their work (our handyman).
When it comes to the safety of your property, trust our locksmiths to offer doors and services that prioritize security and peace of mind.
Our company has on-call professional door repair specialists and experienced technicians who can perform extensive repair services for all kinds of door systems for homes, offices, buildings, and storage. At King Locksmiths, the quality of door repair service is something that will exceed the expectations of those individuals who will hire our repair service for the first time.
If you want to replace the door of your residential home just search "door repair near me" You will see our King Lion Logo and you will never regret it when you click and proceed with the process or you can call us with our hotline number –BALTIMORE: (410) 670-7799, MARYLAND: (240) 345-1455
Our Door Repair Baltimore MD Services:
Commercial Glass Door Repairs
Steel Door Repair
Aluminum Door Repair
Glass Entry Door Repair
Security Doors Repair
Emergency Exit Doors Repairs
Residential and Commercial Glass Entry Doors
Self Bolting Doors
Choose to Repair Doors with Us!
100% Customer Satisfaction with Our Door Services in Maryland Baltimore
High-quality residential and commercial door services
Our team is known for its quick response when it comes to door issues
Professional door experts and experienced staff
One of the very few companies in Maryland that has in-house Door Specialists
Lower Cost to Consumer
Highest-quality door and lock services
Industry-leading door installation standard that constantly earns high ratings
Tracks your project for absolute beginning-to-end management
Our Door Company For Repair and Replace Services :
Door Installation
Commercial
Residential
Automotive
Emergency
Call King Locksmiths Maryland We provide Door Repair Anytime! – (240) 345-1455
Frequently Asked Questions about Door Repair in Baltimore, MD
What types of door repair services do you offer?
We provide comprehensive door repair and replacement services, covering everything from exterior doors to sliding glass doors.
Why should I hire a professional handyman for door repair?
Our experienced technicians can replace or repair any door, ensuring that the job is done right and that you're satisfied with the results.
Do you offer emergency door repair services in the Catonsville and West Randallstown areas?
Yes, we offer emergency door repair services in Catonsville, West Randallstown.
Can you replace the glass in the sliding glass doors?
Absolutely, our door repair experts are able to fix or replace unsightly glass in sliding glass doors.
What is your commitment to customer satisfaction?
We are committed to ensuring the safety and satisfaction of every homeowner by offering a wide range of door repair and installation services. Contact us today for all your door needs!
Complete 24 Hour Service
We provide total 24 Hour service for the entire Maryland and Washington D.C. areas.
Licensed & Bonded
Rest assured because King Locksmith and Doors is fully licensed and bonded for safety and peace of mind.
In-House Experts
We do not outsource for our work. You save money because our experts are in-house!
At King Locksmith and Doors, we specialized in high-end and professional locksmith and door services. We have an in-house door installation expert and do not hire out for any door or lock services.  Our technicians are all highly trained and well equipped to help you with any and all door and lock service needs.
King Locksmith & Doors, Inc.
Professional Locksmith & Door Experts
111 University Blvd West Silver Spring, MD 20901
3283 M St. NW, Washington, DC 20007
manager@kinglocksmiths.com