High Security Door Installation and Repair Services in Washington DC & MD
Get Your Free Estimate Today!
High Security Entry Doors in Maryland: Protect Your Home in Style
Get Security Doors Installed From King Locksmiths And Doors!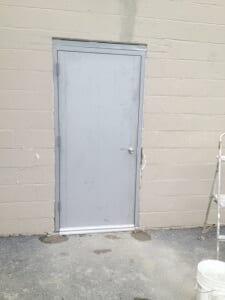 Your front door is often the first line of defense against potential intruders, and thieves making it crucial to invest in high-security door installation and repair services. If you're looking for the best security doors to protect your home or business in Washington, DC, and Maryland, look no further.
Security doors come equipped with a surface mount for safety. These doors are more than just barriers; they provide peace of mind. With options like tempered glass panels, reinforced hinges, and deadbolt locks, they offer an extra layer of protection that standard doors can't match.
For businesses, a commercial security door installation is a wise investment in safeguarding your assets and employees. These doors are designed to withstand heavy-duty use while keeping unauthorized access at bay.
Choosing the Right Security Door Company
Selecting the right security door company is crucial to ensure your property's safety. In Washington, DC, and Maryland, King Locksmith Service stands out as a trusted provider of high-quality security doors and professional installation services. Our skilled and experienced team specializes in precision installation, offering customizable configurations to meet your specific security needs.
Enhanced Protection with an Alarm
To further enhance your security, consider incorporating an alarm system. When an intruder attempts to open the door, the alarm will sound, alerting you and deterring potential threats.
In conclusion, prioritizing high-security door installation and repair services is a proactive step toward safeguarding your home or business. When it comes to the best security doors and reliable installation, King Locksmith Service in Washington, DC, and Maryland has you covered. Give us a call today for a free quote and enjoy the peace of mind that comes with enhanced security.
Custom Security Door Design Options in DC: Explore Your Choices
Your exterior door serves as more than a mere entrance; it's a reflection of your home's identity and a pivotal component of its security. When considering custom security door design options in Washington, DC, you'll discover a vast array of choices to explore.
From your door's aesthetics to the range of door products available, our expert team is dedicated to delivering top-rate solutions that are also able to handle the intricacies of the job. We not only provide a variety of options but ensure the job is done efficiently, with meticulous attention to detail, utilizing the right screw and hardware to fortify your home's security.
Popular Security Storm Doors in DC: Discover Color and Finish Options
Among the popular security door options, wrought iron and aluminum doors stand out for their durability and strength. These doors provide an extra layer of protection, often featuring decorative elements that enhance your home's curb appeal.
Design and Configuration
Custom security doors are designed to fit your needs precisely. You can choose from single doors or double doors, each with customizable configurations. Options like fiberglass or optional glass panels allow you to strike the perfect balance between security and aesthetics.
Sealing the Deal
The seal on your security door is essential to prevent drafts and enhance insulation. Upgrading the seal ensures that your home remains energy-efficient and comfortable.
The Right Frame and Lockset
A sturdy door frame is crucial for security. Combined with the right lockset, it provides the ultimate protection for your home. Some locksets even come with additional bolt features for added security.
Professional Installation Matters
While exploring your custom security door options, don't forget the importance of professional installation. A well-installed security door ensures that it performs optimally. Our team, specializing in custom security door installation in DC, is equipped to handle the job, providing products and services that may vary depending on your specific requirements.
Contact Us Today
When it comes to enhancing your home's security and aesthetics, our customer service is here to assist you. We not only provide a range of custom security doors but also ensure that the job is done right. Contact us today to explore your custom security door design options and enjoy peace of mind with enhanced home security.
King Locksmith: Your Solutions Who Installs Security Doors
King Locksmith is a licensed company that assures you of getting high-quality services from a well-established professional company. With our emergency door installation services, we are capable of providing instant service with advanced machinery for quick installation.
We provide security door installation and repair services for commercial buildings and residential buildings. We also provide free estimation quotes for door installation services, ensuring transparent pricing and competitive rates for getting the job done at your place.
Benefits of Getting Door Installed By Professionals
One small mistake while installing can ruin the whole purpose of investing money in indoor installation. Investing in door installation is worth it as it gives curb appeal to your place. But it would be worth it only if it is done correctly else you will end up with getting it repaired often or even it can lead to the replacement of the door. Hiring experienced and certified professionals for your door installation will get that fixed the first time only.
Safety door installation is a must for protecting the structural integrity of the doors. Getting your door installed by professionals will help you as experienced professionals take care of all minute details of providing you with all the benefits of a properly installed door.
With proper installation, doors help you with lower utility bills as they prevent loss of heat and cool, maintaining proper balance and lowering your utilization of heaters and air conditioners.
During winters insects find their way, even through tiny holes, but if doors are installed appropriately by leaving no gaps, it keeps your place safe from insects.
Security door locksmith! It is a thing that can't be compromised at any cost. Install a security door project in safer and more experienced hands won't give any chance of security breaches in your confidential areas.
Why You Should Call Us:
We offer professional commercial, residential, and automotive locksmith services
We offer reliable and affordable services 
We have a good reputation for providing reliable and honest services to our clients
Our technicians have over 5 years of experience in taking all repairs and installations
We possess more than 25 years of experience in locksmith services
We don't compromise with quality and adhere to maintained standards for repair and installation projects
More about King Locksmith's Services
Commercial Door Repair
Door Replacement
Door Installation
Security Door Replacement
Security Doors Maintenance
Office Security Door
Emergency Door Repair
Security Door Installers
We, King Locksmith a door replacement company, are dedicated to having a peaceful home, establishment, and other properties.
What are you waiting for Contact us now! 
Frequently Asked Questions About Our Security Door Installation and Lock Services
What makes high-security steel security doors the best choice for my home's entrance?
High-security steel doors are an excellent choice because they are durable, heavy-duty, and provide an extra layer of protection. They come with features like tempered glass panels, reinforced hinges, and a sturdy frame. Additionally, they are available in various configurations and color options to match your preferences.
Are steel security doors with black color options popular in Baltimore and Washington, D.C.?
Yes, steel security doors with black color options are quite popular in Baltimore and Washington, D.C. They offer a sleek and modern look while providing top-notch security. Many homeowners prefer the combination of style and safety for their entrance doors.
What is the availability of professional installation services for security doors in Maryland?
We specialize in professional installation services for security doors throughout Maryland. Our skilled installers are equipped to handle the job with precision, giving you peace of mind that your security door will be installed correctly and efficiently.
Can you customize the configuration of security doors to fit my needs?
Absolutely, we offer customizable configurations for security doors. You can choose from single or double security doors, with options for additional features like ventilation, tempered glass panels, and deadbolt locks to suit your specific security requirements.
What color options are available for security doors in Washington, D.C.?
Our security doors in Washington, D.C., come in a variety of color options to match your home's exterior. Whether you prefer a classic white, a bold black, or a custom color, we have options to suit your preferences and enhance your home's curb appeal.
Complete 24 Hour Service
We provide total 24 Hour service for the entire Maryland and Washington D.C. areas.
Licensed & Bonded
Rest assured because King Locksmith and Doors is fully licensed and bonded for safety and peace of mind.
In-House Experts
We do not outsource for our work. You save money because our experts are in-house!
At King Locksmith and Doors, we specialized in high-end and professional locksmith and door services. We have an in-house door installation expert and do not hire out for any door or lock services.  Our technicians are all highly trained and well equipped to help you with any and all door and lock service needs.
King Locksmith & Doors, Inc.
Professional Locksmith & Door Experts
111 University Blvd West Silver Spring, MD 20901
3283 M St. NW, Washington, DC 20007
manager@kinglocksmiths.com