Residential Door Replacement and Door Installation Services in Maryland and Washington DC 
Get Your Free Estimate Today!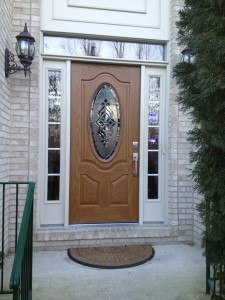 Our Door Replacement and Door Installation Services
Our door replacement and installation service is open to all businesses and residents of Maryland and Washington D.C. We offer replacement and many types of durable and elegant doors for commercial facilities and houses. Our staff and technicians are always ready to answer the needs of individuals who want to install the best doors and security systems in their homes. A wide variety of  residential doors are available in our company. These doors are very durable and affordable enough to satisfy the needs of those individuals who want to leave their houses and business establishments well-secured and protected from strangers. Our service inclusions are the following:
Residential Door Installation
Emergency Exit Door Installation
Residential Entry Doors
Residential Interior Door Installation
We take great care to ensure that the door we install will provide the ultimate security and ease of use for all our clients. Being a Maryland and D.C. Locksmith, we have the skills and expertise to ensure we install doors with the highest security considerations.
All of the procedures included in this specialized service of our company will be executed by our experienced door install specialists, who possess the specific skills, training, and knowledge to apply when installing a new door in a house or business. The first step of this service is the process of inspecting the areas where our residential doors will be installed.
If the inspection procedure for the areas where our residential doors will be installed is already done. Our door installation specialists will begin the process of installing the new doors. Our clients can always expect that our door installation service will never fail to live up to the quality that we promised them. Our door installation specialists at King Locksmiths have more than five years of experience in the field of door replacement, door repair, and door installation. We also can install door hardware to match your needs.
We come prepared with the necessary equipment for door installation. Our specialists will first remove the former doors to start the actual door installation service. After removing the old doors of our clients, our professional technicians will install the new commercial or residential doors selected by the client. The installation service will be executed with the safety and security of the property at the top of our list. Our door installation service is open for all businesses and residents in Maryland, Washington, DC, and all surrounding areas.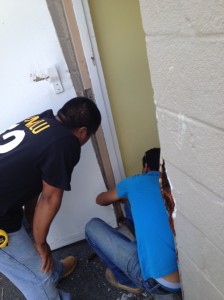 Comprehensive Door Repair Services
When it comes to maintaining the security and functionality of your doors, comprehensive door repair services are essential. Whether you require a quick door install, residential door installation, or assistance from experienced residential door installers, these services ensure the integrity of your property's entry points.
Experienced locksmiths in M.D. offer a wide range of door repair solutions. From fixing jammed locks to addressing issues with hinges and door frames, they are equipped to handle various door-related problems. Their expertise extends to residential door installation, ensuring that your doors are installed correctly and function optimally.
Quick door installation services are precious in emergencies. Whether you need to replace or install windows and doors or upgrade your security, prompt installation by skilled residential door installers is crucial.
In conclusion, comprehensive door repair services provided by locksmiths in M.D. encompass everything from residential door installation to quick door installs. These services ensure that your doors not only enhance the aesthetics of your property but also provide the security and functionality you need
Door Installation in Maryland and Washington DC: Top-Quality Service
A new front door can make a world of difference. At King Door and Lock Maryland and D.C., we specialize in front door installation services that ensure your property stands out in style while providing top-notch security.
Our skilled technicians are well-versed in door installation techniques, including securing the door jamb for maximum durability. Whether you're looking for a traditional front entry door or a modern design, we offer a wide range of options to suit your preferences.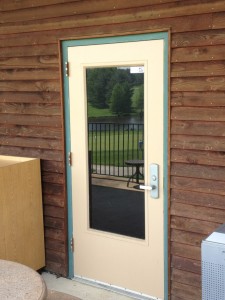 Door Replacement Services Tailored to Maryland and Washington, DC
Door replacement is a significant step when enhancing your home's aesthetics and security. With our fast and friendly team and door replacement services, we prioritize providing tailored solutions to meet your specific needs and preferences. If you're remodeling your door, we've got you! We're committed to delivering top-notch solutions that enhance your home's overall appeal and security. If you're looking to upgrade your front entry door or replace interior doors during a remodeling project, we've still got you covered.
We understand that your door's appearance and functionality are essential, so we'll help you select the best quality materials to ensure your satisfaction.
Enhance Curb Appeal with Entry Door Replacement and Quality Exterior Door
Curb appeal encompasses the property's allure and overall charm when observed from the street or curb. It involves all aspects of a property's exterior, including architecture, landscaping, cleanliness, and overall aesthetic appeal. It's worth noting that new entry doors can also contribute significantly to a property's curb appeal. They are an essential element that can make a strong impression. Businesses, homes, and various property types can benefit from improving their curb appeal because it dramatically influences people's initial perception of the property. Professional services also offer expertise in enhancing this crucial aspect.
If you're in Maryland or Washington and looking to improve your property's appearance, give us a call. We specialize in door and window upgrades that significantly enhance your property's overall appeal.
Upgrade Interiors Doors with Our Perfect Doors
Upgrading interiors with new interior doors can significantly enhance the aesthetics of your living spaces by introducing fresh styles, finishes, and designs that harmonize with your interior decor. They also play a role in energy efficiency, sealing off drafts and helping maintain consistent temperatures, potentially reducing heating and cooling costs. 
When enhancing your home security, aesthetics, and functionality, consider the importance of entry door installation and repair services. Our installation services throughout Maryland are readily available to meet your needs. Skilled technicians can expertly handle everything from fixing door hinges that squeak to installing brand-new doors that simplify your home's curb appeal and provide robust protection. With access to a range of top-tier door manufacturers, you can select the perfect door to complement your home's style while meeting your security requirements. Whether it's a sleek modern design or a classic, timeless look, we have you covered with professional door installation and repair services in Maryland, ensuring your home's doors are beautiful and secure.
What Our Customers Are Saying About Our Door Installation and Repair in Maryland
Our customers have spoken, and the consensus is clear: our installation and repair services in Maryland are unmatched. At our company, we take pride in the feedback we receive. Clients appreciate our upfront pricing, which ensures there are no surprises when it comes to costs. We're committed to excellence, and our services are offered with your satisfaction in mind. Whether it's installing new doors, repairing hinges, or any other door-related project, we deliver top-notch results. We value the trust our customers place in us, and their words reflect the quality of our work. Don't just take our word for it; let our satisfied clients tell you about their experiences with us.
Choose Us for Your Replacement Doors  and Other Residential Door Needs
Do you want to upgrade your home's exterior? Do you have door problems in the M.D. and D.C. areas or need assistance? Call us at (202) 800-2622 today for top-quality exterior door replacements by King's Locksmith. We offer upfront pricing and a wide selection of quality exterior doors to enhance your home's curb appeal and security. Our expert team specializes in seamless door replacement, catering to Maryland (M.D.) and the District of Columbia (D.C.) residents.
Your front door is a crucial element of your home's character, and our doors are built to endure the test of time while adding charm. King's Locksmith is committed to transparency, providing detailed quotes with no hidden fees. Trust us to transform your home's entrance with a beautiful, durable exterior door. Contact us today and let King's Locksmith become your go-to source for door replacement in the M.D. and D.C. areas.
Click to Call for Quick Assistance
In this time when security is a must, a reliable door installation company with licensed door installers is your assurance of quality service. Whether you seek to enhance your home's entry or require emergency residential door repair, having a trusted professional is paramount.
In times of crisis, such as a damaged door, an emergency residential door repair expert is your lifeline. They respond promptly, restoring your home's security swiftly. If you're a homeowner who wants to install a door or have any related needs, contact us now for rapid assistance from a trusted licensed door installer.
Frequently Asked Questions (FAQs) about Our Door Installation Services
What is your expertise in exterior door installation?
We specialize in installing new exterior doors, including energy-efficient steel entry doors and fiberglass entry doors. Our expertise extends to wooden entry doors, offering a wide selection for every type of home or business.
Can you handle the front door replacement?
Yes, we offer front door replacement services that cater to many homeowners looking to spruce up their home's appearance and enhance security. We provide free upfront pricing for customer satisfaction.
What makes you in Maryland a trusted door expert?
We are trusted door experts in Maryland, offering quality doors, including premium replacement doors. Our upfront pricing and advanced security, safe, and lock services ensure customer satisfaction.
Can you tell us about your patio doors?
We offer a wide selection of patio doors, including high-end options for stylish outdoor entries. Whether you want glass breakage or drafty solutions, we have many options to choose from.
Can you explain your door services in detail?
We offer installation and repair services for every type of door. Whether it's a steel entry door, fiberglass entry door, or wooden entry door, we ensure the highest quality results.
Complete 24 Hour Service
We provide total 24 Hour service for the entire Maryland and Washington D.C. areas.
Licensed & Bonded
Rest assured because King Locksmith and Doors is fully licensed and bonded for safety and peace of mind.
In-House Experts
We do not outsource for our work. You save money because our experts are in-house!
At King Locksmith and Doors, we specialized in high-end and professional locksmith and door services. We have an in-house door installation expert and do not hire out for any door or lock services.  Our technicians are all highly trained and well equipped to help you with any and all door and lock service needs.
King Locksmith & Doors, Inc.
Professional Locksmith & Door Experts
111 University Blvd West Silver Spring, MD 20901
3283 M St. NW, Washington, DC 20007
manager@kinglocksmiths.com