King Locksmiths and Doors, The Best Locks and Doors Company in Washington DC Area
Get Your Free Estimate Today!
Your Reliable DC Locksmith: Ensuring Your Peace of Mind
There isn't a more helpless feeling than having issues with locks or keys. When you need access but cannot find your way in, you need a professional local locksmith company that can perform the job quickly and professionally. King Locksmiths and Doors is a local Locksmith company that operates and is familiar with Washington DC streets and addresses. Our company provides thousands of different services among Residential and Commercial properties within our capital Washington DC. 
Washington DC Locksmith: Trusted for All Your Locksmith Needs
We are proud to be one of the area's most reliable and trusted companies. We take your service request needs seriously and always put our customers first! We provide full Locks and Door service within Washington DC and have the best security solution at your request. In addition, we are the only company in town that can provide Locksmith and Doors services at once. So please save money and time by calling us today for your FREE estimate and a step-by-step plan to secure your home or office.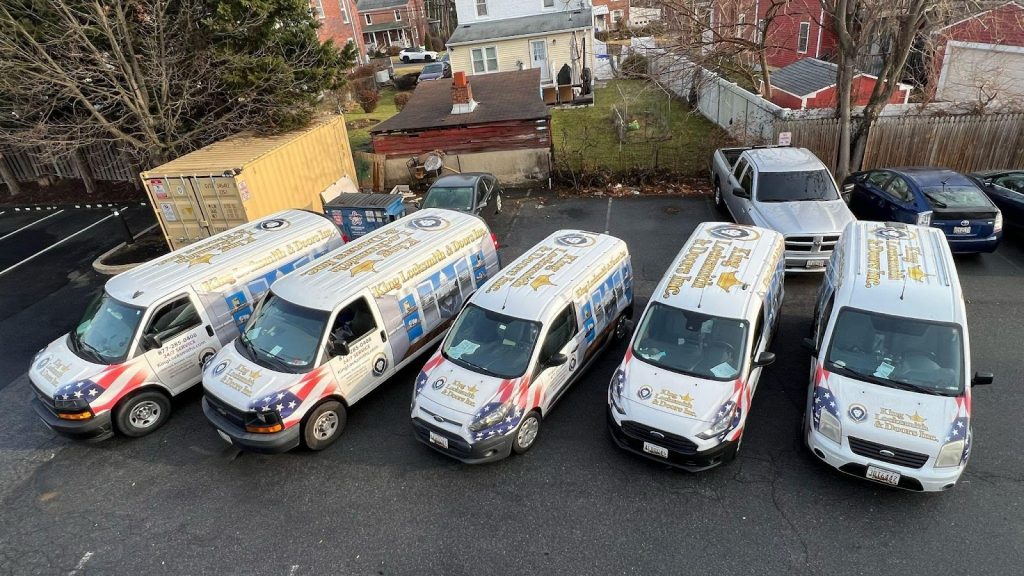 Professional Commercial Locksmith in DC: We've Got Your Back
Are you looking to upgrade your security office, storefront, storage unit, or Commercial Property?
Our Washington, DC, Locksmith Technicians understand the importance of keeping your business facility safe and secure. We can provide the installation of Top of line security systems. This includes upgrading current locks to new technology high-security locks. We will find the optimum solution for your needs.
Exceptional Residential Locksmith Service in Washington DC
Residential Locksmith with King Locks and Door; When Locked out of your apartment or needing a Rekey service, even upgrading your old locking system with a new one. King Locksmith and Doors of Washington DC has been in the Locksmith and Doors business for over 20 years and can perform any Residential job at your request. In addition, we offer mobile locksmith service on call around the clock for all emergency lockouts.
Best Locksmith in Washington DC: Combining Quality and Convenience
If your Lock has broken, or you have forgotten your keys at work, maybe you just wondered what Kind of security lock you should put in your home and which security system is the best for you. Our team of experts can walk you step-by-step to ensure you understand everything and chooses the right Lock for your home.
You can always ask our professional technicians if a master essential system can be the best option for your home. The Technician will provide you with a full quote and pricing before starting the job.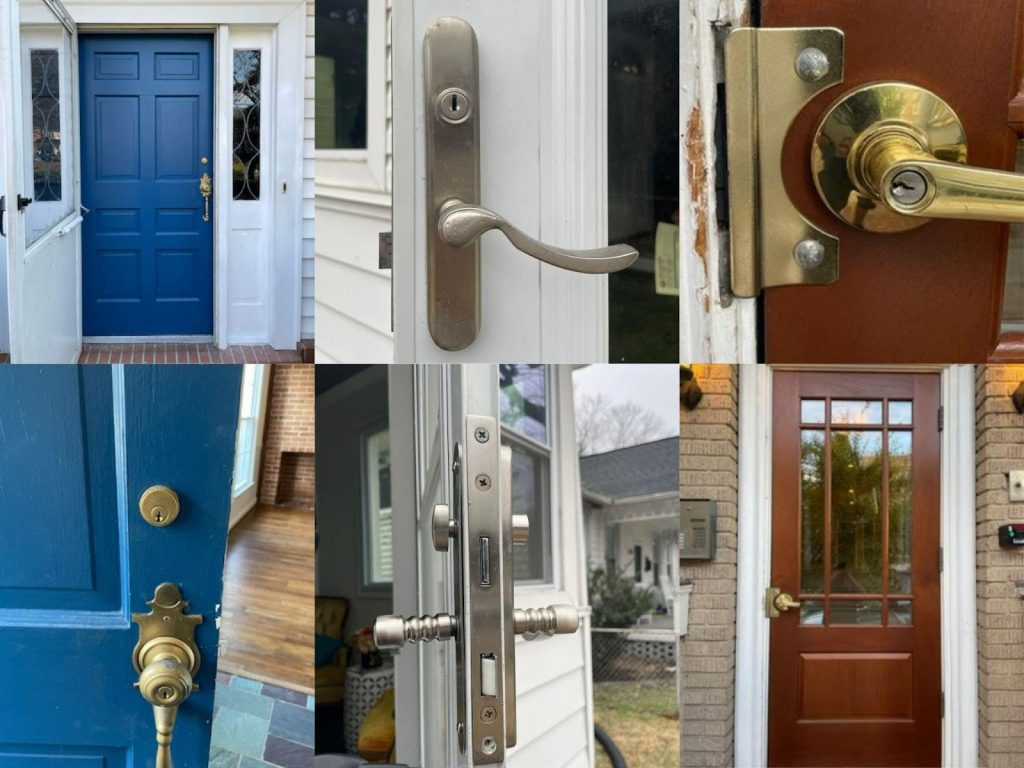 Your Locksmith in Washington: Providing Lock Solutions for Every Challenge
Repairing Residential locks is usually relatively quick and cheaper, so many customers save money by having the Lock repaired, and our company can help you with any residential Locks repair.
However, if the safety is beyond repair, our Professional certified Locksmiths Technician has the best variety and tools to secure your Property and change the hardware correctly. This is why Improving Your Home Security is just a phone call away.
King Locksmith and Doors, Washington DC, has the merchandise and the best price range to fit your needs. We can offer high-quality door locks and hardware, residential locking systems, and all types and styles.
We install, repair, replace, and rekey hundreds of residential locks, including but not limited to: Keypad Locks, Chain Locks, New Locks, Lock Sets, Patio Door Locks, Entry Door Locks, Mailbox Locks, Garage Door Locks, Door Lock assembly, Front Door Locks, Sliding Door Hardware, French Door Locks, etc.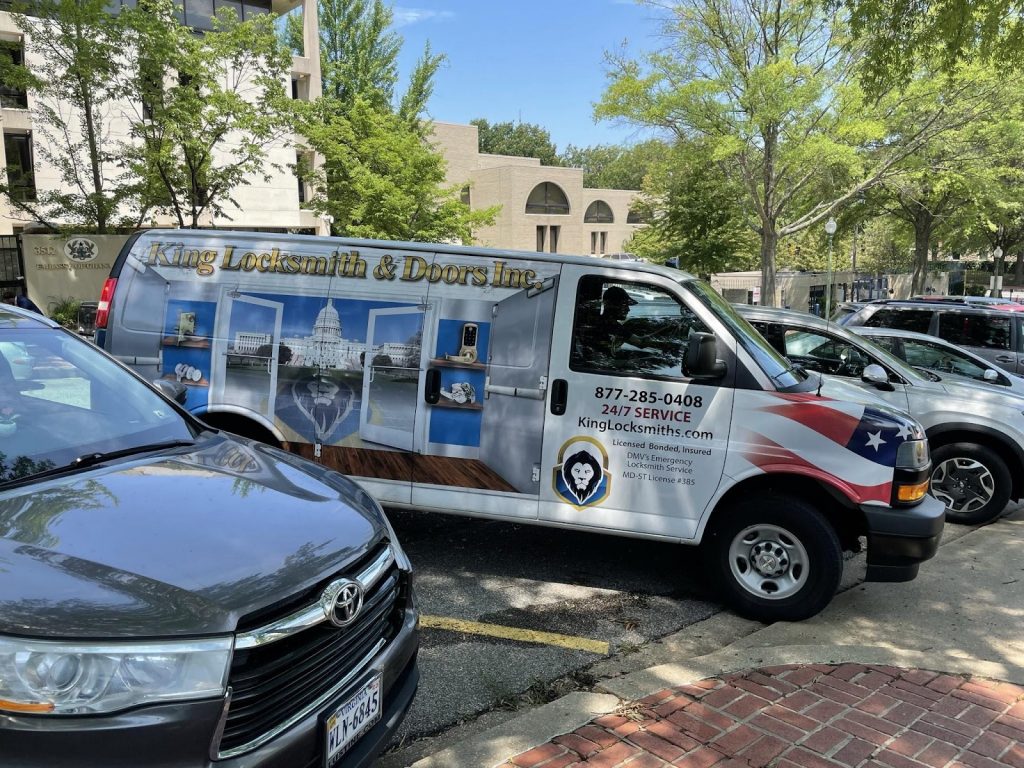 Residential locksmith services offered by King Locks and Doors in Washington DC:
● Install, repair, or replace all locks.
● High-security locks installed.
● Keyless entry locks installed.
● Cabinet locks and file cabinets can be rekeyed or changed.
● Safe combinations changed.
● Garage door locks can be rekeyed or changed.
● Mailbox locks and keys installed or changed.
● Lock Cylinder Replacement
● Lock Change
● Bedroom Door Lock
● Deadbolts
● Sliding Glass Door Locks
● Door Locks
● Residential Door Lock Repair
● Break-In Repairs
● Screen Door (Storm Door) Locks
● Handlesets
● Garage Door Locks
● Burglary Damage Repairs
● Open Filing Cabinets.
● Open Mailboxes locks.
At King Locksmith and Doors Washington DC, we offer high-security products for your home using the most advanced technology at affordable prices. Call us today for all your residential Locks and Doors issues.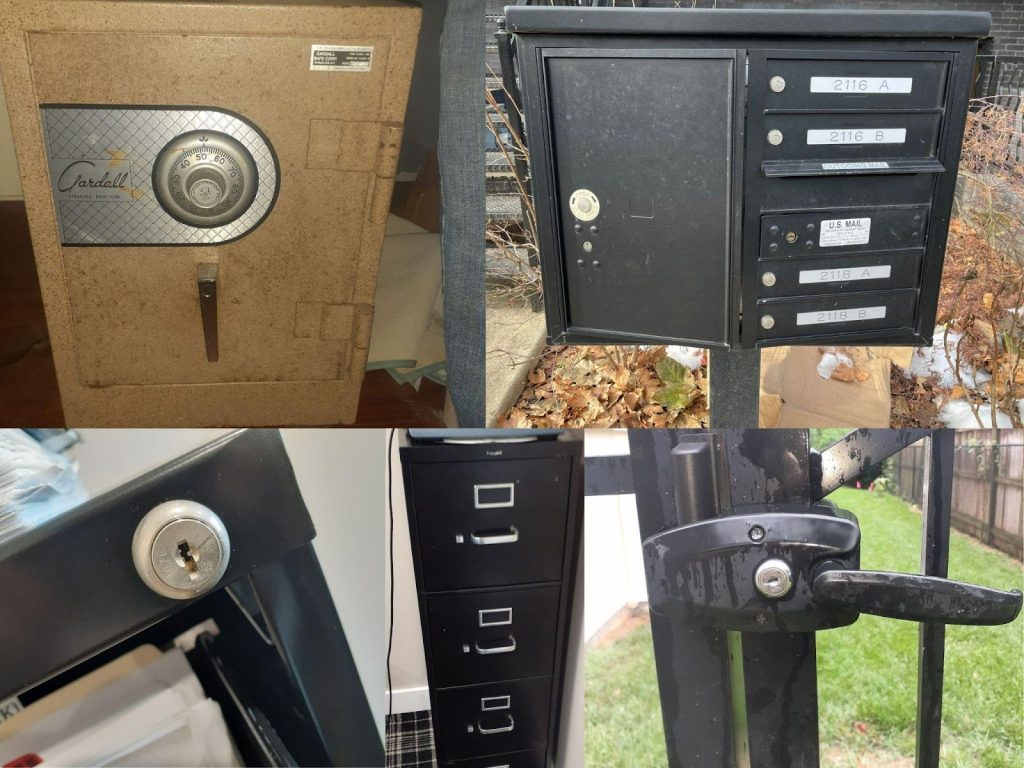 Commercial Locksmith Services in Washington DC by 
King Locksmiths and Doors are:
● Install, repair, or replace all locks
● High-security locks installed
● Keyless entry locks installed
● File cabinet locks can be rekeyed or changed
● Safe combinations changed
● Panic bars and exit devices were repaired and installed
● Mailbox locks and keys installed or changed.
King Locksmith and Doors, Washington DC, will be your best solution for industrial, commercial, small businesses, central corporate organization offices, retail stores, and shops. Our team of commercial locksmiths is made up of highly skilled experts who can repair panic bars, high-traffic locks, emergency exit door hardware, and fire escape devices.
Additionally, we expertly install and fix hidden and hydraulic door-closers on gates and front building doors, electric strike repairs and replacements, and full service and combination changes for safes used for business purposes. All work carried out by our company is guaranteed, both on parts and labor.
Commercial Locksmith Services in DC: Your Partner in Business Security
Commercial properties typically explore more theft and criminal behavior. As a result, Commercial property owners need high-security systems to protect from any harm and attacks. King Of Locks and Doors DC provides a full range of security solutions for all businesses and properties. In addition, King Locksmith and Doors team arrives at any job well-prepared with the most recent technology to provide our customers with prompt, courteous service. As a result, our company is ranked as the best Locksmith and Doors Company within the Washington, DC, area.
Industrial Locksmith Solutions: Specialized Services for DC Businesses
We offer high-quality industrial service that is quick, effective, and reasonably priced. Our company provides security solutions and door hardware from the top lock manufacturers for businesses, institutional buildings, warehouses, condos, office buildings, hotels and motels, restaurants, and other organizations.
Our Technicians are highly trained, arriving at your location with fully equipped locksmith vehicles, and are ready to meet the needs of any job within the Locks and doors field.
Please refer to our Washington DC Google Maps listing with many recommendations and reviews based on our returned customers with a 100% satisfaction guarantee! So wait no longer! Contact us today for any questions.
Your Go-To Commercial Locksmith in Washington DC: Secure Your Assets
Today to ensure your Commercial security system operates at the highest possible level. We also inform you about our latest crime prevention hardware systems in stock. Our company specializes in all ranges of panic bars, high-quality Lock and door closure systems, access control systems, and much more.
All brand's commercial locking systems, high-security products from Mul-T-Lock, ASSA ABLOY, Schlage, VON Duprin Panic Hardware, access control products from Vingcard and Ilco Unican, and complete product lines from Yale, Sargent, and Adams-Rite. King of Locksmith and Doors, Washington DC, is the company that does it all.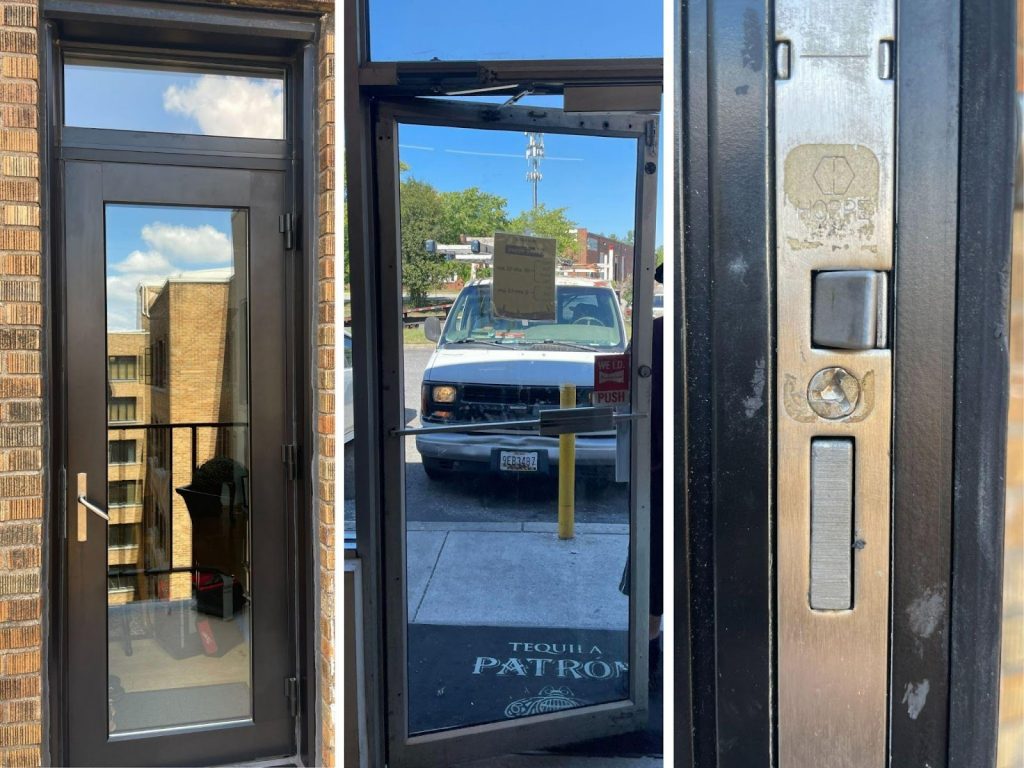 Washington DC Locksmith: Offering Advanced Lock Solutions for Commercial Spaces & Properties
King Locksmith and Doors, Inc. works in multi-property management across Washington, DC, and Maryland. As a result, office buildings, apartment complexes, and condominium associations can all benefit from the privilege that King Locksmith and Doors DC services offer, in addition to door installation and maintenance services. We provide complete door and lock installation, repair, and maintenance services directly cooperating with property management firms.
We have a dependable and qualified workforce that can quickly service any property anytime. In addition, we provide reasonable options and solutions to help property managers make the best decision. We are currently working with many Property Management companies within Washington DC and looking to expand our workflow with quality new management companies.
Door Repair, Replacement, and Installation with King Locksmith and Doors in Washington DC.
Having a secure door for any residential or commercial property is the most crucial factor in determining the safety of the people and belongings. However, an entry will require maintenance and repair work due to frequent use.
King Locksmith and Doors, Inc., Washington, DC, is the best solution for any property management nearby. Our professionals can handle all door installation and repair services required for residential and commercial properties.
All forms of door services, such as the following, are our areas of expertise:
● Entry Doors
● Exit Doors
● Wood Doors
● Closet Doors
● Shop Doors
● Aluminum Doors
● Emergency Exit Door Repair & Installation
● Automatic Doors
● Dutch Doors
● Security Doors
● Iron Doors
● Steel Doors
● Interior Doors
● Exterior Doors
● Fire Rated or Fire-Resistant Doors
● Metal Doors
● Metal Door Frames
● Garage Door Repair
● Storefront Doors
● Glass Doors
● Door Frame Repair
● Door Hinge Repair
● Folding Doors
● Panic Bar Repair & Installation
● Hinges repair and replacement
● Custom Doors
● Burglary Damage Repairs
● Break-In Repairs
● Any Door Repair
● Any Door Replacement
● Any Door Upgrade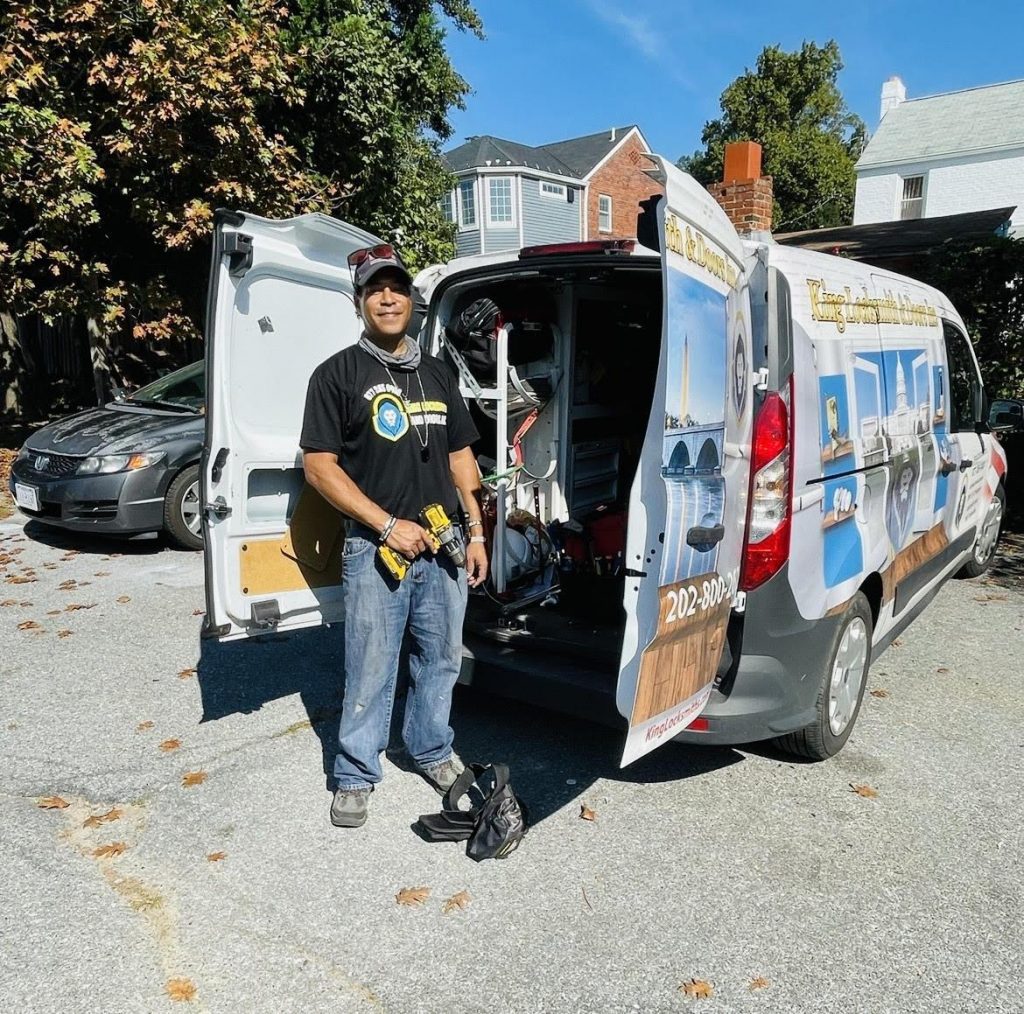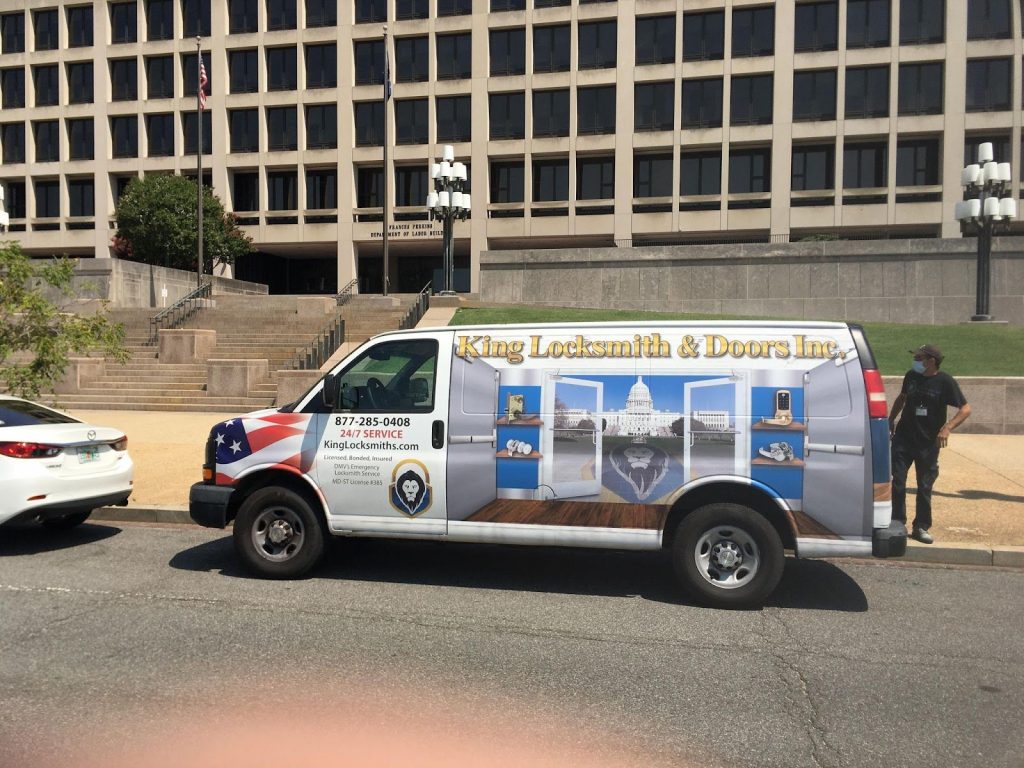 Automotive Locksmith in DC: Expert Assistance When You Need It Most
Automotive Locksmith with King Locks and Doors Washington DC; King Locksmith and Doors DC hire the best skilled automotive Locksmith to resolve your issue without towing your vehicle. Our expert auto locksmiths can open or fix any car's door, trunk, Lock, and ignition switch thanks to their experience and top-brand equipment.
The most cutting-edge transponder computers are installed in our service vehicles, allowing us to access your automobile without causing any harm to the body, windows, or lock mechanisms. In addition, all car, truck, RV, and other vehicle keys can be repaired and replaced expertly by auto locksmiths in our company. We also deal with crucial duplication and opening emergency vehicle doors.
Professional Automotive Locksmith in DC: We've Got Your Back
Our automotive locksmiths specialize in providing quick lockout services, replacing or mending lost or damaged keys, and providing on-site precision key-cutting for all makes and models in an unbelievably short time.
One of our qualified experts will ensure that the Key is working correctly and that you are satisfied with our work. Call King Locksmith and Doors Automotive in Washington DC to discover the best Key making service and the most affordable pricing in the area.
A Few of Our Washington DC Automotive Locksmith Services:
● Car Keys with Laser Cut.
● RVs and Motorcycles.
● Chip/Transponder Key Replacements.
● Car Lock Repair and Ignition Repair.
● Rekey of Ignition and Rekey Locks.
● Emergency lockouts.
● Round-the-clock emergency Lockouts / Openings.
● Automobile / Car Entry.
● Open the locked car door / Trunk/fuel door.
Your Trustworthy DC Locksmith: Upholding Excellence in Every Service
Combining our expert Locksmith and the best equipment, our locksmiths work professionally and efficiently, maintaining high customer service. We cover all emergency lockouts and the immediate needs of our customers.
Licensed, bonded, and insured.
Enjoy superior service backed by a 100% customer satisfaction guarantee. In addition, our fantastic office and the on-site team will get the job done.
Complete 24 Hour Service
We provide total 24 Hour service for the entire Maryland and Washington D.C. areas.
Licensed & Bonded
Rest assured because King Locksmith and Doors is fully licensed and bonded for safety and peace of mind.
In-House Experts
We do not outsource for our work. You save money because our experts are in-house!
At King Locksmith and Doors, we specialized in high-end and professional locksmith and door services. We have an in-house door installation expert and do not hire out for any door or lock services.  Our technicians are all highly trained and well equipped to help you with any and all door and lock service needs.
King Locksmith & Doors, Inc.
Professional Locksmith & Door Experts
111 University Blvd West Silver Spring, MD 20901
3283 M St. NW, Washington, DC 20007
manager@kinglocksmiths.com