Experience Excellence: King Locksmith and Doors – Your Trusted Partner for Mul-T-Lock Solutions
Get Your Free Estimate Today!
When discussing Mul-T-Lock products and services, a single name stands out prominently: King Locksmith and Doors Inc. Explore the reasons why King Locksmith and Doors emerges as the best option when it comes to Mul-T-Lock services and solutions in Maryland and Washington DC area. 
Mul-T-Lock provides a comprehensive selection of advanced security solutions
those include wide range of cylinder locks known for their exceptional resistance to picking and drilling, a variety of padlocks engineered with hardened steel bodies and versatile shackle protection mechanisms, electronic access control systems offering keyless entry via credentials or smartphone apps, master key systems and durable cam locks suitable for cabinets and lockers.
King Locksmith and Doors have a team of expert technicians designed to address your unique security requirements: from in-depth security consultations and recommending Mul-T-Lock products and solutions, to guiding you through the selection process. Our skilled technicians ensure the accurate installation of Mul-T-Lock products into your property with max security that fit your needs.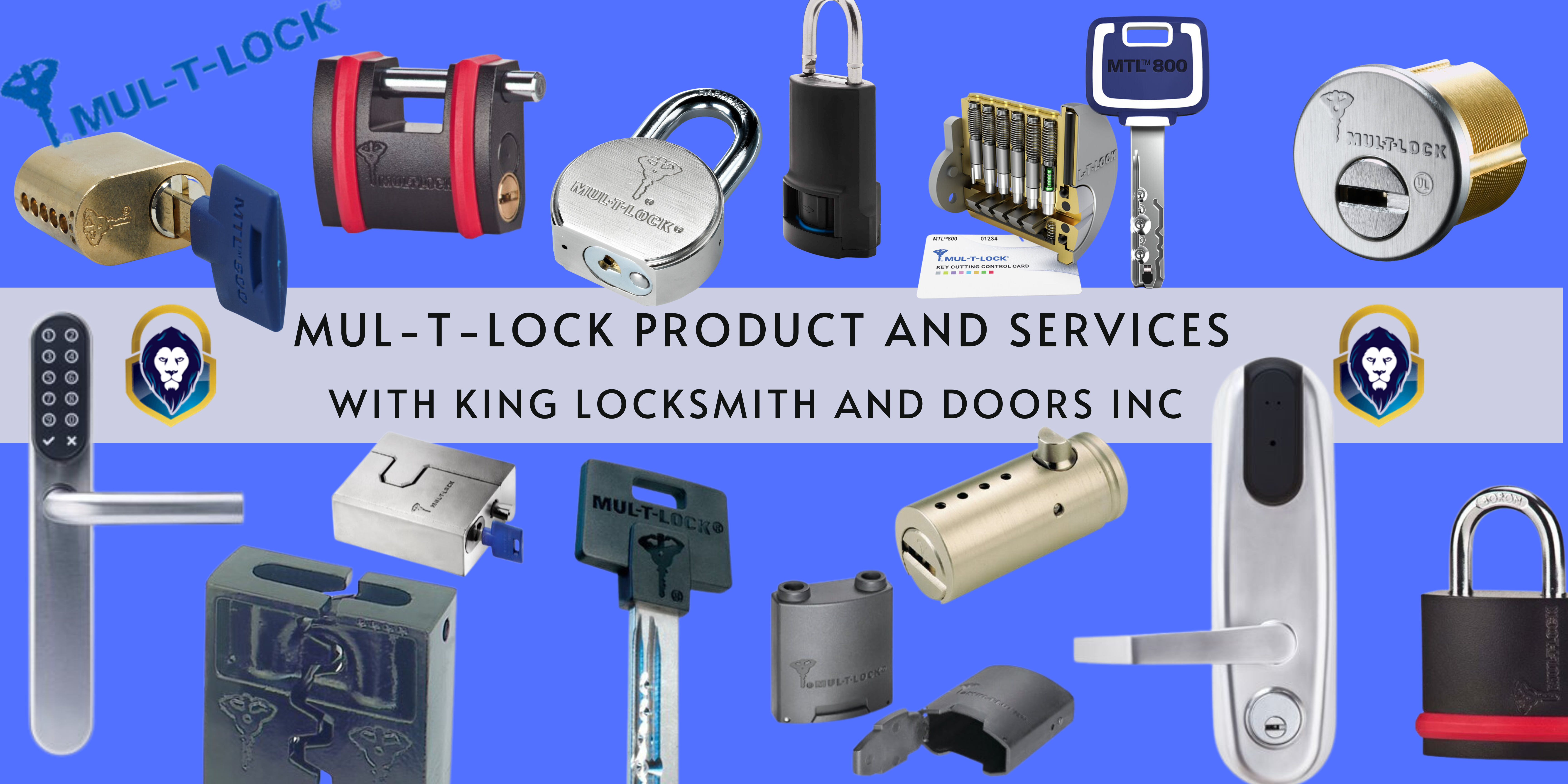 Should you be considering upgrades or enhancements, our experts can recommend and implement advanced Mul-T-Lock solutions tailored to your evolving needs.
with an extensive knowledge base and up-to-date expertise, we are equipped to provide accurate information, guidance, and solutions that address modern security challenges; and finally, our commitment to your security extends beyond the installation phase, as we remain available to answer questions, offer ongoing support, and address any concerns you might have about your Mul-T-Lock products.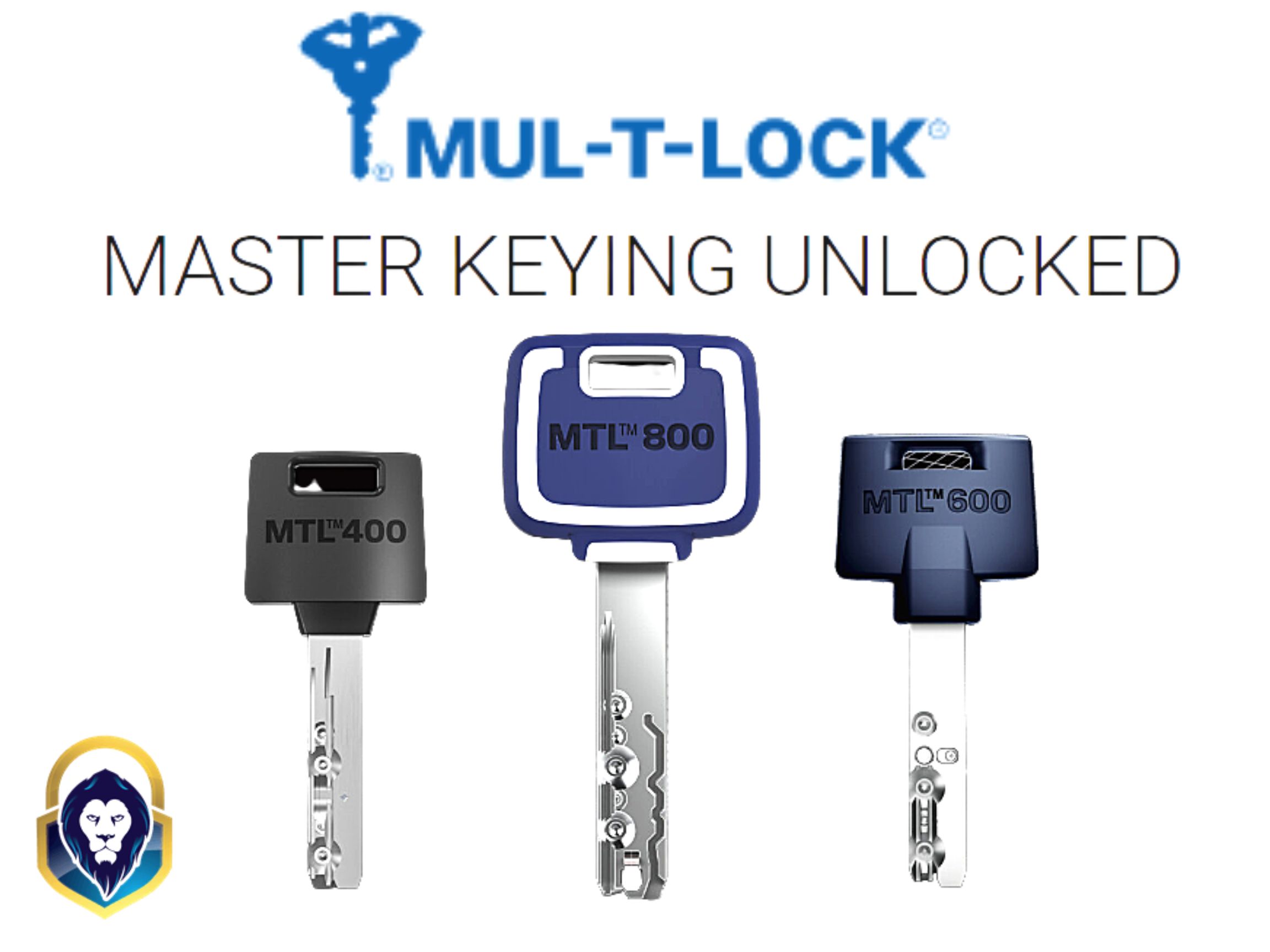 Get in Touch with the Experts
Have questions? Need recommendations? Our team of experts is just a call away. Let King Locksmiths guide you in making the best choices for your security needs.
Mul-T-Lock Key Platforms: Discover Best Security with King Locksmith
Welcome to the world of Mul-T-Lock, where innovation meets security in a symphony of advanced key platforms. Mul-T-Lock offers a variety of key platforms for your security needs. 
MTL™800: The MTL™800 key platform

stands as a beacon of advanced security, employing state-of-the-art technology to counter even the most sophisticated threats. Its innovative features establish an unparalleled level of protection, making it the ultimate choice for safeguarding high-security environments.

Mul-T-Lock Junior™:

Engineered to provide steadfast security, the Mul-T-Lock Junior™ key platform is tailored for residential and light commercial settings. Striking a harmonious balance between simplicity and effectiveness, it delivers peace of mind without unnecessary complexity.

MTL™600 (Interactive®+):

At the heart of the MTL™600, empowered by Interactive®+, lies a heightened security experience. This platform incorporates advanced elements to deter illicit replication. With telescopic pins and anti-pick mechanisms, it establishes a robust defense, ideal for safeguarding commercial premises.
Integrator®:

The Integrator® key platform takes versatility to new heights, offering adaptable security solutions. Engineered with flexible technology, it seamlessly integrates into various locking systems, making it the optimal choice for intricate security requirements.

Classic:

Anchored in reliability, the Classic key platform ensures security for residential and light commercial contexts. Celebrated for its simplicity and consistent performance, it delivers essential protection without compromising on user-friendliness.

MTL™400 (ClassicPro™):

Elevating security to a higher echelon, the MTL™400, known as ClassicPro™, introduces enhanced features for superior protection. Tailored for those seeking heightened security beyond the Classic platform, it maintains a seamless user experience while fortifying defenses.
Mul T Lock Cylinder products and services with King Lock and Doors:
CLIQ® Cylinder

offers advanced electronic security and access control. King Lock and Door provides unbeatable solutions and pricing for CLIQ® Cylinder replacement, ensuring top-tier expertise.

Euro Cylinder:

Versatile and durable, Euro Cylinder suits various doors. King Lock and Door excels in Euro Cylinder replacement, offering expert solutions and competitive pricing.

Scandinavian Oval Cylinder: The Scandinavian Oval Cylinder combines style and security. For replacement, King Lock and Door provides expertise and cost-effective solutions.

Key In Knob (K.I.K.) Cylinder:

Practical for knob locks, the K.I.K. Cylinder is fortified for security. Count on King Lock and Door for seamless replacement and budget-friendly pricing.

Rim Cylinder:

Surface-mounted Rim Cylinder suits rim locks. King Lock and Door offers industry-leading solutions for Rim Cylinder replacement at competitive prices.

Rimo Cylinder:

The robust Rimo Cylinder prioritizes security. King Lock and Door ensures expert Rimo Cylinder replacement and affordability.

Mortise Cylinder: Versatile Mortise Cylinder excels in various locks. Rely on King Lock and Door for Mortise Cylinder replacement expertise within your budget.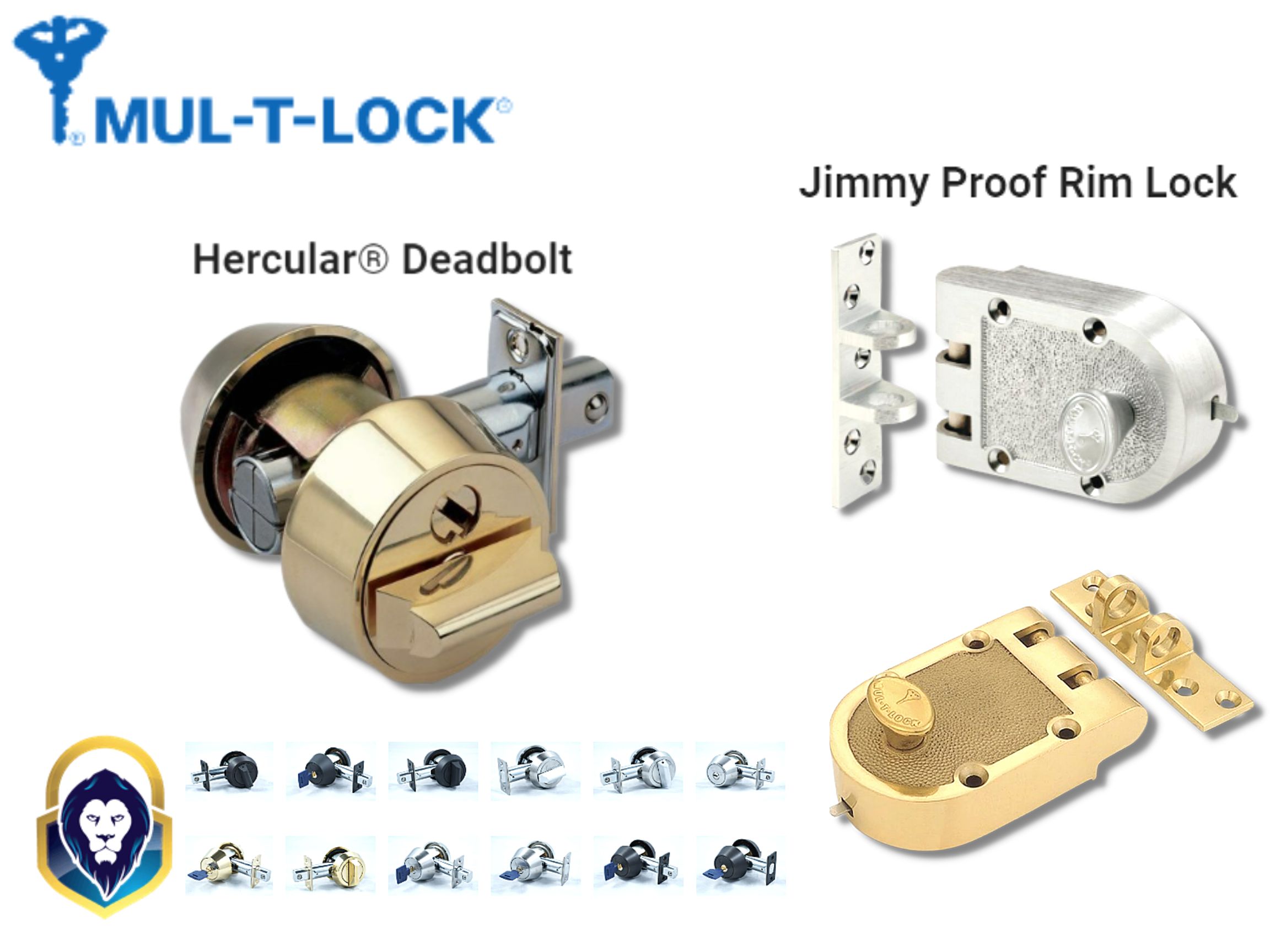 Elevate Security with Mul T Lock Locks: Your Trusted Source for Supply and Expertise
Discover a world of enhanced security with a range of Mul T Lock Locks, each designed to safeguard your space. From the compact yet robust Jimmy Proof Lock to the formidable Hercular® Deadbolt, versatile Cronus, and safety-focused Anti-Ligature Locks, we offer solutions tailored to your security needs.
At King Locksmith, we not only supply these cutting-edge locks but also bring our expertise to the table. Our skilled team is equipped to handle every aspect, from installation to repair and replacement, ensuring your security remains uncompromised.
Jimmy Proof Lock

: The Jimmy Proof Lock presents a compact yet formidable security solution, ideal for residential and commercial applications. Its unique design offers resistance against forced entry techniques. When it comes to obtaining Jimmy Proof Locks, trust King Locksmith for supply, installation, repair, and replacement, all handled by our skilled team.

Hercular® Deadbolt:

The Hercular® Deadbolt embodies robustness and advanced security. Engineered with reinforced materials and innovative technology, it offers unparalleled protection against break-ins. Whether you need Hercular® Deadbolts, installation, repair, or replacement, King Locksmith is your partner for all your Mul T Lock needs.

Cronus:

Cronus Locks stand as a symbol of versatility and dependability. Suitable for various applications, they combine convenience with security. King Locksmith proudly supplies, installs, repairs, and replaces Cronus Locks, ensuring top-notch service and expertise.

Anti-Ligature Locks:

Anti-Ligature Locks prioritize safety in sensitive environments. Designed to prevent attachment points for ligatures, they are crucial for mental health and custodial settings. King Locksmith offers a comprehensive range of Anti-Ligature Locks, complemented by our skilled team's installation, repair, and replacement services.
For all your Mul T Lock Lock needs, whether it's Jimmy Proof Locks, Hercular® Deadbolts, Cronus, or Anti-Ligature Locks, King Locksmith stands as your trusted partner. Our experienced team ensures seamless supply, installation, repair, and replacement of these high-quality security solutions, guaranteeing your peace of mind.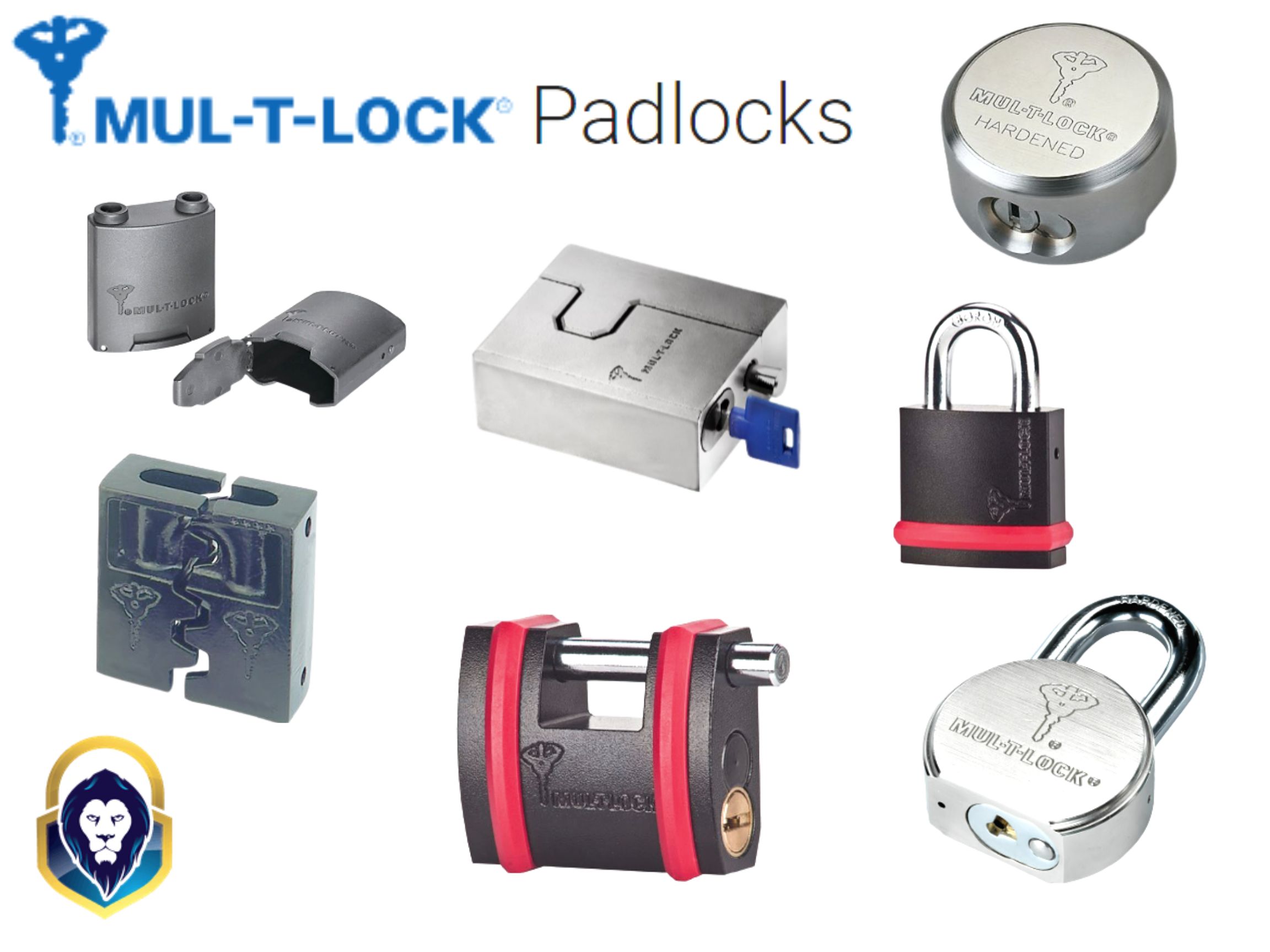 Master Your Security: Mul T Lock Padlocks for Every Demand:
Experience Mul T Lock's Padlocks series and styles, designed to meet specific security needs. From the robust and versatile C-Series Padlocks to the advanced G-Series Padlocks, cutting-edge technology combines with design for top-tier protection. Enhance security further with the Hasp Lock Diamond, while Round Padlocks seamlessly blend classic aesthetics with modern security. Complete your setup with Accessories & Components for optimized protection.
C-Series Padlocks

: Explore the reliability and versatility of Mul T Lock's C-Series Padlocks, offering a robust locking solution suitable for various security needs.
G-Series Padlocks:

The G-Series Padlocks provide an advanced level of security, incorporating cutting-edge technology and design to protect your valuables.
Hasp Lock Diamond:

Secure your belongings with the Hasp Lock Diamond, a perfect companion to enhance the protection of gates, doors, and containers.
Round Padlocks

: The Round Padlocks combine classic design with modern security features, ensuring your assets stay safe without compromising aesthetics.
Accessories & Components:

Complete your security setup with Mul T Lock's Accessories & Components, offering supplementary solutions to optimize your locking system.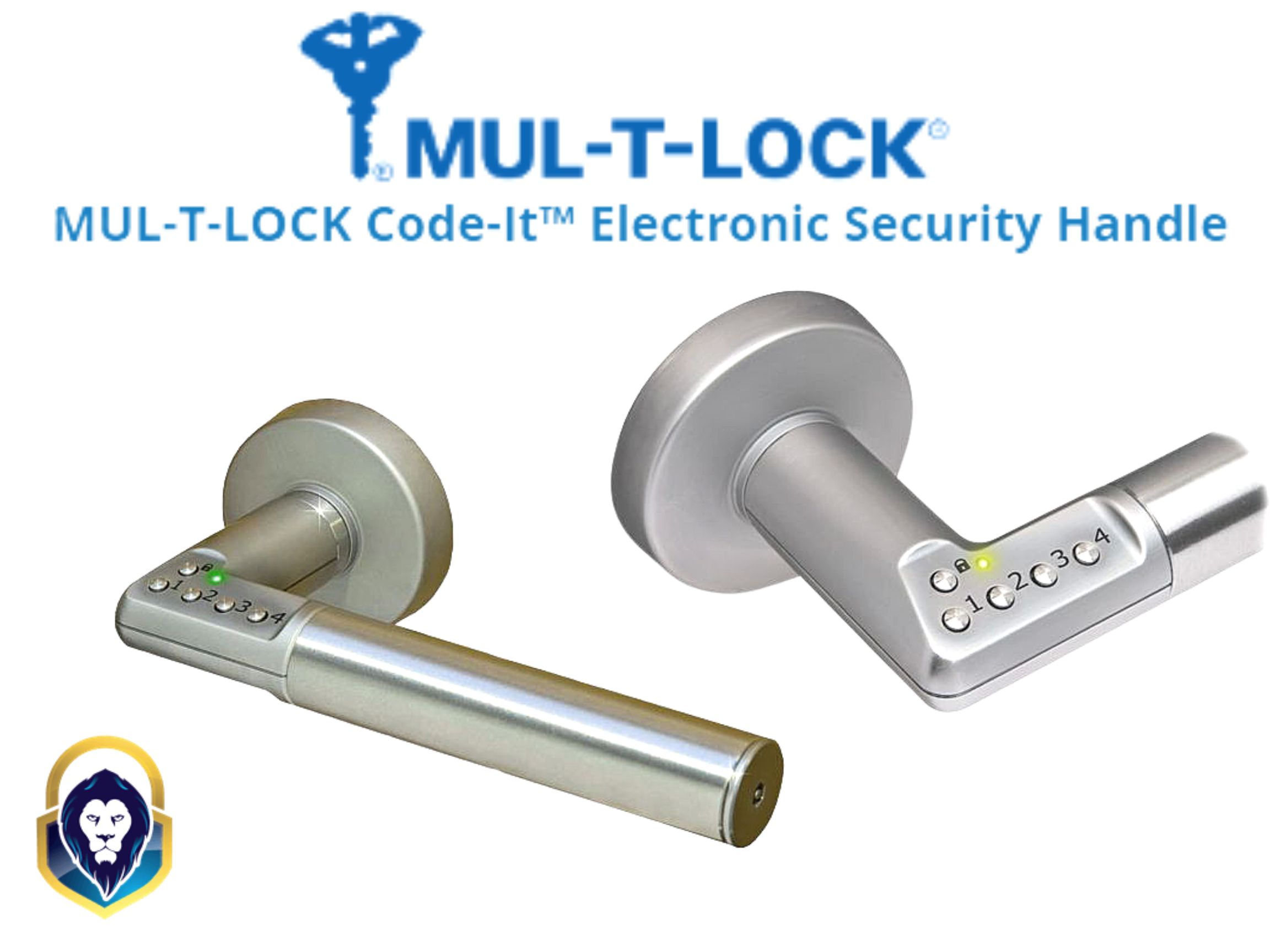 Why Choose King Locksmith and Doors 
Unmatched Expertise

: At King Locksmith and Doors, security isn't just a service; it's our passion. Our team of seasoned professionals boasts unparalleled expertise in the intricacies of Mul-T-Lock products. With years of experience under our belt, we're well-equipped to recommend, integrate, and optimize these solutions for your unique requirements.

Certified Mul-T-Lock Partner

: As proud Mul-T-Lock certified professionals, we're recognized as leaders in the field of advanced security. This certification reflects our dedication to staying ahead of the curve, ensuring our clients receive the latest, most advanced security solutions.

Customized Solutions:

At King Locksmith and Doors, we understand that each property has its own distinct security needs. That's why we craft tailored security strategies that leverage the power of Mul-T-Lock products, providing a defense system that's both robust and strategic.

Impeccable Integration

: Our team integrates Mul-T-Lock products into your security infrastructure. From high-security locks that defy compromise to state-of-the-art access control systems, our installation expertise ensures that every component operates optimally.

Swift and Reliable Support

: Security concerns don't adhere to schedules, so our team is on standby around the clock. Whether it's a lockout, a malfunction, or a security breach, King Locksmith and Doors is your steadfast partner, ready to restore security swiftly and effectively.

Trusted Community Presence

: Our reputation extends far beyond locks and keys; it's rooted in the trust of the community we serve. With a track record of transparency, reliability, and customer-centric service, we've become the go-to choice for securing homes, businesses, and more.

Elevate Your Security Experience

: With King Locksmith and Doors, security isn't just a service; it's an experience. Our dedication to integrating Mul-T-Lock products is the cornerstone of this experience. Elevate your security beyond expectations, and discover the unmatched peace of mind that comes from knowing you're protected by the best in the business.
Choose King Locksmith and Doors as your partner, and experience a new standard of security excellence with the power of Mul-T-Lock solutions at your fingertips. Your security journey begins here – where expertise, innovation, and trust converge.
Complete 24 Hour Service
We provide total 24 Hour service for the entire Maryland and Washington D.C. areas.
Licensed & Bonded
Rest assured because King Locksmith and Doors is fully licensed and bonded for safety and peace of mind.
In-House Experts
We do not outsource for our work. You save money because our experts are in-house!
At King Locksmith and Doors, we specialized in high-end and professional locksmith and door services. We have an in-house door installation expert and do not hire out for any door or lock services.  Our technicians are all highly trained and well equipped to help you with any and all door and lock service needs.
King Locksmith & Doors, Inc.
Professional Locksmith & Door Experts
111 University Blvd West Silver Spring, MD 20901
3283 M St. NW, Washington, DC 20007
manager@kinglocksmiths.com