Enhance Business Security and Gain Peace of Mind with Commercial Access Control and Security System by Commercial Installer DC  
Get Your Free Estimate Today!
Commercial Access Control System Installer DC
Discover Enhanced Business Security and Peace of Mind with Access Control and Security Systems by our Commercial Installer in Washington, DC. Our services include panic hardware door installation, emergency exit door repair, and cutting-edge commercial access control systems. With our expertise, achieving a safe and secure environment has never been easier. Only authorized personnel can enter, giving you full control and peace of mind. Protect your business from intruders with the best access control Washington, DC has to offer. Trust our experienced control system installer to ensure your premises are safeguarded and accessible only to those you authorize.
Panic Hardware
There is nothing more important for a business working with the public than to have excellent safety precautions. As per OSHA, it is required to continuously have an installed panic bar and unobstructed exit to a safe location. 
Panic bars for exit allow a fast exit of any building. These are installed on doors opening to the outside and are available in numerous styles, including touch bars and cross bars. These can be installed on a single door or double doors. They can also have a battery or electrical exit alarm system.
We at
King Locksmiths 
are prepared to install the proper panic hardware, which will allow access control. 
Located in the Washington DC and Maryland areas
we can offer the very best
in panic hardware, access control, and emergency exit installation. 
For your emergency exit installation,we offer: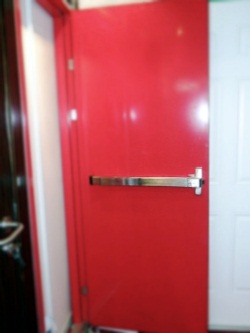 High-quality products that will withstand heavy traffic and abuse
Assessment to ensure proper selection of emergency exit installation
Installation to fit your needs
Expert and fully trained locksmith services
24/7 emergency services
Fully guaranteed DC access control installation
Reasonable prices
Our company is dedicated to customer satisfaction.  We are proud to have personnel with a minimum of 5 years experience who are highly skilled in this type of installation and all work done has a full warranty.
There are many different types of emergency exit installations and we can help you find one that will fit your needs perfectly.  The proper installation will allow people to pass through the security door quickly and safely.
We at King Locksmiths are conscious of the need to assure the safety of the public and business employees. To learn more about panic hardware, access control, or emergency exit installation we are only a phone call away.   If you are in need of this kind of installation we will be proud to offer our expert advice and service.
Enhancing Security: The Importance of Access Control and Panic Hardware
In today's security-conscious world, the significance of access control solutions and panic hardware cannot be overstated. Commercial security systems are now more advanced than ever, and access systems play a crucial role in safeguarding your premises. An entry system, fortified with access control, ensures that only authorized personnel can enter, enhancing security.
Access control solutions provide a robust defense against unauthorized access, offering precise control over who enters your facility. Paired with panic hardware, they create a comprehensive security plan, allowing quick and safe egress during emergencies. Together, these technologies form the foundation of advanced security measures, ensuring the safety of occupants and protecting your valuable assets.
Top Access Control Installation Services for Your Commercial Property
When it comes to safety and security for your commercial property, you need the top access control installation services. Kings Locksmith specializes in enhancing your existing system or implementing new access control solutions. With our services, you can rest assured that unauthorized access is a thing of the past. We offer advanced access control options, including access cards, which provide a robust layer of security. Protecting your property and ensuring only authorized individuals can enter is our top priority. With our top-notch access control installation services, you'll have peace of mind knowing your commercial property is in safe and capable hands.
Secure Your Business with the Best Commercial Security Solutions
Securing your business is paramount, and the best commercial security solutions ensure comprehensive protection. Our services encompass cutting-edge monitoring services, granting business owners control over who has access to their facilities. Through meticulous access management processes, we tailor access control products to your facility's unique needs.
Our commitment to safeguarding your assets means providing top-notch monitoring services that keep your premises secure 24/7. By leveraging advanced access control products, we empower you to manage and monitor access to your facility efficiently. With our expertise, you'll have peace of mind knowing your business is protected by the best commercial security solutions available.
Expert Installer of Security Camera and Intercom Systems for Commercial Properties
When it comes to securing your commercial property, you need an expert installer with a proven track record. Our professional installation services encompass a wide range of security solutions, including CCTV systems, video intercoms, and biometric access control. With 24-hour surveillance capabilities, our CCTV system ensures the safety of your property both internally and externally.
Our team specializes in customizing security solutions to match your specific needs. Whether you require a stand-alone video intercom system, telephone entry credentials, or advanced access control, we have you covered. Located in MD, we provide top-tier security systems on the market, backed by our industry expertise. Trust us for a comprehensive and customizable security solution tailored to your commercial property.
Enhance Small Business Security with Access Control and Authentication Systems
Elevate your small business security with state-of-the-art access control and authentication systems. Our industry expertise as an integrator ensures we go the extra mile to fortify your security measures. These scalable solutions are designed not only to deter unauthorized access but also to enhance operational efficiency.
Our access control systems, paired with cutting-edge authentication methods, provide a seamless approach to safeguarding your premises. Whether you need a simple controller for a small setup or a comprehensive system for a larger operation, we deliver scalable solutions tailored to your specific needs. Count on us for exceptional customer service and a security upgrade that enhances your peace of mind and business protection.
Tailored Security Services for Various Industries – Contact Us Today!
We specialize in providing tailored security services to diverse industries, catering to their unique needs. Whether you require high-definition AI-powered surveillance, key fob access, or comprehensive training, we have many options to meet your requirements.
From unlocking elevators and securing lobbies to multi-family housing solutions, we ensure that your critical areas are compliant and protected in real time. Our services extend to rekeying locks, issuing ID cards, and smartphone-based access control.
Both MD & DC, we offer state-of-the-art security solutions that align with your industry's specific demands. Contact us today to discuss your security inquiry and discover how we can customize a security plan to fit your organization's needs perfectly.
Call King Locksmiths – Panic Hardware – Panic Door Service 24/7 – 240-345-1455
Frequently Asked Questions (FAQ) About Our Commercial System
What is the typical cost associated with installing an access control system?
The cost of installing an access control system can vary widely based on several factors, including the size of your facility, the complexity of the system, the number of access points, and the specific features you require. To get an accurate estimate, it's best to schedule a consultation with our access control system installer. During this consultation, we'll assess your needs and provide you with a customized quote that aligns with your budget and security requirements.
What are the key components of a security system installed by a commercial installer in DC?
A security system typically includes access control measures, security cameras, alarm systems, and sometimes intercom systems. These components work together to provide comprehensive security coverage.
How can I determine the right access control and security system for my business?
Our commercial installer in DC will conduct a thorough assessment of your business's needs, size, and vulnerabilities to recommend a tailored solution that enhances security and peace of mind.
Can access control panic bars be customized to fit specific door types or security needs?
Yes, access control panic bars are available in various configurations and can be customized to match specific door types and security requirements. Consulting with a professional installer is advisable to ensure proper selection and installation.
What ongoing support and maintenance can I expect after the installation?
We offer ongoing support and maintenance to ensure your security system operates smoothly. Our team is readily available for any inquiries or issues you may encounter, providing you with continuous peace of mind.
Complete 24 Hour Service
We provide total 24 Hour service for the entire Maryland and Washington D.C. areas.
Licensed & Bonded
Rest assured because King Locksmith and Doors is fully licensed and bonded for safety and peace of mind.
In-House Experts
We do not outsource for our work. You save money because our experts are in-house!
At King Locksmith and Doors, we specialized in high-end and professional locksmith and door services. We have an in-house door installation expert and do not hire out for any door or lock services.  Our technicians are all highly trained and well equipped to help you with any and all door and lock service needs.
King Locksmith & Doors, Inc.
Professional Locksmith & Door Experts
111 University Blvd West Silver Spring, MD 20901
3283 M St. NW, Washington, DC 20007
manager@kinglocksmiths.com