Your Expert Guide To High-Tech Locks Vs. Traditional Locks
Are High-Tech Locks Really Safer Than Traditional Locks?
When it comes to technology there are two main types of people in this world. Those that embrace new technology and those that avoid it. And the debate between high-tech locks vs. traditional locks is no exception.
There are individuals that believe the more advanced a lock is, the better. And the second group of people prefers to stick with more traditional looks that have stood the test of time.
So, which category do you fall into?
There is actually a third group that is open to the idea of smart locks, but still not convinced they are truly more secure than traditional locks. If you are one of these people, then keep reading.
We are King Locksmith And Doors, your top locksmith company in the Maryland, and DC areas and we are here to provide all the information you need to determine which type of locks are best for you.
Before we dive into the details, let's go over some basic facts about locks. And don't forget, choosing the right door lock brand will make a big difference.
Locks 101
When it comes to traditional locks, popular types of hardware includes mortise locks, deadbolts, profile cylinders, and high-security grade 1 locks.
Whether used for residential or commercial purposes, these locks all work in basically the same way.
For instance:
Traditional locks are opened by inserting a key into the locking mechanism to lock or unlock a door. Without the correct key, the lock will fail to open.
How Secure Are Traditional Locks?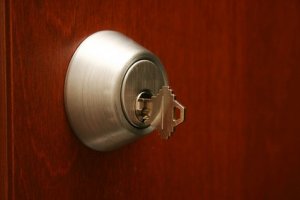 This is not a simple question. The effectiveness of a lock depends on a variety of different factors including the lock placement, the frequency of use, the type of door that needs to be secured, the materials used and so on. And even the strongest hardware will weaken over time.
The bottom line is:
Most traditional locks are relatively secure when installed and maintained properly. We highly recommend consulting with a licensed locksmith professional to determine which types of locks will best meet your security needs.
Now, onto more advanced lock technologies.
Smart Locks – The Basics
One of the main differences between smart/high-tech locks and regular locks is that they do not require the use of a traditional key. Meaning, the same basic lock mechanisms are used but these systems can be locked or unlocked remotely or electronically. High-tech locks can be opened with by using a smartphone, pin code entry, or biometric sensors such as a thumbprint.
Why Is The Security Of High-Tech Locks In Question?
The simple fact is, some people do not trust new technologies. Additionally, many smart lock companies market their products to promote efficiency rather than security. This leaves many unanswered questions about just how safe they truly are. Then there is the issue of cyber security and the fact that high-tech locks are vulnerable to hacking.
The truth is:
When it comes to the basic mechanics, most smart locks offer a similar level of security to traditional locks.
So, how do you know which type of lock is best to meet your business or home security needs?
Let's consider the pros and cons of the different lock types.
High-Tech Locks Compared To Traditional Locks
High-Tech Locks: Pros
High-Tech Locks: Cons
Traditional Locks: Pros
Traditional Locks: Cons
And the winner is…
Honestly, the jury is still out on this one. While high-tech locks offer a variety of benefits that make life easier, they are still vulnerable to both physical picking and cyber hacking. Traditional locks have been around for thousands of years and have evolved over time to include many options that meet property owner's security and design requirements.
On the other hand:
Lock technologies are advancing every single day and new solutions will continue to emerge, so don't give up on high-tech locks just yet. The fact is, in some cases, high-tech locks will be the better choice and in other situations, you may want to stick with traditional locks.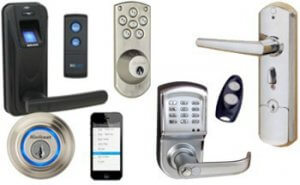 We suggest:
Consider your options carefully, when deciding which types of locks to install on your home or commercial property, because in reality there is no one answer here. So if you were looking for a concrete answer to which type of lock is more secure, sorry to disappoint.
On the bright side:
With the help of one of our local, licensed locksmith experts, we can help you weigh all your options and come up with a system that is perfect for all your needs.
Contact King Locksmith And Doors to find out more about our lock services and all of our high-tech lock installation and repair solutions for your home or business.