Locksmith Bowie MD Services with King Locksmiths
Get Your Free Estimate Today!
Looking for a professional Bowie MD Locksmith? Call 24/7 King Locksmiths – 240-345-1455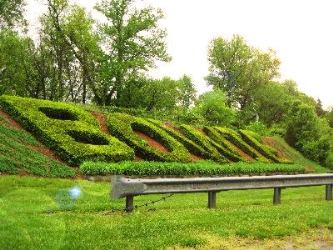 The need for Bowie MD locksmith services means finding a great locksmith that provides quick response to get in a locked car, home or business. Residents that live in the Bowie area benefit from our King Locksmiths Bowie MD services. We are fast, reliable and trustworthy. We are a full service mobile Locksmith in Bowie MD and surrounding areas.
Emergency Service
Individuals who have locked themselves out of their car or have misplaced house keys may need a replacement key made. Our Emergency Bowie MD Locksmith services are able to handle any situation that occurs during the day or any time at night. Our technicians have the tools to open any lock to get you back inside your home or car. A locksmith Bowie MD technician will be at your location within 20 minutes.
24-Hour Service
Our locksmith Bowie MD service is available 24 hours a day. We know that unfortunate situations may occur at any time of the day. You may not have a key to get inside your home or apartment. People who get out of work late at night may have discovered their keys locked in their car. Our Locksmith Bowie MD technicians are available 24 hours a day 7 days a week and even on holidays.
Residential Services
We offer a range of services for homeowners that need locksmith Bowie MD services. Our Service is provided by highly trained and professional technicians working to satisfy our customers. The range of services offered by our firm allows us to provide a customer peace of mind with minimal damage. We can install, repair, rekey or open any residential lock from entry door locks to cabinet locks.
Locked Automobiles
Vehicles of all types may have keys locked inside at one time or another. This means you need to have a reliable Bowie MD locksmith service that is ready at any time to assist you. Our technicians are bonded, licensed, and have the expertise to open any type of vehicle door lock. If you are locked out of your car, you can call our Bowie MD Locksmith Team anytime 24/7 for help.
Business Services
The lock to a safe or a front door that has a magnetic locking system will require a professional Bowie MD locksmith service. If you cannot get into your business or a safe inside your building, you will need a trained locksmith. Call our Professional Locksmith Bowie MD Team today!
Lock Re-keying / Lock Key Change Services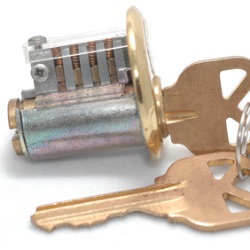 King Locksmiths is your #1 provider for Lock Rekey Bowie and surrounding towns. Locks and keys will always be a large aspect of everyone's lives and perhaps one that many people forget until something happens. This is why you need assistance to find professional Bowie Maryland rekey assistance because help is needed from a trusted, reliable and experienced locksmith Bowie when you find out that the your key to a lock is in the wrong hands, lost or missing.
Our ability to rekey locks must take training, talent and a professional approach. The reason is due to the sensitive nature of a lock rekey. You need to trust the firm that is changing functions of your various locks. With King Locksmiths Maryland you can and will be safe and secure in knowing that the lock rekey was performed correctly and that all of our technicians are well trained and experienced.

Commercial or Business Lock Rekeys Bowie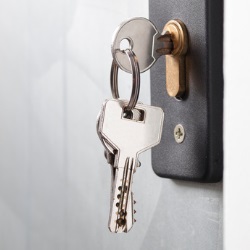 When you manage or own a business, safeguarding the assets of the business is your top priority. There will most likely be instances when your business's security may be breached due to all or some of the keys finding their way into the wrong hands. In some cases, a former employee will not return his or her keys, or someone else's keys were lost. These situations necessitate that your locks be rekeyed to keep your property and assets safe. In some cases an office lock rekey can be performed to make changes to the way a master key system works and who is allowed access to what area.
Our Commercial Locksmith Bowie MD team has been known to re-key mail boxes and file cabinets due to lost keys. Whatever your commercial or business rekey needs are, we are here to help you 24/7 – all year long. We understand how important your business is to you and this is why we offer complete Business Locksmith Bowie services for all businesses in this region.
Our Business Lock Rekeying Services include:
Display Case Lock Rekeying
Master Keys – Lock Rekeying
Lock Rekeys for Mailboxes
Storage Units – Lock Re-keying
Lock Re-keys for Filing Cabinets
Lock Re-keys for Interior Office Doors
And More!
Residential Lock Re-keying Bowie
Our professional residential locksmith techs not only rekey locks in Bowie as a result of an emergency, we can also offer rekey services for our new homeowners and renters. We re-key locks for apartment building owners, landlords when their tenants move out and new homeowners. We offer outstanding Maryland Residential Locksmith Services!
Get in touch with us at anytime night or day using the number below or by filling out the contact form that is on our website. Whether you need lock re-keys, Door Replacement Bowie MD or you have other locksmith issues, we can provide the best service and guarantee – with 100% customer satisfaction.
Door Replacement, Installation and Repair Specialists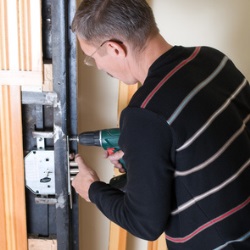 King Locksmiths is a reliable Maryland Locksmith business giving complete residential, commercial, automotive and emergency locksmith services. However, these are not the only services we provide! We have been operating in this field for many years now which has equipped us with the necessary skill and expertise in this field of door replacement. King Locksmiths is one of the most trusted business' for locksmith services and door installation, repair and replacement serving Bowie Maryland, and the surrounding areas.
A door is assuredly one of the most important features of any dwelling, whether the property is residential or commercial. Homeowners and business owners alike should see to it that their doors are in up to par condition. If you find any concerns regarding your doors, one of the smartest steps to take is to make a call to door an installation, repair and replacement company. But which company will you decide to call? Well, choosing the best one has something to do with being able to receive the services that you deserve.
Residential Door Replacement Services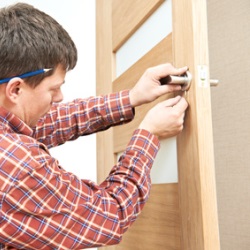 Are the doors to your home giving you trouble because they are old, worn out and do not work well? If personal dwelling are not effective anymore, it's time for door replacement. Door Replacement is not only for ease and convenience; it is also a matter of security and protection for your home. It will always be good to be assured that the doors in your personal dwelling are up to the task of effectively preventing criminals from illegally entering your personal property.
Doors are important tools for your personal property because they provide security and privacy for you and your family. But aside from the protection that they can give, new, secure and effective doors can always add style to your home. However, sometimes replacing your old doors can be a very challenging and stressful project to have to do. We try to take out the stress of beginning and completing door replacement. We can help you make the right choice of doors as well as make sure that they are installed securely and expertly. Click HERE for our Residential Locksmith Gallery of recent projects including home door repair and replacement.
Commercial Door Installation, Replacement and Repair Services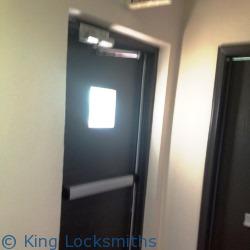 All of the procedures that will be included in this specialized service will be executed by our trained door installation workers who are experts in the specific training, skills and knowledge for use in the process of installing a new door in a business. The first step in the completion of this service is that of the process of inspecting the areas where commercial doors will be installed and replaced.
Our door installation employees will then start the process of removing the old doors and installing the new doors. Our clients may always expect that our door installation business will never fail to live up to the quality that we promised to them. All of the door installation workers at King Locksmiths have more than five years of experience in the business of door repair, door installation and door replacement. We are your expert Bowie commercial locksmith team, providing complete business security and locksmith services. We are also able to install door hardware to fit your choices, such as Access Control Systems, High Security Locks or Keyless Entry Locks.

We provide the following Bowie Commercial Door Repair, Replacement and Installation Services:
Storefront Doors
All Warehouse Doors
High Security Doors
All Storage Doors
All Interior Office Doors
Commercial Business Doors
Revolving Doors
Commercial Access Control
Total Bowie, MD Commercial Locksmith Services
Call King Locksmiths Maryland – Locksmith Bowie MD Team today – 240-345-1455
Complete 24 Hour Service
We provide total 24 Hour service for the entire Maryland and Washington D.C. areas.
Licensed & Bonded
Rest assured because King Locksmith and Doors is fully licensed and bonded for safety and peace of mind.
In-House Experts
We do not outsource for our work. You save money because our experts are in-house!
At King Locksmith and Doors, we specialized in high-end and professional locksmith and door services. We have an in-house door installation expert and do not hire out for any door or lock services.  Our technicians are all highly trained and well equipped to help you with any and all door and lock service needs.
King Locksmith & Doors, Inc.
Professional Locksmith & Door Experts
111 University Blvd West Silver Spring, MD 20901
3283 M St. NW, Washington, DC 20007
manager@kinglocksmiths.com