Expert Door Locksmith Service For New Locks Installation in MD & DC
Get Your Free Estimate Today!
Expert New Lock Installation and  Service for High Security in MD & DC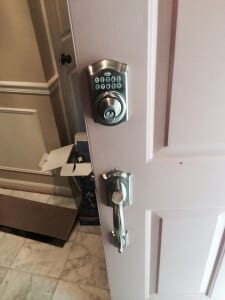 When it comes to bolstering the security of your home, expert lock installation and repair is a crucial step. In Maryland and Washington DC, where safety is a top priority, our services stand out as the preferred choice for residential and commercial clients alike.
Our seasoned locksmiths specialize in door lock installation, ensuring that your property benefits from the latest security technology. Whether you're looking to replace an old lock, upgrade to a high-security system, or simply enhance your door's safety, our team has you covered.
We take pride in our ability to provide comprehensive lock installation service, covering everything from common lock types to high-security solutions. Our service areas encompass Maryland and D.C., giving you access to our expertise and prompt assistance.
Don't compromise on your security—contact us today for top-notch lock installation by Maryland's trusted experts. Your safety is our priority, and we're here to ensure it.
Residential Door Lock Installation in Maryland
Seeking expert door lock installation service in Maryland for your residential or commercial property? Look no further. Our dedicated team specializes in comprehensive lock installation services to meet your security needs. For residential and commercial lock installation, including electronic and traditional lock options, we ensure that every lock is installed correctly to enhance the safety and security of your property. Serving various Maryland areas, our lock installation service covers locations such as New Carrollton, Hyattsville, Crofton, and Odenton.
Count on us to choose and install the right locks, providing the utmost security for your valuable assets.
Contact us today for a reliable lock installation service in Maryland.
Lock Change and New Lock Installation: Contact Us
When it's time for a lock change or new lock installation, look no further. At King Door and Lock, we have the exceptional service to install any type of lock, ensuring your security needs are met. Whether you need locks like deadbolt locks, electronic locks, or smart locks installed, we've got you covered. With our reliable services, you can trust that every lock is installed with precision and care.
Don't hesitate to call King Door and Lock for all your lock installation needs for your commercial and residential locks. Contact us today, and let us provide you with the peace of mind that comes with knowing your locks are installed by professionals you can trust.
Maryland Locksmith Service Areas: Click to Call
Our Maryland locksmith service areas encompass a wide region, ensuring that you have access to top-quality lock installation services throughout Maryland and Washington, including the Washington DC area. Whether you're looking to upgrade your existing locks, experiencing a home lockout situation, or seeking expert assistance with your security needs, we are your trusted partners.
At our locksmith company, we offer exceptional service, including lock installation service in Maryland, to address all your security concerns. Our team of skilled locksmiths is just a click away, ready to provide prompt and reliable solutions for your residential properties. Your safety and peace of mind are our priorities, and we're dedicated to ensuring that you have access to the best locksmith services in the Maryland and Washington, DC region. Click to call us today for all your locksmith needs.
High-Security Lock Installation by Maryland Experts
Experience the pinnacle of security with our high-security lock installation services, proudly delivered by Maryland experts. We understand that locks aren't just about keeping the wrong people out; they're also about granting the right people access to your property while ensuring locks without security are not compromised.
Our electronic locks take away the risk of lost keys and offer keyless solutions like fingerprint recognition. We specialize in various keyways to match different types of doors, ensuring a perfect fit for your security needs.
Dead bolts, is a locking bolt that secures the door to the frame, and provide robust security to the locking mechanism. Deadlocks offer an additional layer of security by requiring two actions to unlock, making them a preferred choice for high-security applications. On the other hand, improper chains may cause vulnerability. Our experts ensure the right fitment for maximum security.
From deadlocks to nightlatches, we offer comprehensive security solutions that guarantee access to your structure is controlled and secure. Don't compromise on safety—trust our Maryland experts for high-security lock installations that take away the risk while enhancing your peace of mind.
Replace Your Locks with Our Trusted Locksmith Service
When it's time to upgrade your security, trust our trusted locksmith service to replace your locks effectively and efficiently. Our lock installation service in Maryland is designed to take away the worry and stress that can come with outdated or insecure locks.
We specialize in replacing locks to enhance security, ensuring that locks without the necessary security features are upgraded to protect your property effectively. Our expert locksmiths are well-versed in addressing lost key issues and providing solutions that offer peace of mind.
Whether you need an auto locksmith to replace car locks, require a deadbolt installation to secure your home, or want to address issues related to chain fitment that may compromise access to your structure, we have you covered. Our locksmiths are skilled in cylinder making and offering the latest in deadlock technology to provide comprehensive security solutions. Don't compromise on your safety—replace your locks with our trusted locksmith service today.
Our Quality Door Lock Installation Services Maryland and DC Area:
High-security locks
Keypad locks
Cabinet locks
Rekey car locks and ignitions
Door repair, installation, and replacement
Cylinder Making or Installation
Call us For Your Locksmith Emergencies!
The lock and key of your home play an important role in your home security. We, at King Locksmith and Door, are experts in the repair, replacement, and installation of all kinds of locks for your residential properties. Integrity matters the most to us and, thus, we have experts in certified locks who are bound for your home security. Whenever you reach out to us, we will send a skilled technician dedicated to your service; whether it's residential, commercial, or automotive locksmith services.
Our services for doors and locks take away the loss of stress, away the lost key issues, and provide a swift solution to address access to the structure issues. We understand the frustration that can come with misplacing keys, and we're committed to resolving these issues promptly, ensuring you regain easy and secure access to your property without any hassle.
Don't let lost key problems stand in your way—rely on our trusted locksmith services to eliminate these concerns and enhance your peace of mind.
Call Us Now!
Frequently Asked Questions About Our Residential Lock Service for New Lock
What types of locks do you install for residential properties?
We offer a comprehensive range of residential lock services, including deadbolts, electronic locks, and smart locks. Our lock installation experts ensure that your lock is installed correctly, providing extra security to your home.
Are your lock installation experts available in both Maryland and DC?
Yes, our services are available in the Maryland area, including New Carrollton, Hyattsville, Crofton, and Odenton, as well as in the DC metro area. We provide access to your property's safety and security across the region.
What should I consider when choosing the right lock for my front doors?
Choosing the right lock is crucial for the safety of your family. We install different types of locks, and our experts can recommend the best solution based on your security needs.
Can you help me if I've lost the key to my residential lock?
Absolutely! We offer residential lock services, including lock installation and addressing lost key issues. Our locksmiths can take away the lost key concerns and ensure that your property remains secure.
Do you provide mobile lock installation services in Maryland Area and Washington D.C?
Yes, we offer a mobile service equipped with the necessary tools and equipment to install locks and hardware at your location. Whether it's a residential or commercial property, our experts are ready to assist. Simply click to call us at (877) 285-0408 for fast and reliable service in the Maryland and DC area.
Complete 24 Hour Service
We provide total 24 Hour service for the entire Maryland and Washington D.C. areas.
Licensed & Bonded
Rest assured because King Locksmith and Doors is fully licensed and bonded for safety and peace of mind.
In-House Experts
We do not outsource for our work. You save money because our experts are in-house!
At King Locksmith and Doors, we specialized in high-end and professional locksmith and door services. We have an in-house door installation expert and do not hire out for any door or lock services.  Our technicians are all highly trained and well equipped to help you with any and all door and lock service needs.
King Locksmith & Doors, Inc.
Professional Locksmith & Door Experts
111 University Blvd West Silver Spring, MD 20901
3283 M St. NW, Washington, DC 20007
manager@kinglocksmiths.com