DC & MD High-Security Locks Installation Service with Commercial Locksmith Services
Get Your Free Estimate Today!
High-Security Lock Installation in MD & DC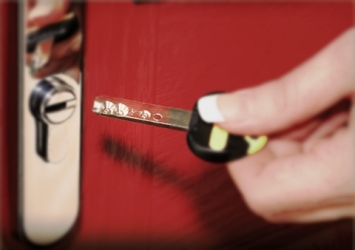 Elevate your security with our high security lock installation services in Maryland (MD) and Washington, D.C. (DC). We understand the importance of safeguarding your property and assets, which is why we offer top-notch high security lock services.
Our lock and safe team consists of experienced locksmiths who are skilled in the installation of advanced locks, ensuring that your premises remain secure against unauthorized access. Whether it's for residential, commercial, or industrial use, our high security lock installation service provides you with peace of mind, knowing that your property is well-protected. Don't compromise on security –  choose our expertise to fortify your locks and deter potential threats effectively.
High-Security Locks
Reliable home security is essential in ensuring a peaceful state of mind. High security locks provide this state of ease through numerous advantages over the average lock mechanism. High security locks are built more durably, extra resistant to bypass methods such as bumping, picking, or drilling.
We at King Locksmiths offer exceptional home locksmith service in the Maryland and Washington DC areas. Our company is family-owned, licensed in its expertise, bonded, and insured. We work on-site to personally upgrade your locks system. Our team is comprised of highly trained technicians who carry a consistently helpful, friendly, and professional manner with their clients. Each employee is backed by a minimum of five years of experience via a comprehensive training program. We strive to achieve efficiency and honesty, and with our array of up-to-date equipment, we are more than capable of providing customers with trustworthy installation, high security locks, and top-of-the-line security products.
Kings Locksmith Services in DC and Maryland
Lock Installation and Replacement in D.C. and Maryland
When it comes to securing your property in Maryland and D.C., door and lock solutions are paramount. Our door lock installation service offers installation and repair expertise for residents in both MD and DC. We specialize in high-security lock installation, ensuring your property is protected by the latest high-tech locks. Whether you need a lock replacement or a new installation, our professionals are here to assist you. With our comprehensive services, you can have peace of mind knowing your property is equipped with the highest level of security available in the Maryland and D.C. area.
Keyless Entry and High-Security Locks in Washington, DC
In Washington, DC, when it comes to safety and security, keyless entry and high security locks like those we offer are the best solutions. Our security solutions are fast and friendly, designed to cater to your unique security needs. With advanced security features, we provide peace of mind, knowing your property is protected by the latest technology. Whether it's your home or business, keyless entry and high security locks are the keys to enhanced safety and security in Washington, DC. Trust our expertise to provide you with the best security features and solutions for your peace of mind.
Commercial Lock Installation Services Near Washington
For top-notch commercial lock installation services near Washington, look no further than King Door and Lock Maryland and DC. Our expert locksmiths specialize in commercial door and lock services, offering free estimates for your convenience. Whether you require door installation or lock services, we're just a call away. Our team is dedicated to serving both commercial and residential clients, ensuring your security needs are met with the highest level of professionalism. When you need reliable commercial lock installation services, call King Door and Lock for efficient, expert assistance in Maryland and DC. Your satisfaction and security are our top priorities.
Access Control and Security Systems for Lock Needs
When it comes to safety and security, Access Control and Security Systems are essential for homes and businesses. In MD, our professional locksmith service offers electronic and biometric locks, ensuring top-notch protection. We provide a mobile service for lost key situations and can install any type of lock, even upgrading existing locks. Our expertise extends to the intercom and door services, enhancing your property's safety. With fingerprint and electronic locks, your business may enjoy added security features. For comprehensive lock needs, click to call our service in MD. Trust us to deliver the utmost safety and security for your premises.
Do you need High-Security Locks Installed or Rekeyed in MD-DC? Get in Touch Now!
If you're in the MD-DC metro area and in need of high-security locks for your home or commercial establishment, look no further. We specialize in installing and repairing a wide array of high-tech locks, including deadbolts, to enhance the security of your property.
Burglary can happen anywhere, from College Park to Hyattsville, but with our expertise, you can have peace of mind. Our professional locksmiths provide commercial and residential lock services, ensuring your safety is our top priority.
Whether you need to duplicate keys, rekey your locks, or install new ones, our team is here to offer great work and upfront pricing. We serve various locations, including New Carrollton and Kensington. Don't hesitate to give us a call today to discuss your security needs. Your safety is our business, and we're here to provide the best solutions to protect your home or commercial space.
King Locksmiths: Your King of High Security Locksmith Company – Maryland, Washington, Baltimore – Click to Call
Securing your business in the DC metro area goes beyond traditional locks. It involves implementing a robust Access Control System to manage who enters your premises. For top security, consider a commercial access control system installer. They specialize in installing and maintaining these systems, providing comprehensive security solutions.
A commercial locksmith in Northwest can also enhance your security. we offer services like installing new high-security locks, re-keying existing ones, and replacing outdated locks. A reputable high-security lock company can provide the expertise you need to fortify your property.
High-tech locks are a hallmark of top security locksmiths. They offer services like security cylinder installation and repair, ensuring your locks are up to the task of safeguarding your business. With transparent upfront pricing, you can budget for your security needs effectively.
Don't wait until a security breach occurs. Invest in the expertise of a high-security locksmith and access control system installer today to protect your business with the best security solutions available. Your peace of mind and your business's security are worth it.
Frequently Asked Questions (FAQ) About Our Locksmith Services
What is lock replacement, and when might I need it?
Lock replacement involves removing your existing lock and installing a new one. You might consider it when upgrading security, after a break-in, or when your current lock is damaged.
How do I find a reliable locksmith for lock replacement?
Start by searching for local locksmith services online or through recommendations. When you find one, use the "click to call" option to contact them directly for inquiries or appointments.
Can a locksmith replace a deadbolt lock?
Yes, locksmiths are trained to replace deadbolt locks, ensuring your property's security. They can advise on the best type of deadbolt lock for your needs.
What should I expect during a lock replacement service?
A locksmith will assess your current lock, remove it, install the new one, and provide you with any necessary keys or access codes. They will also ensure the lock functions correctly.
Is lock replacement the only option for improving door lock security?
No, locksmiths can also provide lock service to repair and enhance your existing locks, making them more secure. They will assess your needs and recommend the best solution for your situation.
Complete 24 Hour Service
We provide total 24 Hour service for the entire Maryland and Washington D.C. areas.
Licensed & Bonded
Rest assured because King Locksmith and Doors is fully licensed and bonded for safety and peace of mind.
In-House Experts
We do not outsource for our work. You save money because our experts are in-house!
At King Locksmith and Doors, we specialized in high-end and professional locksmith and door services. We have an in-house door installation expert and do not hire out for any door or lock services.  Our technicians are all highly trained and well equipped to help you with any and all door and lock service needs.
King Locksmith & Doors, Inc.
Professional Locksmith & Door Experts
111 University Blvd West Silver Spring, MD 20901
3283 M St. NW, Washington, DC 20007
manager@kinglocksmiths.com