Get Your Free Estimate Today!
Get Commercial Emergency Exit Doors Installed From King Locksmiths and Doors
Are you looking to get an emergency exit door installed for your commercial building? Is your building prone to harmful incidents or does your old emergency exit door needs a quick replacement? Well, don't wait for eternity and get commercial emergency exit doors installed from King Locksmith and Doors Baltimore, Maryland, Washington D.C.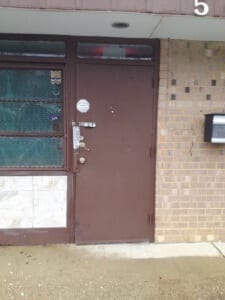 With more than 25 years experience, we help you with all the services for commercial emergency exit doors. The services include installation, repair, and replacement. Our team understands all your needs and ensures that you get the best  of emergency exit doors services.
Moreover, we are licensed, bonded and do not outsource our services. We also offer upfront pricing and efficient installation services that bring you fast exit and peace of mind. So, whether you are looking for commercial exit doors installation service or a repair or replacement, look no further than King Locksmith and Doors.
Benefits of Installing Commercial Exit Doors
When it comes to protecting your working space or commercial building from the unpredictable dangers, you cannot rely on the normal doors. The normal doors include wooden, plastic, and other doors from plastic or light materials.  These emergency exit doors are neither durable, nor they are able to withstand extreme temperatures, in case of fire and more.
This is where the high-grade commercial exit doors come into action. Made of steel, gypsum, and glass, these doors delay the spread of fires, smoke, and more from one part of the building to other part of the building.
Other benefits of installing commercial exit doors include-
They minimize the overall damage to property

These doors facilitate the safe and quick evacuation of the people in the building.
Along with these advantages, the main purpose of using a commercial exit door is to protect exit points of the building that include stair enclosures, room exits, corridor, horizontal exits, and more.
With this being said, we can say that having commercial exit doors installed should be an integral part of your security plan. They are more than effective in protecting the office equipment, structural integrity, and lives of the employees. However, make sure that you choose a door with the highest ratings and get it installed from the installation of the door professional.
King Locksmith and Doors are one of the best commercial emergency exit doors service providers. We operate in the Maryland and Washington D.C. areas and understand you need to ensure security and safety of your employees.
Our team will not only provide installation service, but will also offer services for repair, rekeying, and maintenance as well. Moreover, we are a customer oriented business and can provide any type of installation service, when it comes to doors or emergency exit doors.
To request a service, click here.
Why Choose King Locksmiths and Doors Over Others?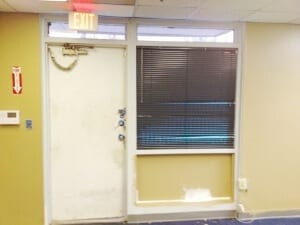 There is nothing worse and terrifying than not having a commercial exit   door installed in your building.  Unfortunately, most of the commercial   buildings don't have exit doors. In case, if they get it installed, there are   chances that they are already smashed and are not working to their best.
 That is when; you need a professional door installer service provider.  For   professional commercial emergency exit doors installation and repair       services, here is why you need to choose us:
We have a team of trained technicians.

24 hours and seven days a week availability

Fast, effective, and efficient installation, repair, and maintenance of commercial exit doors.

We have the most high-grade products that are available on the market.

We are licensed, bonded, and have liability and insurance requirements.

The work and service we provide are fully guaranteed.

At last, we offer free consultation services regarding estimates and consultation.
So, whether you need the installation services immediately or you are looking for an emergency installation service provider, you can contact King Locksmiths and Doors at any time of the day. You can call us, and we will provide the services.
Call us at 240-345-1455.
Our Services
Irrespective of the type of services you are looking for, King Locksmiths and Doors offers a varied range of doors services. Our commercial emergency exit doors services are effective, reliable, which ensures that your business is not prone to any type of unexpected incidents.
Commercial Emergency Exit Doors Installation

Emergency Exit Doors Repairs

Emergency Exit Doors Replacement and Maintenance

Door frame repairs

Broken joints repairs

Pivots and hinges repairs
So, what are you waiting for? Request our services today and make the most of them.
You Can Call Us for Emergency Commercial Emergency Exit Doors Services
The commercial emergency exit doors play a significant role in the security of business-oriented buildings and the people who work inside them. They are designed in a manner so that the door can remain locked from the opposite side, while allowing easy exit from the building, in case of emergencies.
The concept may sound simple, but the execution can be complex during emergencies.  Well, King Locksmith and Doors offers 24/7 emergency services as well. All you need is to call us at 240-345-1455, and we will be there in no time.
We also have the setup for mobile vehicles that reach your location in less than 30 minutes to provide you with the services.
We Are Your One Call Locksmith Service Provider For Commercial Emergency Exit Doors Services
King Locksmith and Doors provide an effective and reliable commercial emergency exit doors services. Whether you want installation services or repair, our team will work for you as per your needs. Moreover, we have professional knowledge on doors backed by the experience along with the commitment for exceptional excellence.
Our team also strives to ensure that every service fits your budget and you are satisfied with all the services you receive. Drop us a call, and we will serve you with the best of door services in the best pricing and time frame.
Complete 24 Hour Service
We provide total 24 Hour service for the entire Maryland and Washington D.C. areas.
Licensed & Bonded
Rest assured because King Locksmith and Doors is fully licensed and bonded for safety and peace of mind.
In-House Experts
We do not outsource for our work. You save money because our experts are in-house!
At King Locksmith and Doors, we specialized in high-end and professional locksmith and door services. We have an in-house door installation expert and do not hire out for any door or lock services.  Our technicians are all highly trained and well equipped to help you with any and all door and lock service needs.
King Locksmith & Doors, Inc.
Professional Locksmith & Door Experts
111 University Blvd West Silver Spring, MD 20901
3283 M St. NW, Washington, DC 20007
manager@kinglocksmiths.com