Expert in Emergency Door Replacement, Door Repair and Door Installation Services in Maryland (MD) Baltimore 2023
Get Your Free Estimate Today!
Emergency Door Replacement, Repair, and Installation Services  in Maryland: Call Us for Immediate Repairs
Get Commercial Emergency Exit Doors Installed By King Locksmiths and Doors
Repairing, replacing, and installing doors, particularly emergency doors, is essential for safety and security.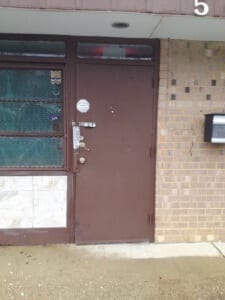 Damaged or malfunctioning doors can compromise the security of a property, making it vulnerable to intruders.
In emergencies, functional doors are crucial for swift evacuation and containment, potentially saving lives. Additionally, properly sealed and insulated doors contribute to energy efficiency, reducing utility costs. Compliance with safety regulations, such as clearly marked emergency exits, is a legal requirement for businesses.
Ensuring doors are in good repair and properly installed is paramount for the well-being, security, and compliance of any property.
When it comes to door repair and replacement in Maryland, our expertise shines through. We are your trusted source for top-quality emergency door repair services, ensuring your safety and security are never compromised.
Commercial Door Repair in Baltimore, MD: Within a 50-Mile Radius
Commercial doors Baltimore MD: From Maryland door repair to commercial door installation, we offer a wide range of services to cater to your needs. Whether you require glass repair, door closers, door openers, or the installation of a brand-new door, we've got you covered.
Emergency Door Services in Baltimore's Trusted Choice: Our reputation as the go-to experts for doors in Baltimore speaks volumes about the quality of our work. We specialize in various door types, including mail-slotted doors, storefront doors, and entryways. No matter the door, we're equipped to make all the necessary repairs and replacements.
Custom Made Glass Solutions: We understand that each project may have unique requirements. That's why we offer custom-made glass solutions to meet your specific needs. Our dedication to servicing the surrounding areas ensures that you have access to top-notch door services within a 50-mile radius.
Weekend and Holiday Availability: Emergencies don't follow a schedule, which is why our services are available during weekends or holidays and allow us to address security issues whenever they arise. We understand that security issues can happen at any time, and we're here to add our expertise and assistance.
Mail-Slotted Doors: A mail slotted door features a convenient slot that allows mail to be delivered directly inside, adding a touch of functionality to your entryway. If you want a door installation company that makes all the doors and customizes new doors, mail-slotted, and exterior doors, we got you covered. Call us now!
Fun Facts About Automatic Doors: Ensuring Expert Door Service
Automatic doors have become a common sight in various establishments, but there's more to them than meets the eye. These fascinating mechanisms provide both convenience and efficiency. Did you know that the first automatic door was invented in 1954 by engineer Dee They operate using sensors, ensuring smooth entry and exit.
Automatic doors have become a popular choice for various commercial and public spaces due to their convenience and accessibility. However, when it comes to ensuring safety, particularly in emergency situations, specific considerations are crucial. The installation of automatic doors as emergency exits involves factors such as emergency exit door lock mechanisms, fire exit door installation, and exit door alarm services.
Emergency exit door locks must be designed for quick and easy egress while still providing security. Fire exit door installation should adhere to strict safety codes and regulations to ensure a safe evacuation route. Additionally, exit door alarm services can enhance security by alerting authorities in case of unauthorized use or forced entry. These elements collectively contribute to a safer environment while retaining the benefits of automatic doors.
Regular maintenance and timely repairs are essential to keep them functioning seamlessly, guaranteeing a hassle-free experience for patrons and visitors. Expert door service plays a crucial role in maintaining these technological marvels. If you need fire door installation contractors who have skills in fire exit door repairs, emergency commercial door repair, fire exit door replacement, and emergency front door replacement, King Locksmith in Maryland and Washington D.C. will serve.
Mobile Door Repair Services in Washington, DC: We Come to You
Benefits of Installing With Us
We have a team of trained techs that will help with your door needs day or night, we are available
The work and service we provide are fully guaranteed by our door repair experts, 24 hours a day.
Fast, effective, and efficient installation, repair, and maintenance of commercial exit doors.
We have the most high-grade products that are available on the market.
We are licensed, and bonded, and have liability and insurance requirements.
Lastly, w

e also provide free estimate quotes for door installation services, ensuring transparent pricing and competitive rates for getting the job done at your place
So, whether you need the installation services booked or you are looking for an emergency installation  service provider, you can contact King Locksmiths and Doors at any time of the day. You can call us, and we will provide the services.
Our Services
Irrespective of the type of services you are looking for, King Locksmith's door installation and repair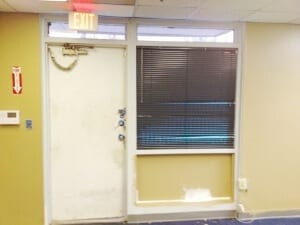 services offer a varied range of door solutions. Our commercial emergency exit door assistance is effective, and reliable, which ensures that your business is not prone to any type of unexpected incidents.
Commercial Emergency Exit Doors Installation
Emergency Exit Doors Repairs
Emergency Exit Doors Replacement and Maintenance
Door Frame Repairs
Broken Joints Repairs
Pivots and Hinges Repairs
Install Office Steel Door
So, what are you waiting for? Request our services today and make the most of them.
Frequently Asked Questions (FAQ) About Our Emergency Exit Doors Services
What areas does your door service cover?
Our door service has been servicing Maryland and the surrounding areas within a 50-mile radius. We provide day service in most areas, ensuring that your door repair and installation needs are efficiently addressed.
Can you repair and replace glass on standard storefronts or glass doors?
Absolutely, Our skilled technicians are trained to repair commercial doors, including storefront or glass doors. We can replace glass on standard and custom-made doors, ensuring they are in top-notch working order.
Do you work on specialized doors like fire doors or mail-slotted doors?
Yes, we specialize in a wide variety of hardware and door types. This includes fire doors, mail-slotted doors, handicap doors, herculite doors, and more. Our expertise extends to entryways with impact glass, tempered glass, colored glass, and a range of exit devices and mortise cylinders.
How can I schedule an appointment for your door service?
Scheduling an appointment with us is easy. Simply give us a call, and we'll promptly arrange a service call. We also offer service during weekends or holidays, allowing us to make your entrance safer and more efficient.
What makes your door service stand out amongst many?
Our door service stands out due to our top-notch expertise and efficiency. We are skilled in working with a wide variety of doors and hardware, ensuring that your entryways are in excellent working condition. We take pride in serving Maryland and the surrounding areas within a 50-mile radius, providing day service in most areas to meet your door repair and installation needs.
Complete 24 Hour Service
We provide total 24 Hour service for the entire Maryland and Washington D.C. areas.
Licensed & Bonded
Rest assured because King Locksmith and Doors is fully licensed and bonded for safety and peace of mind.
In-House Experts
We do not outsource for our work. You save money because our experts are in-house!
At King Locksmith and Doors, we specialized in high-end and professional locksmith and door services. We have an in-house door installation expert and do not hire out for any door or lock services.  Our technicians are all highly trained and well equipped to help you with any and all door and lock service needs.
King Locksmith & Doors, Inc.
Professional Locksmith & Door Experts
111 University Blvd West Silver Spring, MD 20901
3283 M St. NW, Washington, DC 20007
manager@kinglocksmiths.com