Expert Door Installers in Baltimore, MD | Maryland Most Trusted Door Installation, Exterior Door, Door Repair, and Door Replacement
Get Your Free Estimate Today!
Quality Door Installation Services in Baltimore, Maryland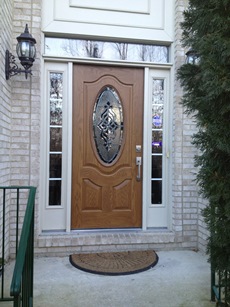 When it comes to top-tier door installation services in Baltimore, MD, our commitment to excellence shines. We specialize in door repair and installation, ensuring your entryways are secure and aesthetically pleasing. As one of the best door installation companies in the region, we take pride in our professional installation expertise. Our door installation specialists are skilled and experienced, making sure your project is completed to the highest standards.
We stand out among companies that install doors because we prioritize quality and customer satisfaction. Whether you're looking for residential or commercial door installation, we've got you covered. Trust us for door installation in DC and experience the difference that professionalism and expertise can make. Here are some glimpses of the interior door we installed:
Home Interior Doors:
Panel Doors: These classic interior doors, often used as bedroom or closet doors, can also be upgraded with energy-efficient options. The paneling complements the door frame, ensuring a proper seal and enhancing your home's energy efficiency.
Flush Doors: For modern interiors, flush doors with sleek surfaces seamlessly integrate into your home's aesthetic. When combined with proper door hardware and a top-quality door frame, they ensure a secure and energy-efficient option.
French Doors: French doors with glass panes are ideal for interior and exterior use, allowing light to flow between rooms. With energy-efficient glass options and a proper door frame, they enhance your home's appeal and energy efficiency.
Bifold Doors: Bifold doors, often used for closets, can be upgraded to offer energy efficiency and secure door locks. They're perfect for optimizing space in your home's interior and exterior.
Pocket Doors: Space-saving pocket doors, when paired with the right door jamb and hardware, create a stylish and energy-efficient solution. They seamlessly disappear into the wall cavity and offer a wonderful addition to your home's remodeling services.
Local Door Installers in Baltimore: Your Best Choice For Commercial Doors
As local door installers, we take pride in offering top-notch solutions for doors that are perfect for your business. Explore our selection, including glass doors for an inviting entrance, automatic doors for convenience, and elegant revolving doors for both style and functionality.
Here are some glimpses of the commercial door we installed:
Glass Doors: Our glass doors feature large glass panels, making them a perfect choice for creating a transparent and inviting entrance in commercial buildings. They offer both aesthetics and functionality, providing a visually appealing and well-lit entry.
Automatic Doors: Our automatic doors are equipped with advanced sensors or buttons, allowing them to open and close automatically. These doors provide convenience and accessibility, making them an excellent choice for high-traffic commercial spaces.
Revolving Doors: Our revolving doors are circular in design, facilitating continuous entry and exit while minimizing drafts. These doors are not only efficient in maintaining temperature control but also add a touch of elegance to your commercial establishment.
Energy Efficient Exterior Door Installation
Experience the difference with our energy-efficient exterior door installation services in Maryland and DC. Our commitment to upgrading your home's exterior starts with a variety of door options designed to enhance both aesthetics and functionality. Explore our range of home exterior doors, each tailored to meet your specific needs and preferences:
Home Exterior Doors:
Front Doors: As the main entry point to your house, our front door replacement options ensure a visually appealing and secure entrance. 

When you're looking to upgrade your home's windows and doors, curb appeal, and security, consider a "new front door" installation as a key improvement we offer energy efficient front doors with top-quality materials to make sure they're perfect for your home's exterior.

Back Doors: For access to your backyard or rear property, our back doors provide both security and aesthetics. They're part of our extensive range of interior and exterior doors designed to meet your needs.
Patio Doors: Our patio doors, available as sliding or hinged options, lead to your outdoor area and offer energy efficiency and security. These doors are wonderful to work with, ensuring a seamless transition between your home interior and exterior.
Garage Doors: Our garage doors, often builder-grade, are large and sectional, providing easy access to your garage. They're an essential part of your home's exterior and can be upgraded for added security and aesthetics.
Storm Doors: We offer storm doors as additional protective layers installed outside of your exterior door. These doors are designed for added security and weather resistance, ensuring your home remains secure and energy-efficient.
Steel Door: Steel doors, in particular, are known for their strength and durability, making them an excellent choice for security-conscious homeowners.
Screen Doors: We offer top-quality options, including steel entry doors, perfect for your home or commercial properties.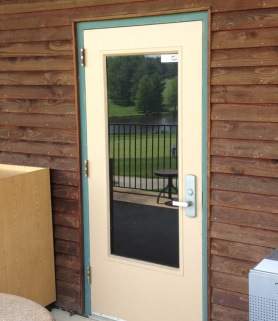 Emergency Door Services: Baltimore's Trusted Door Company
We specialize in providing top-quality door solutions tailored to your needs. With a focus on both aesthetics and safety, we're here to make your door projects a seamless and secure experience. Take a look at some doors that may help with services & emergencies:
Specialty Doors:

Security Doors: Our security doors are expertly crafted with reinforced materials and enhanced security features. They are not only perfect for your home's security but also contribute to its energy efficiency and aesthetics. Contact us for an estimate today.
Fire Doors: Designed to resist the spread of fire and smoke, our fire doors are a critical safety feature. We offer replacement doors that meet safety standards, ensuring your home and family are protected. These doors are particularly important in commercial buildings.
Barn Doors: If you're seeking rustic or farmhouse-style decor, our barn doors are a wonderful addition to your home's interior or exterior. Our custom door design options ensure that the barn door you choose is a perfect fit for your home's aesthetics.

Utility Doors:

Utility or Service Doors: Our utility or service doors are designed to be simple yet highly functional. Often found in utility rooms, basements, or garages, these doors are perfect for securing these essential areas of your home. We offer a wide range of replacement windows & doors suitable for various purposes.
Cellar Doors: Our cellar doors feature a sloping design that provides convenient access to your basement or cellar from the outside. These cellar doors are expertly crafted to ensure security and weather resistance, making them an ideal choice for protecting your home.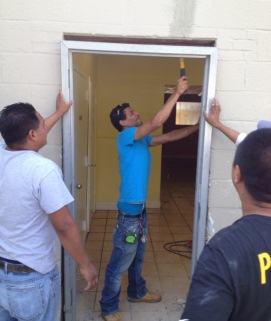 Expert Door Repair and Replacement in Baltimore, MD
Experience top door repair and replacement in Baltimore with our dedicated team. We're your trusted partner for all your door needs, from installation to emergency service. Whether you need a new front door for your home remodeling project or want to upgrade your property's security with high-quality door knobs and locks, we've got you covered. Our family-owned business has deep roots in Baltimore County, making us a top choice for residents looking to find door solutions that make sure it's the perfect fit for your home. With our expertise, we seal around your expectations, ensuring your doors are in top condition. Don't wait until it's an emergency; contact us today!
Our Washington DC and
Baltimore
Door Service
Explore MD door services with a quick glimpse below at our door companies in Maryland:
Commercial Door Repair Maryland Services
Residential Door Repair in Maryland
Residential Door Installation
Door Installation Maryland Services
Door Replacement Services
Front Door Replacement Services
Installation and Repair of Interior Doors in Maryland
Maryland Entry Door Replacement
Installation for New Door
Here are our DC door services provided by our family owned door contractors Washington, DC:
Commercial and Residential Door Installation DC Area
Door Repair Washington DC Area
Door Replacement DC Area
Installation of Exterior & Interior Doors Washington DC Service
Why Us?
100% customer satisfaction
High quality services
Quick response
Professional and experienced staff
Satisfying results
Unbeatable selections of designs to choose from
Highest quality doors
Industry leading door repair, door replacement, and door installation standards that constantly earn high ratings
Tracks your project for absolute beginning-to-end management
Frequently Asked Questions About Our Door Replacement Company and Door Installation in Baltimore
What are the benefits of upgrading to a new entry door? 
Upgrading to a new entry door, especially an energy-efficient one, can enhance your home's security, curb appeal, and energy efficiency. It's a wise investment for both aesthetics and savings on heating and cooling.
How can I find the best door replacement contractors in Baltimore?
Finding the best door replacement contractors in Baltimore is easy. Just call King Door and Lock! We're a family-owned, licensed, and insured company with years of experience working on exterior remodeling projects, including door installation and repair.
What's the difference between front entry doors and interior doors?
Front entry doors are the primary exterior doors that provide security and curb appeal, while interior doors are used within your home to separate rooms. We specialize in front entry door replacement and installation for your home's exterior.
Do you offer free estimates for entry door replacement?
Yes, we offer free estimates for entry door replacement. Contact us today to schedule a consultation and get a quote for the perfect door for your home's security and aesthetic needs.
What makes King Door and Lock the top choice for door installation and repair in the Baltimore, MD area?
King Door and Lock is your top choice because of our unwavering dedication to providing great service. We are licensed, insured, and have courteous and professional door technicians who ensure proper installation. Our meticulous work and commitment to quality entry doors make us the go-to for your home improvement projects.
Complete 24 Hour Service
We provide total 24 Hour service for the entire Maryland and Washington D.C. areas.
Licensed & Bonded
Rest assured because King Locksmith and Doors is fully licensed and bonded for safety and peace of mind.
In-House Experts
We do not outsource for our work. You save money because our experts are in-house!
At King Locksmith and Doors, we specialized in high-end and professional locksmith and door services. We have an in-house door installation expert and do not hire out for any door or lock services.  Our technicians are all highly trained and well equipped to help you with any and all door and lock service needs.
King Locksmith & Doors, Inc.
Professional Locksmith & Door Experts
111 University Blvd West Silver Spring, MD 20901
3283 M St. NW, Washington, DC 20007
manager@kinglocksmiths.com