Frederick MD Locksmith Services with King Locksmith & Doors
Get Your Free Estimate Today!
We are locks and doors experts who put our customers first! With over 20 years of experience, we serve the Frederick, MD, area. We are a local and trusted company that provides the best locksmith and door customer service in Frederick, MD.
King Locksmith and Doors Inc of Frederick, MD, can help you with any lock replacement, repair, new installation, simple key duplication, and all emergency lockouts. Additionally, we provide a vast selection of product lines and high-security hardware from well-known brand companies.
To ensure our customers are secure and satisfied with each project or job, we always take all necessary actions to ensure the job is complete and done correctly. Taking care of our customer's requirements is our top concern. You can rest assured that King Locksmith can help with your home, place of work, or any other property because we are the best at what we do and specialize in all aspects of the locksmithing and doors industry.
Residential Locksmith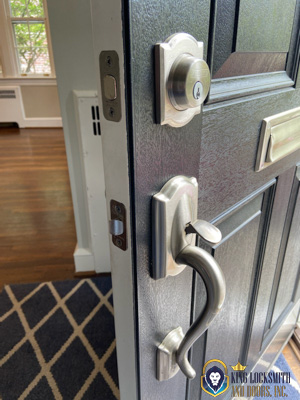 If you ever find yourself locked out of your apartment, what should you do? Maybe you need a rekey service, or upgrade your old locking system with a new one? King of Locks and Doors Frederick MD is your best choice. In addition, we offer mobile locksmith service on call around the clock if you've locked yourself out or can't get inside because your lock has been broken or you have forgotten your keys in the car.
If you have ever wondered what rekey means, our team can walk you through it step-by-step to make sure you understand the process. Rekey entails disassembling the lock and recoding the interior tumblers to correspond with a new set of keys. Then, you can ask our professional technicians if a master key system is appropriate for you or if a better solution can work much better for your price range and property type.
Repairing residential locks is usually relatively quick and cheaper, so many customers save money by having the lock repaired. However, if the safety is beyond repair, our professional and certified locksmiths have the best variety and tools to secure your property and change the locks properly.
Improving your home security is just a phone call away. King Locksmith and Doors Frederick MD have the locks and the best price range to fit your needs. We offer a wide range of high-quality door locks and hardware to fit any residential locking system.
Commercial Locksmith Services
We provide the full range of protection for your commercial property with our Frederick commercial locksmith service. Commercial properties typically explore more theft and criminal behavior. Targeting commercial properties for any burglary acts is much easier for criminals as no one is around the property during nighttime. As a result, commercial property owners need more sophisticated and trusted security systems to protect them from any harm and attacks.
Over time, high-traffic areas like commercial entrance doors can become damaged and unreliable. Having a quick and reliable locksmith company on hand is essential for any business. At King Locksmith and Doors Inc, we provide a fast service or quote for what you need to replace or refurbish locks, bolts, doors, and any hardware. We'll work with you to figure out exactly what you need and get it done quickly. Our locksmiths advise on these measures and provide expert guidance and assistance on common crime prevention and special needs that require attention.
So wait no longer! Contact us today to ensure your security operates at the highest possible level. We also inform you about the latest crime prevention systems we have in stock.
Commercial hardware services with King locksmith and Doors Frederick MD
Complete range of panic bars,
high-quality locks, and door closer system,
access control system
All brands of commercial locking systems,
high-security products from Mul-T-Lock, ASSA, Schlage, Duplin Panic Hardware,
access control products from Vingcard and Ilco Unican,
complete product lines from Yale, Sargent, and Adams-Rite.
King of Locks Frederick is the company that does it all.
Our technicians are experts in commercial panic bars and door hardware. In addition, we provide complete security services for all types of commercial doors, which include intercom and commercial alarm systems.
Advanced Security Locks:
The best way to protect your business from such attacks is to upgrade to a high-security lock with a dedicated keyhole system, which means no one can copy the key.
Master Key: Creating a master key for your business offers many benefits. You can use one master key for all locks and sub-master keys for employees. A great way to ensure access control and is much quicker and easier than you think. And it's flexible enough to accommodate your growing business so you can manage it all with one key.
Automotive locksmith service
Locking the keys inside your car can be frustrating. Unfortunately, locking your car keys is one of the most common reasons you need a locksmith in Frederick, MD. We understand the stress it causes and is quick to respond to emergency lockouts. If you lost your car keys, King Locks, and doors, Frederick MD could help you create any car key for your car model and year.
Our highly skilled and trained locksmiths are qualified and ready to repair some car locks and ignition switches.
A Few of Our Frederick Automotive Locksmith Services:
Emergency lockouts
King Locksmith and Doors Inc provide services in Frederick, MD for any emergency lockouts.
Are you locked out of your home or business and need to get inside? King Locksmith Frederick will be ready to help you out. Combining our professional and expert locksmiths with the best equipment, our locksmiths work professionally and efficiently, maintaining a high level of customer service.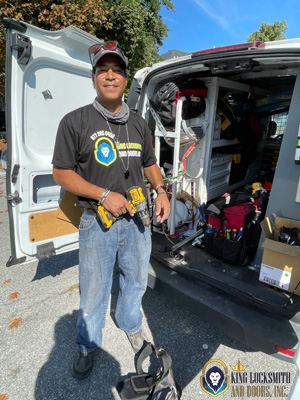 Our trucks are always ready to provide full service in locksmith emergencies when you call.
24hr Emergency Lockouts / Openings
Automobile / Car Entry
Open Filing Cabinets
Open Mailboxes locks
Burglary / Break-in Door Repairs
Open the locked car door / Trunk/fuel door
Open automatic driveway gates
Open / Repair any safe
Open High-security locks
Your best source for emergency locksmith services in Frederick, MD, is with us; we are licensed, bonded, and insured.
Enjoy superior service backed by a 100% customer satisfaction guarantee. Our fantastic office and the on-site team are familiar with Frederick roads and streets.
We serve customers located on:
Patrick Street to historic Downtown Frederick, Carroll Creek Linear, and Harry Grove Stadium. King Locksmith and Doors serve these locations for commercial and residential services.
King Locksmith and Doors Frederick MD's Leading locksmith
For all your locksmith needs in Frederick, MD, call on the experienced professionals at King Locksmith and Doors. We're here to help with everything from lockouts to new installations and more.
.
Complete 24 Hour Service
We provide total 24 Hour service for the entire Maryland and Washington D.C. areas.
Licensed & Bonded
Rest assured because King Locksmith and Doors is fully licensed and bonded for safety and peace of mind.
In-House Experts
We do not outsource for our work. You save money because our experts are in-house!
At King Locksmith and Doors, we specialized in high-end and professional locksmith and door services. We have an in-house door installation expert and do not hire out for any door or lock services.  Our technicians are all highly trained and well equipped to help you with any and all door and lock service needs.
King Locksmith & Doors, Inc.
Professional Locksmith & Door Experts
111 University Blvd West Silver Spring, MD 20901
3283 M St. NW, Washington, DC 20007
manager@kinglocksmiths.com