Your Ultimate Guide To The Top 5 Door Lock Brands
Not All Popular Door Lock Brands Are Created Equal – Here's What You Need To Know
When it comes to door lock brands, there are a few names that stand out.
But when it comes to choosing the best locks to protect your home or business, does choosing a popular brand name really matter? How do you know if you are spending extra money for a truly superior product or if you have fallen victim to yet another corporate marketing strategy designed to make you think their door locks are the best when in fact, they are no different than their generic counterparts?
Not to worry!
There are many characteristics that define a great locksmith, and understanding the differences between the different lock brands is one such trait.
We are King Locksmiths and Door and we are your experts in all things lock related. In this post, we are going to break down the 5 most popular door lock brands so that you can make an informed decision the next time you need new locks.
A Comparison Of The 5 Most Popular Door Lock Brands On The Market
# 5. Mul-T-Lock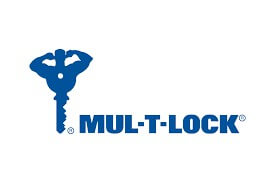 Even if you don't recognize the name Mul-T-Lock, you probably recognize their logo of a half strong man, half key.
Ok, so they have done a great job of brand recognition, but are their locks really as strong as their logo suggests?
In a word, yes. And the reason is:
This popular lock brand has earned a well-deserved reputation as one of the most resistant to bumping, picking, and other forced entry techniques. This company uses patented technology and sturdy materials such as hardened steel on their products.
More benefits:
Only authorized dealers can make Mul-T-Lock keys, making it nearly impossible for someone to copy your keys without the proper authorization. And, these locks can work with locksets by other manufacturing companies allowing you to simply have the internal mechanisms switched. Basically, you can increase your security without having to sacrifice your personal style choices.
The cost:
As with all lock hardware, the more sophisticated the locks the higher the cost, however with some cylinder locks costing around $40 on Amazon, you won't have to break the bank with this lock brand.
Bonus:
With the Hercular Captive Deadbolt by Mul-T-Lock, you have the option of removing the thumb turn. This means that a key is needed to open this lock brand from the outside as well as inside. So, even if a thief breaks a window, they still won't be able to unlock the door without the key.
# 4. RR Brink
Simply put, if the US prison system trusts this door lock brand to keep prisons secure, you can probably trust them to keep your home or office safe as well. RR Brink has been one of the most trusted door lock brands since the 1970's and for good reason.
But wait, what if I don't want a prison grade lock system for my residential doors?
This door lock brand primarily focuses on detention facilities and commercial properties such as banks, casinos, museums and other high-security areas. And as you can image, locks that are designed to prevent a bank robbery don't come cheap. But still, more sensible residential lock models are available.
The bottom line:
We strongly recommend RR Brink as the door lock brand of choice for your commercial property.
# 3. Medeco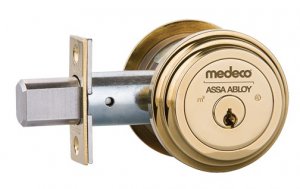 Many people have claimed that Medeco locks are completely unpickable.
Don't believe everything you hear! The truth is, no lock brand is 100% unpickable, and Medeco locks are no different. While this is a very strong lock brand, there have been some issues over the years that are important to consider.
You see:
Older lock models have been known to suffer from vulnerabilities and Medeco locks today have had issues related to key control.
On the other hand, over 75% of the high-security market in the US still uses this door lock brand, so they must be doing something right. While Medeco is not a bad choice, we don't believe that their locks are as great as many people believe. And if you do choose locks by Medeco, we strongly recommend choosing a model that was developed after 2011.
Get more information on Medeco Problems.
# 2. Evva
Whether you are looking for high-tech locks or traditional locks, Evva is a wise choice.
Evva locks may not be the most well-known brand, but they are trusted throughout the locksmith community. This family-run business has been around since 1919 and they have done a great job of evolving over time as new lock technologies have emerged.
But how much do their products cost?
These are not bargain locks, but they are very reasonably priced considering they have unique designs and are so well established. If you are looking to secure your exterior doors, this lock brand is a great choice and worth the cost. But if you are looking to have locks installed on interior doors like your bedroom or bathroom, you can probably go with a cheaper brand that is not as secure.
# 1. ASSA-Abloy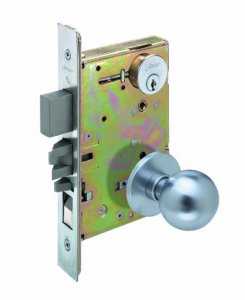 ASSA-Abloy is a giant in the world of locks, so they should be the most secure door lock brand right?
Not so fast!
It is important to note that ASSA-Abloy is actual the parent company of many other lock brands such as Arrow Lock, Sargent, Corbin Russwin, Yale, and more. Some of the brands under this company are part of our list of the best door lock brands (Medeco and Mult-Lock), but many are not.
What this means for you:
One positive is that since this is such a large company, you have a wide variety of lock brands to choose from allowing you to find the perfect lock to meet your individual needs. And, with so many options, it is easier to find locks that fit your price range.
Just make sure you choose wisely. Don't assume that just because the lock is made by ASSA-Abloy it is the strongest option.
In the end, choosing the best door lock brands really depends on your situation. We hope that this guide helps make your decision a bit easier, but the best way to ensure you are choosing the best lock brand for your specific needs is to consult with a professional locksmith.
Luckily, you don't have to look too hard to find a reliable technician. Simply contact King Locksmiths and we can provide honest and dependable information about all of your security concerns.
Suggested reading: 3 Mistakes Most People Make When Hiding House Keys