Your Cabin John MD Locksmith Specialists
We are available 24/7 – (240) 345-1455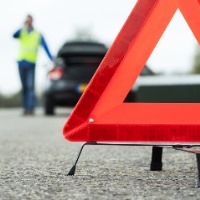 At King Locksmiths, we provide locksmith services to those in the Cabin John MD area and surrounding area in Montgomery County. We are a quality and full service Maryland locksmith company providing automotive, commercial and residential and 24 hour emergency locksmith services.
24 Hour Full Automotive Locksmith Services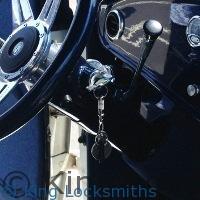 Have you known that awful sinking feeling you receive when you reach for the keys to the ignition for your car, vehicle or truck and then you realize they are in the ignition and the fact that they are automatic locks means you are locked out? If you thought a locksmith brings sweet relief in a lockout situation, King Locksmiths 24/7 services will quickly resolve these unexpected emergencies. In the Cabin John MD area, there's no need to panic. Our team of experts is just a phone call away. This professional assistance and fast response has you back on the road and on your way. This auto lockout service reduces your stress level quickly. The best surprise with our service is our fair prices, no matter what the size of the job is.
A Few of Our Cabin John Automotive Locksmith Services:
Dependable and Professional Commercial Locksmith Services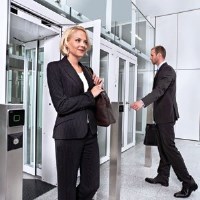 Our highly professional commercial locksmith services assure our customers of quality work and maximum security for businesses, storage, industry or local offices.
There can be many reasons to search for an upgrade of existing locks or security systems. One of the more important reasons is newer, more efficient technology. King Commercial Locksmith technicians offer the most comprehensive and secure locks and systems. When it is the time for your upgrade, spend some time with our King professional locksmiths in order to discuss the newest types of locks in today's security market. For the Cabin John area and all Montgomery County, we offer reliable commercial locksmith service for all our customers at a reasonable cost without compromising quality.
We provide the following Commercial Locksmith Cabin John Maryland Services:
Providing the House Locksmith Services You Need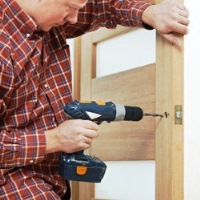 Our services include any type of home locksmith service that could be needed and we are always dedicated to taking care of the needs of all residents in Cabin John and the surrounding areas. This includes improving the needed safety and security of your house so there will be protection for the entire family at all times. After there is a break-in, the damage has already been done.
Our technicians will professionally repair, install and re-key locks of all kinds for residents. We also can install and repair high security locks and keyless entry locks. Keyless entry locks are an excellent and convenient entry door lock. With this type lock, no keys will be needed. You can gain entry with either a code, a key fob or a fingerprint. We also provide lock changes and/or re-key services for new residents and landlords to prevent former house owners from having access.
Our Cabin John Residential Locksmith Services include:
Choose our company as your professional Locksmith Cabin John Maryland consultants. If you are looking for state-of-the-art assistance, King Locksmiths is the Montgomery County locksmith to hire. Fast response is important, as is honesty. This is the quality King Locksmiths offers. We are just a phone call away.
MD Door Replacement, Installation and Repair Services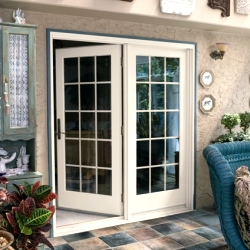 King Locksmiths is a expert Locksmith in MD providing complete residential, commercial, automotive and emergency locksmith services. However, these are not the only services we provide! We, at King Locksmiths, also have expertise in door repair, installation and replacement services – which is required for a secured and safe entrance to your home or business. We have been in business for a long time which gives us the necessary expertise and skill in our business of door replacement.
Our company is one of only two companies which offers in-house Cabin John door installation. Our skilled specialists are highly experienced and trained and have available to them all the necessary equipment and tools needed for providing all the services you need. Other companies may provide door replacement, repair and installation services for Cabin John MD, but before you make up your mind, try to be sure you know that they are not using third-party contracted workers to provide these services.
Commercial Door Replacement, Repair and Installation Services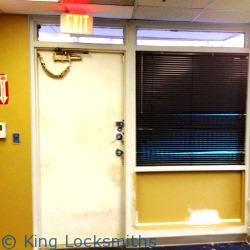 We provide the following Cabin John Commercial Door Replacement, Installation and Repair Services:
All of the procedures that will be included in this specialized service will be executed by our trained and experienced door installation workers who possess the specific skills, knowledge and training to apply in the process of installing a new and secure door in a business or establishment. The first step to take in this service is the most important process of inspecting all the areas where commercial doors will be replaced and installed.
Residential Door Replacement Services
Doors are very needed tools for your personal dwelling because they provide the necessary privacy for your family and possessions. But aside from the protection that they will give, effective and new doors can add extra style around and in your residence. However, sometimes replacing your damaged or old doors may be a very difficult and stressful project to start. We make an effort to minimize the stress of starting and accomplishing door replacement. We can and will help you make the right choice of doors as well as make sure that they are installed securely, properly and expertly.

Call King Locksmiths Maryland We offer Locksmith Cabin John MD Services, 24/7! – (240) 345-1455