Certified Safe Cracking Jessup, Maryland Residents Can Trust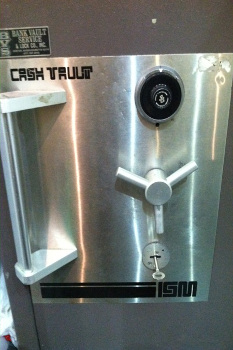 King Locksmiths is a renowned Maryland and DC locksmith company that is a leader in commercial, auto, emergency, and household locksmith services. Our services include quality safe cracking Jessup, MD for homes and businesses. The following services are offered:
Our company's safe cracking services in Anne Arundel County, MD are carried out by a crew of highly skilled experts with 5+ years of expertise in the industry. These experts are educated on all of the different types of safe setups, repair, and opening procedures. To ensure total openness of our safe cracking Maryland services, we offer upfront fees and free quotes before commencing any work on your safe.
Safe Cracking Jessup, MD Support
Opening a safe without the use of a combination or key is referred to as safe cracking. It is necessary when you've forgotten the combination or misplaced the key. Depending on the strategy that is implemented, the safe cracking results are either destructive or non-destructive.
A number of the well-known non-destructive safe and vault unlocking methods consist of use of auto-dialers, combination dial manipulation, and radiological safe cracking.
In contrast, the destructive safe unlocking solutions comprise:
grinding machine
sawing and forcing the safe open through force of impact
the usage of explosives
These kinds of approaches can cause considerable damages or injury to the individual operating the safe, and must be avoided at all costs.
Why Safe Cracking Isn't A DIY Project
Most safes feature a circular, rotating combination dial with numerals. Inside the circular dial, you can find a small, cylindrical column. The spindle turns whenever the dial is turned. Professional locksmiths for safes are particularly skilled to aid you to open your safe within the shortest time, while ensuring that there's nothing damaged.
Not just anyone can un-lock a safe and we greatly advise using a skilled locksmith for safes instead of cracking it open all by yourself. The whole process takes both patience and effort, and our locksmiths always try to minimize any destruction caused to your safes and the safe lock.
The comprehensive Jessup, Maryland locksmith service for safes covers:
Safe and vault assembly
Safe manipulation principles
Safe lock dialing diagnostics
Mechanical safe lock mounting
Combination lock replacement
Dialing combinations
Lock and safe security metrics
Design variants
Safe Unlocking Jessup, MD You Can Depend On
While our company's skilled safe crackers can easily open a safe effortlessly most of the time, the level of labor depends on various variables such as the type of safe, the kind of lock, the age of the safe, and also the locking mechanism. We seek to trigger virtually no damage when we're able to.
King Locksmiths has long been engaging in safe installation and cracking expert services for quite some time and you are able to believe in our insured and bonded locksmith experts to keep your belongings secure. Our commercial and residential safe unlocking Jessup solutions are completed with the greatest reliability. In addition, superior quality safe cracking tools and equipment are utilized by our locksmith experts to make sure of a swift and proficient performance. The advantages of using a professional Maryland locksmith to open your safe include:
quick service transmission
service warranty
total security assurances
excellent of services
Get In Touch With Us Now
After receiving your inquiry for safe cracking Jessup help, our company's customer service staff will move quickly to send a locksmith to your home or business ASAP. To help keep you up to date with regards to our expert solutions and how much opening a safe will cost you, we offer free quotes to all of our own potential customers. You will understand how much you need to spend for your expert services before you decide to employ the service of King Locksmith's due to our upfront pricing policy. Given that emergencies and lockouts are unexpected, we provide a timely 24/7 locksmith service in Jessup, MD and surrounding areas. So when you need a safe cracker in Jessup, call King Locksmiths Maryland and DC. Contact us 24 hours a day.