3 Insanely Easy Ways To Protect Your Home While On Summer Vacation
Quick And Easy Tips From The Experts To Protect Your Home While On Summer Vacation
It's that time of year again: Weekend trips to the shore, neighborhood BBQ's, dropping the kids off at camp… Whatever you have planned this summer, we here at King Locksmith and Doors are here to make sure that you know the best ways to protect your home while on summer vacation.
Whether you are going to be away for a few days or a few weeks this summer, we can all agree that keeping your home secure is a top priority.
But with so many horror stories on the news and an overabundance of complicated security plans available on the internet, understanding the best ways to keep your home secure while on vacation can be overwhelming, to say the least.
But it doesn't have to be!
As your top locksmith company in the Maryland and DC areas, we've got your guide to home security over the summer right here.
And the best part is, these summer vacation safety tips are all designed to make it easier than ever for you to keep your property protected while you travel.
So let's get started!
The Top 3 Ways To Protect Your Home While On Summer Vacation That Won't Leave You Feeling Stressed Out
# 1. Don't Share Everything On Social Media
Even if your accounts are private, there is no guarantee that some thief isn't going to see your post announcing that you are off to the airport and won't be back for two weeks.
It may seem like a difficult task, but if Kim Kardashian can do it, so can you.
In fact, according to ENews online;
"Sources close to Kim tell E! News that she had blamed herself for the robbery, citing her real-time, geo-tagged promotion of the extravagant jewels she was often wearing…"
Now, we're not saying don't post pictures of your family vacation online, just wait till you get back home to better ensure your safety.
# 2. Get To Know Your Neighbors
You may live in a relatively safe neighborhood and don't feel the need to invest in an expensive security system or complicated high-tech locks.
And that's ok!
There is an easy and affordable alternative to keep an eye on your property while on vacation. Your second option is to ask a trusted neighbor to keep an eye on things for you while you are gone.
Ask a friend or neighbor that you trust to help you with:
Getting your mail
Taking out the trash cans
Spending a few hours watching TV in your home to make it look like you are still there
Hang onto your spare key so you don't leave it out
Water the plants (this isn't really for enhanced security, but it will help prevent your plants from dying while you are away)
If the thought of dealing with your neighbors stresses you out there is another option.
There are companies that will provide house-sitting services while you are on vacation. Just be sure to do your research before choosing this option to make sure you are choosing a reputable agency. And be sure to ask for reviews and references.
# 3. Timing Is Everything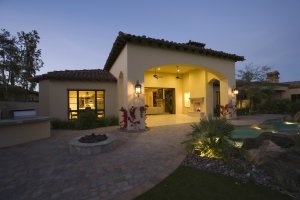 Even if you have someone stopping by your home while you are away, it is still a good idea to install some motion sensors and timers on electronics around your home.
The reason is:
A clever thief may notice that your lights turn on for 20 minutes every day at 5 pm and realize that you are not home. By installing timers on various lights and televisions at more sporadic intervals, you are more likely to create the illusion that your home is occupied.
Not only that:
Motion sensors and timers are a great way to save money on energy bills and keep your home more secure all year long, not just while you are away on summer vacation.
And, for added convenience:
There are options available to control your lights from your smartphone from anywhere in the world. This tip may not be as simple as our first two, but it will be worth it in the end.
In the end:
There are plenty of other ways to keep safe this summer such as alerting your local police of your absence, contacting the post office to put your mail delivery on hold and so on.
But with our 3 summer home security tips here, protecting your home while on summer vacation shouldn't cost you a fortune and it shouldn't take up all of your time.
Looking for more awesome tips from your favorite locksmiths? You'll love these:
Your Ultimate Guide To The Top 5 Door Lock Brands
The Shocking Truth About Broken Keys – It May Be All Your Fault
And be sure to contact King Locksmith and Doors for all of your lock, key, and door needs!
*Please note that there are no ways to 100% guarantee that you will never experience a break-in. If you have been the victim of a robbery, contact your local police immediately.
More security tips: Types Of Safes That Provide The Best Protection