Germantown MD Locksmith Services with King Locksmiths
Get Your Free Estimate Today!
Do you need a professional Germantown MD Locksmith?  24/7 Call King Locksmiths – 240-345-1455
If you live in Germantown and you need fast, affordable, dependable locksmith service call us. We are
King Locksmiths
and we offer the fastest and best locksmith service for your home, business or automobile.  Whether you need emergency help or you just want to change the locks on your home or business you need a Germantown locksmith you can trust.  Our professionalism, experience and knowledge has earned us the reputation as the Germantown Locksmith Team you can trust to help you to protect your loved ones and your valuable assets.
We have the staff with the training and experience to do the job right.  We also have the latest technology.  Does your car have transponder keys? We can replace it in no time flat.  Do you have specialty locks on your home or office?  Our staff has the equipment to handle them right.  When we send a locksmith to your home or office you can rest assured they will be experienced, knowledgeable, professional and courteous.  We are the locksmith Germantown residents can trust.
No matter what time of the day or night you need a Germantown locksmith you can call us.  We are available 24 hours a day, 7 days a week.  We know the Germantown area well.  Our Germantown Locksmith Team that can get to you quickly and get the job done right.  When it's dark and the weather is bad and you need a locksmith Germantown residents know we are the ones to call.  We understand your desire to ensure the security and safety of the people you hold dear.  Don't take a chance with a fly-by-night company with an inexperienced staff.  We are the Germantown locksmith with a history of superior work.
When they need a company with skilled technicians, competitive pricing, and honest service, we are Germantown locksmith business owners and residents call.  We are family-owned, licensed, bonded and insured.  We are the Germantown Locksmith Team that residents and businesses have come to depend on for the most dependable lockout services for homes, businesses and automobiles.  We provide reliable, affordable, honest service and customer satisfaction.
Germantown MD Door Replacement, Installation & Repair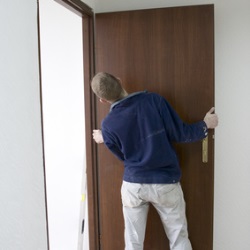 King Locksmiths is a professional Maryland Locksmith providing full automotive, residential, commercial and emergency locksmith services. However, that is not all we do! We, at King Locksmiths, also excel in door repair, replacement and installation services – all you need for a safe and secure entrance to your home or business. We have been operating in this field for a long time which has equipped us with the necessary skill, training and expertise in our field of door replacement. King Locksmiths wants to be and is one of the most trusted business' for locksmith services and door repair, replacement and installation serving Germantown Maryland, and this area.
We save you money because we have our own in-house Germantown door replacement, repair and installation experienced specialists. We never hire other contracted workers to accomplish our personal and residential door replacement, repair or installation services, and this most assuredly saves you money. Our business is one of only two companies which offers in-house Germantown door installation. Our experts are highly experienced and have at their disposal all the necessary equipment and tools needed for providing these services. Other companies may provide door installation, repair and replacement services for Germantown Maryland, but before you choose, try to be sure you know that they are not using a contracted worker to provide these services.
Commercial Door Replacement, Repair and Installation Services
We provide the following Germantown Commercial Door Repair, Installation and Replacement Services:
All Front Entrance Doors
Interior Doors
Total Germantown, MD Commercial Locksmith Services
Storage Doors
All Commercial Business Doors
Access Control for Businesses
Revolving Doors
Warehouse Doors
All Security Doors
Residential Door Replacement Services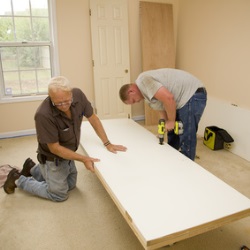 Doors are very needed tools around your home because they provide the necessary privacy for your family, friends and possessions. And aside from the protection that they will give, new, effective and secure doors can always add extra style in your home. However, sometimes replacing your doors can be a very difficult and challenging project to start thinking about doing. We try to take out the stress of thinking about and successfully completing door replacement. We will always try to help you choose the right kind of doors as well as make sure that they are installed securely and expertly. Follow this link for our Residential Locksmith Gallery of recent projects including home door repair and replacement.
We have been performing door repair, installation and replacement for Germantown Maryland and this area for many, many years. See our gallery of our latest door repair, installation and replacement jobs here. Contact us today in order to help us start to Install Doors for your house or commercial building. You may also request all of our door services as well as any Germantown Maryland locksmith service via our online request form here.
Complete 24 Hour Service
We provide total 24 Hour service for the entire Maryland and Washington D.C. areas.
Licensed & Bonded
Rest assured because King Locksmith and Doors is fully licensed and bonded for safety and peace of mind.
In-House Experts
We do not outsource for our work. You save money because our experts are in-house!
At King Locksmith and Doors, we specialized in high-end and professional locksmith and door services. We have an in-house door installation expert and do not hire out for any door or lock services.  Our technicians are all highly trained and well equipped to help you with any and all door and lock service needs.
King Locksmith & Doors, Inc.
Professional Locksmith & Door Experts
111 University Blvd West Silver Spring, MD 20901
3283 M St. NW, Washington, DC 20007
manager@kinglocksmiths.com