Safe Cracking Prince Georges County, MD Service
Get Your Free Estimate Today!
King Locksmiths Offers Safe Cracking Prince George's County, MD Locals Can Trust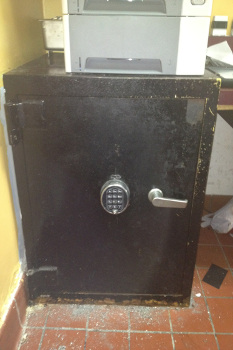 King Locksmiths, a trustworthy locksmith in Maryland and DC, provides specialized safe cracking Prince George's County services for homeowners and businesses in the area. We employ bonded and insured safe crackers that know how to correct malfunctions of all types of combination or key safes. Our residential and commercial 24/7 locksmith service is available for professional safe unlocking in Prince George's County, MD. Response times to service calls is fast, usually within 30 minutes, and service itself is quick once our technician arrives to the premises. We work together with our customers to provide personalized, expert service needed to regain access to locked safes.
The advantages of using King Locksmiths are the following:
a local business with 5+ years of experience
honest locksmiths for safes
rapid response times
courteous services
upfront prices and free quotes
fully bonded and insured Maryland and DC locksmiths
How Professional Locksmiths Perform Safe Cracking Services?
King Locksmiths provides professional residential and commercial safe cracking Prince George's County, MD services. We crack safes if the combination is forgotten or keys are lost. If the combination is lost or forgotten, only an expert can unlock the safe with high tech tools and equipment. Our team of mobile locksmiths offers complete locksmith service for safes of all sizes and styles.
If you've forgotten your safe's combination or lost the key to your safe, our locksmiths will use special tools to pry open, cut, manipulate, torch, scope, or drill the safe. Our commercial locksmiths possess the skills to legally open industrial level safes and vaults.
Why Selecting a Professional Locksmith to Open Commercial and Residential Safes is Important?
There is one thing most homeowners and business owners are concerned about – having strangers open safes with important documents and assets. Trust is just one of the qualities needed to build business relationships with consumers. Techniques on how to crack a safe are required of all locksmiths with five or more years of experience in the field. When seeking a reputable company for locksmith services, be sure to choose a company that is bonded and insured such as ours. King Locksmiths is known to be prompt, honest, reliable, and to provide upfront pricing with fast and friendly, safe cracking services in Prince George's County, MD.
Consumers in need of safe installation can also call upon King Locksmiths for 24/7 locksmith service. Our locksmiths are able to install all kinds of safes including those needing wall mounting, floor concealment, or floor bolting. For commercial secured safes, our team of experts can install group 1 safe locks since the 5+ combination numbers to unlock the safe is an excellent security measure. This also provides better protection because the locks are more sturdy and durable, and harder to pick.
The company to contact for professional installation and safe cracking Prince George's County, MD service is King Locksmiths. Our qualified locksmiths are available every day and all day to unlock combination or key lock safes. No safe cracking is too difficult for our professionals to get into. We only employ professional locksmiths for safes, and our service is affordable, bonded, and trusted among homeowners and business owners in the area.

Complete 24 Hour Service
We provide total 24 Hour service for the entire Maryland and Washington D.C. areas.
Licensed & Bonded
Rest assured because King Locksmith and Doors is fully licensed and bonded for safety and peace of mind.
In-House Experts
We do not outsource for our work. You save money because our experts are in-house!
At King Locksmith and Doors, we specialized in high-end and professional locksmith and door services. We have an in-house door installation expert and do not hire out for any door or lock services.  Our technicians are all highly trained and well equipped to help you with any and all door and lock service needs.
King Locksmith & Doors, Inc.
Professional Locksmith & Door Experts
111 University Blvd West Silver Spring, MD 20901
3283 M St. NW, Washington, DC 20007
manager@kinglocksmiths.com